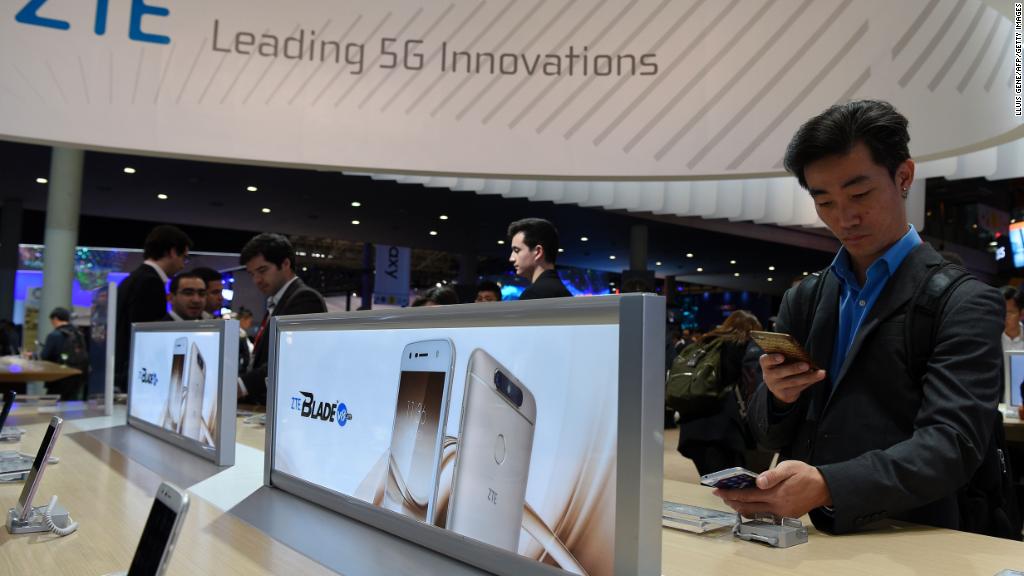 One of China's top tech companies has lashed out at the US government's move to prevent it from buying technology from American companies.
ZTE (ZTCOF), which sells smartphones and other telecommunications equipment around the world, said Friday that the ban imposed this week by the US Commerce Department was "extremely unfair" and that the company "cannot accept it."
It warned in a statement that the move "not only endangers ZTE, but also hurts ZTE's cooperative partners, including many American companies."
The seven-year ban affecting ZTE, which will take a toll on the company's US suppliers such as Qualcomm (QCOM), comes at a time of severe tensions between China and the United States over trade and technology.
Related: US hits major Chinese tech firm with export ban
The Commerce Department said Monday that ZTE had lied to US officials about steps it had taken to punish employees who violated US sanctions against North Korea and Iran. The Chinese company last year agreed to pay a $1.2 billion fine after a US investigation found it had illegally shipped telecommunications equipment to the blacklisted countries.
Instead of punishing those involved, "ZTE paid full bonuses to employees that had engaged in illegal conduct, and failed to issue letters of reprimand," the Commerce Department said.
ZTE said Friday that the Commerce Department was ignoring the "arduous efforts" it has made to follow export rules, the steps it has taken to deal with people "who neglected their duty," and its hiring of an American law firm to carry out an independent investigation.
At a news conference later Friday, Chairman Yin Yimin said the US restrictions have plunged the company into "a state of shock," Chinese state media reported.
"The US side, by magnifying a slight issue without restraint, has greatly disrupted our business," he said. "We attach great importance to this issue and will use all available legal means to deal with the problem."
Yin also struck a nationalistic tone.
"We have a strong motherland and 1.3 billion people behind us, and they provide us with the confidence and determination to overcome all kinds of difficulties," he was reported as saying.
Related: China is holding up a $44 billion US tech deal
ZTE shares, which trade in Hong Kong and Shenzhen, have been suspended since the Commerce Department announced the ban.
The company delayed its first-quarter earnings, which it originally planned to release on Thursday, while it assesses the impact of the US ban.
The Chinese government has repeatedly attacked the US government's decision, calling it reckless.
China and the United States are already locked in a bitter confrontation over their trading relationship and, in particular, China's acquisition of US technology. The two sides have threatened each other with steep new tariffs on exports worth tens of billions of dollars.
-- Nanlin Fang and Steven Jiang contributed to this report.