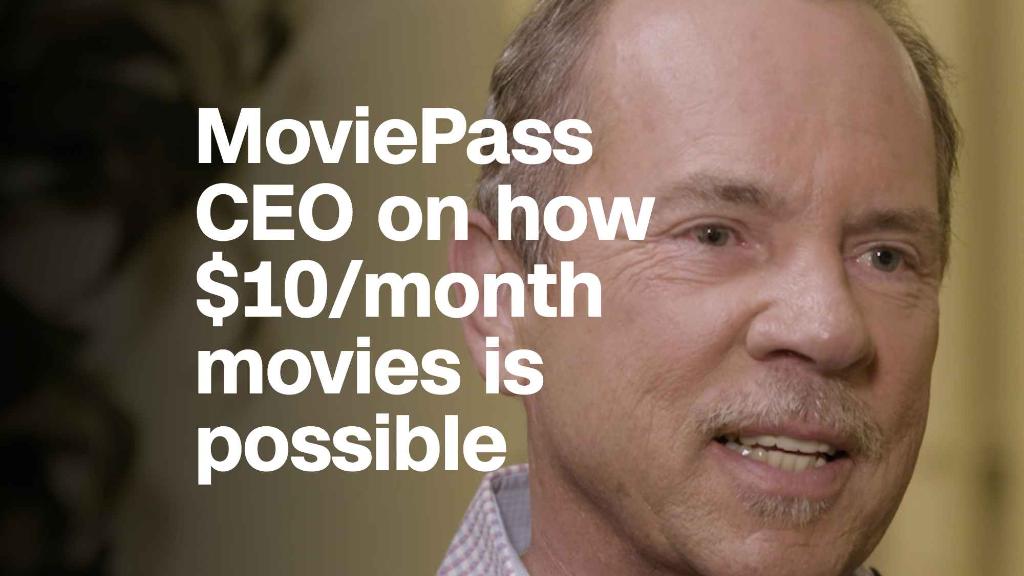 Will the meteoric, feelgood rise of movie subscription service MoviePass end like a cliché Hollywood melodramatic tearjerker?
MoviePass, which buys tickets from theaters and offers them to subscribers, is losing money. That's not a shocker, considering members pay just $7.95 a month to see a movie a day.
The company's majority owner, Helios and Matheson Analytics (HMNY), issued a dire warning about the company's ability to stay in business in a regulatory filing earlier this week.
"MoviePass has incurred losses since its inception and has a present need for additional funding. These factors raise substantial doubt about the Company's ability to continue as a going concern," Helios and Matheson Analytics said in its annual report.
The company is raising more money, but that's worrying investors too.
Helios and Matheson Analytics announced Thursday it was selling $30 million worth of new shares through warrants that valued the stock at $2.75 a share -- nearly 30% below the stock's closing price of $3.83 on Wednesday.
All this bad news has caused shares to plunge more than 40% since Monday. The stock is now down more than 60% this year.
MoviePass has grown rapidly over the past few months. It announced in February that it had 2 million subscribers, just one month after it topped the 1.5 million mark.
Nonetheless, investors are clearly worried that the company's low-priced plans are too good to be true. The company's "going concern" warning seems to confirm that.
Related: Blockbuster deal! MoviePass buys Moviefone
But that hasn't stopped MoviePass from offering even more gimmicky promotions. It now has a special limited-time $6.95 a month plan for new subscribers.
The company also just teamed with bankrupt radio company iHeartMedia (IHRTQ) to let people see four movies a month for 3 months and get a 3-month trial of iHeartRadio's All Access on demand service for $29.95.
MoviePass is hoping to eventually become profitable by selling more advertising. The company announced earlier this month that it was buying Moviefone from Verizon (VZ), which inherited the nearly three-decades old service when it acquired AOL.
Shares of Helios and Matheson Analytics actually surged more than 30% just this past Monday after Verizon disclosed it now has a more than 9% stake in the company.
"MoviePass is growing at warp speed. Put it and Moviefone together and it gives us more advertising opportunities," Ted Farnsworth, CEO of Helios and Matheson Analytics, said in an interview with CNNMoney after the Moviefone deal was announced.
Farnsworth added in a statement to CNNMoney Friday that the company is "100% confident in the MoviePass model and the impact we are making in the entertainment industry."
"The success point for MoviePass has always been growing a subscriber base that could be analyzed in data sets to highlight consumer trends to studios and industry partners," he said.
But investors realize that advertising is another business that is notoriously fickle.
Related: Coming soon to a theater near you: Surge pricing for hit movies
They are also worried that the big chains that MoviePass currently buys tickets from -- AMC (AMC), Regal and Cinemark (CNK) -- may cut out MoviePass with subscription services of their own.
Regal, which is now owned by UK-based Cineworld, has experimented with charging more for tickets during peak movie times and less at times when attendance tends to be lighter. Think of it as Uber-style surge pricing, but for movies.
And Cinemark unveiled Movie Club, a monthly plan that lets people buy a movie ticket a month for a discounted price of $8.99, last year.
MoviePass has another problem. It wants to be the Netflix of movie tickets. But we are in an era of so-called peak TV, led by Netflix (NFLX), other streaming services and cable. Who has time to go the movies when there are so many shows to binge watch?