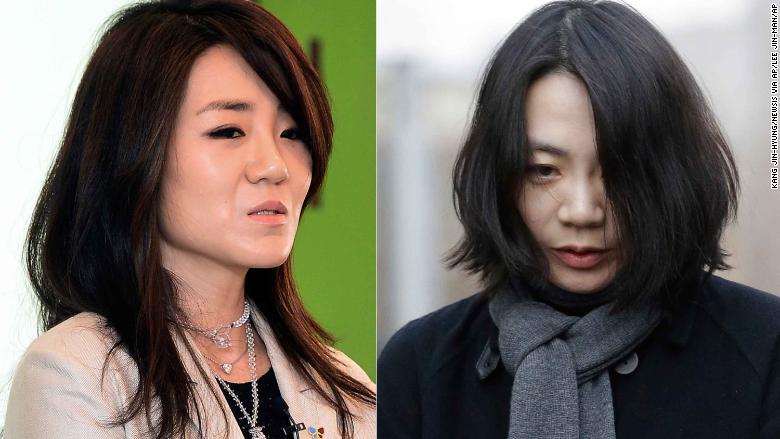 The CEO of Korean Air is firing his own daughters after a pair of embarrassing scandals.
The two women will be removed from their executive positions and stripped of management responsibilities, said Cho Yang-ho, who is also the company's chairman.
"As chairman of Korean Air and as the head of my family, I feel miserable by the immature behavior of my daughters," Cho said in a statement Sunday. "I apologize to all Koreans."
One of the women, Heather Cho, became the focus of international outrage four years ago during the 'nut rage' scandal when she abused cabin crew staff over how she was served macadamia nuts on a Korean Air flight.
But it was her younger sister, Emily Cho, who triggered public anger more recently after reports emerged that she insulted an advertising executive and threw water in his face last month. She has apologized, saying what she did was "foolish." But labor unions demanded that Cho step down as senior vice president and face punishment.
The water scandal reignited frustration in South Korea with family-run conglomerates, known as "chaebol." Many South Koreans are tired of what they see as corrupt and entitled behavior by rich chaebol members, especially the second- or third-generation children of the company founders. The Cho sisters are third generation members of the family behind Korean Air and its web of affiliated companies.
Related: Samsung chief walks free after prison sentence suspended
Heather Cho served five months of a one-year prison sentence over the 2014 'nut rage' incident after a Korean court found her guilty of violating aviation law. She had demanded a Korean Air plane return to its gate at Kennedy International Airport in New York so a flight attendant could be removed for serving the nuts in a bag instead of a porcelain bowl.
Korean Air said she was resigning from her executive positions at the time of the scandal. But she recently returned as president of the airline's hotel network.
Now, her sister's scandal appears to have brought her comeback to an abrupt end.
Related: South Korea's long history of light sentences for business leaders
The drama at Korean Air is the just the latest turmoil at South Korea's chaebol. The sprawling, multinational empires account for a big chunk of South Korea's economy and have a long history of top executives who suffer limited consequences for wrongdoing.
Last year, a massive political corruption scandal engulfed Samsung, Hanjin Group, the parent company of Korean Air, and other giant conglomerates.
In February, Lee Jae-yong, the de facto leader of the huge Samsung business empire, walked free after his prison sentence was suspended. Lee had been found guilty of bribery and other corruption charges related to the scandal. He had been sentenced to five years in prison.
-- Yoonjung Seo contributed to this report.