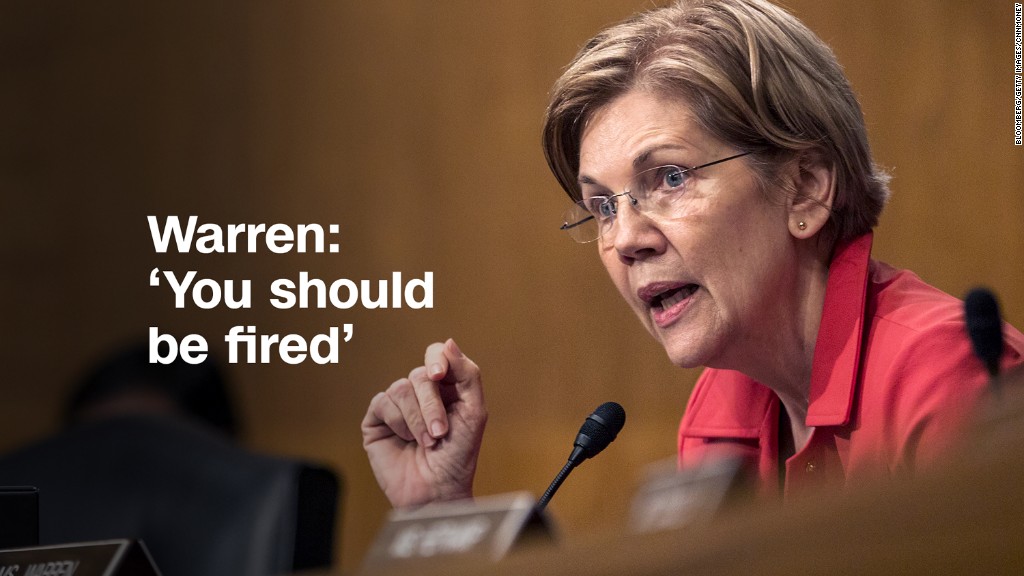 Wells Fargo may face an angry crowd at its shareholder meeting Tuesday in Iowa.
Investors are pushing proposals to rein in Wells Fargo (WFC), and activists are organizing protests slamming the bank for countless consumer abuses.
They have a lot to complain about. Over the past year and a half, the bank has admitted to creating fake accounts, hitting customers with unfair mortgage fees and charging people for car insurance they didn't need.
The scandals have prompted changes in leadership and hefty fines.
Here's how it happened.
2016
September 8: Fake-accounts scandal breaks wide open. Federal regulators reveal Wells Fargo employees secretly created millions of unauthorized bank and credit card accounts without their customers knowing it. The bank is hit with a $185 million fine. Wells Fargo says 5,300 employees were fired for related reasons.
September 14: A government official tells CNN the Department of Justice has issued subpoenas in a probe related to the fake account scandal.
September 27: Wells Fargo CEO John Stumpf forfeits pay. Stumpf says he will give up much of his 2016 salary, including a bonus and $41 million in stock awards. The first major executive leaves the company over the scandal. Carrie Tolstedt, who headed the division that created the fake accounts, steps down and forfeits some pay.
September 28: Wells Fargo is accused of illegally repossessing service members' cars. The company agrees to pay $24 million to settle charges. The DOJ claims the bank took 413 cars without a court order, which violates federal law. The company apologizes and commits to refunds.
September 29: Wells Fargo promises to abandon unrealistic sales goals. Wells Fargo employees blamed their bosses for effectively encouraging fake accounts. Before lawmakers on Capitol Hill, CEO John Stumpf is accused of running "a criminal enterprise."
October 5: California's attorney general opens an investigation into possible identity fraud related to the fake accounts scandal.
October 12: CEO John Stumpf steps down. The company announces he will retire effective immediately.
November 3: SEC probe revealed. A new public filing from the bank discloses that the Securities and Exchange Commission is investigating the bank for issues related to the creation of as many as 2 million fake accounts.
December 13: Wells Fargo is punished by federal regulators for actions unrelated to the fake accounts. The bank is dinged for failing to comply with certain provisions of Dodd-Frank, the post-2008 law meant to better regulate big banks and protect consumers.
2017
January 23: Wells Fargo acknowledges potential worker retaliation. The bank says there are signs it retaliated against workers who tried to blow the whistle on the fake accounts.
February 20: Four senior bank employees are fired. The employees either worked or used to work in Wells Fargo's community banking division, which is at the center of the fake account scandal.
March 27: Federal agency accuses Wells Fargo of "egregious," "discriminatory and illegal" practices. In an unusual move, a top federal banking regulator severely downgrades Wells Fargo's community lending rating. The decision stems from factors beyond the fake account scandal.
March 27: Wells Fargo settles class action suit. The preliminary deal promises $110 million for wronged consumers.
April 10: Former executives are asked for money back. The bank claws back $75 million from two former executives for their roles in the fake accounts scandal, including another $28 million from former CEO John Stumpf. A new report from independent directors on the Wells Fargo board reveals the bank prepared an internal report in 2004 about practices that may encourage employees to create fake accounts.
April 21: The bank's cost of a settlement goes up. The settlement in the class action suit is increased to $142 million.
June 14: New allegations about mortgages are leveled. In a new lawsuit, Wells Fargo is accused of modifying mortgages without authorization from the customers. That means some customers could have ended up paying the bank more than they owed. It's unclear how many customers were affected. Wells Fargo says it "strongly denies" the claims.
July 27: New allegations about auto insurance are revealed. The bank admits it charged at least 570,000 customers for auto insurance they did not need. Wells Fargo says an internal review found about 20,000 customers may have defaulted on their car loans for related reasons.
August 4: Wells Fargo is sued for allegedly ripping off small businesses. A lawsuit accuses Wells Fargo of overcharging small businesses for credit card transactions by using a "deceptive" 63-page contract to confuse them.
August 31: More fake accounts are discovered. Wells Fargo says it has found 1.4 million additional phony accounts. This brings the total number of fake accounts to 3.5 million.
October 3: Wells Fargo says it wrongly fined mortgage clients. Wells Fargo admits that 110,000 mortgage holders were fined for missing a deadline — even though the delays were the company's fault. The company pledges to refund the customers.
October 16: Regulators say Wells Fargo sold dangerous investments it didn't understand. Regulators order the bank to pay back $3.4 million to brokerage customers because advisers recommended products that were "highly likely to lose value over time." Wells Fargo does not admit to nor deny the charges.
November 13: Wells Fargo admits it illegally repossessed more service members' cars. The company says it found that it had taken vehicles from another 450 service members. Wells Fargo agrees to pay an additional $5.4 million, according to the Justice Department. The company promises refunds.
2018
February 2: The Federal Reserve punishes Wells Fargo. In an unprecedented move, the Fed says the bank won't be allowed to grow its assets until the bank cleans up its act. The bank also agrees to overhaul its board of directors.
February 23: The city of Sacramento, California, accuses Wells Fargo of a "long-standing pattern and practice" of illegal lending in minority and low-income communities that reduced home values, limited property tax revenue and drove up foreclosures. The bank says the allegations "do not reflect how we operate in the communities we serve" and says it will "vigorously defend" its lending record.
April 20: The Consumer Financial Protection Bureau and the Office of the Comptroller of the Currency announce that they are fining fine Wells Fargo $1 billion for the car insurance and mortgage abuses.
--CNN's Donna Borak and Jill Disis contributed to this report.