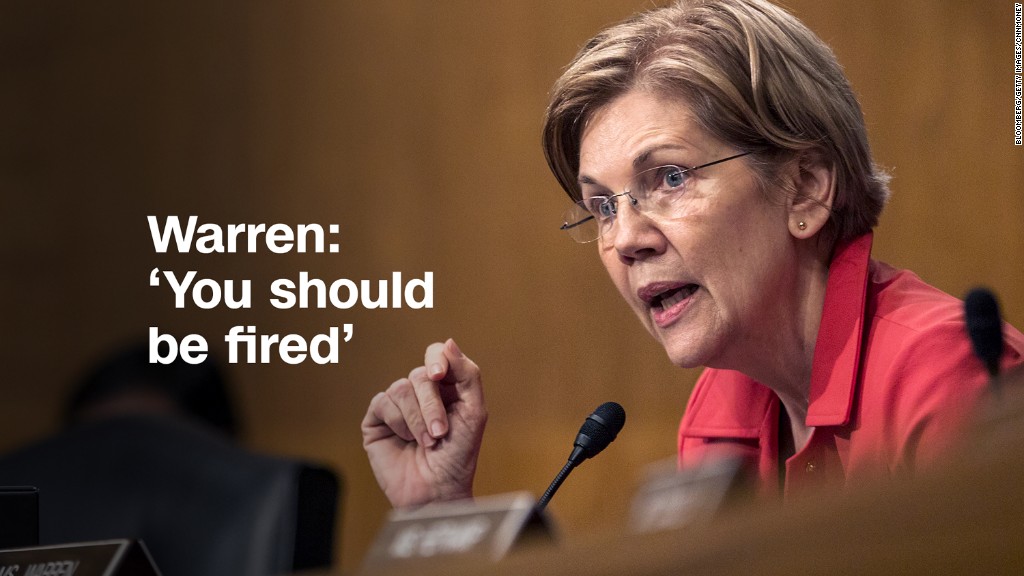 Wells Fargo may be in even more trouble: The federal government has urged the embattled bank's board of directors to investigate its 401(k) practices.
In a little-noticed recent regulatory filing, Wells Fargo (WFC) said its board is probing whether the bank made "inappropriate referrals or recommendations" to 401(k) plan participants.
Specifically, the review is looking into "rollovers" of 401(k) plans into individual retirement accounts. That means yet another part of Wells Fargo is under scrutiny for potentially ripping off customers.
Wells Fargo's board is conducting the investigation "in response to inquiries from federal government agencies," the filing published last month said. The review is in its "preliminary stages," Wells Fargo said.
Wells Fargo did not detail which agencies urged the bank to dig into the issue.
The Labor Department is investigating whether Wells Fargo has been pushing 401(k) plan participants into more expensive individual retirement accounts at the bank, The Wall Street Journal reported on Thursday. The government agency is also looking into whether Wells Fargo's retirement plan services unit pressed account holders to buy in-house funds to generate more revenue, the Journal said.
Wells Fargo said in the filing that in addition to the 401(k) rollover matter, the board is looking into how the bank handled referrals and recommendations for "certain alternative investments" as well as referrals of brokerage customers to its investment and fiduciary services business.
Related: Wells Fargo blasted by shareholders for series of abuses
Wells Fargo's shares dropped about 1% on Thursday, a glaring decline given the 250-point rally for the Dow.
Wells Fargo did not comment on news of another government investigation. A Labor Department spokesman said the agency does not confirm or deny the existence of investigations.
A Wells Fargo spokeswoman said in a statement that the bank is "committed to thorough reviews" of its wealth and investment management division "to their full conclusion."
"Our top priority is to rebuild trust with all of our stakeholders," the statement said. It added that the disclosure of a board investigation is part of the bank's "continued commitment to transparency, even when all of the information or the final outcome of a matter may not be known just yet."
The Wells Fargo board investigation is being conducted by New York law firm Shearman & Sterling, a person familiar with the matter told CNNMoney. The board hired the law firm in 2016 to launch an independent investigation into Wells Fargo's past.
Shearman & Sterling did not respond to a request for comment.
The investigation into Wells Fargo's 401(k) activities add to the very long list of major problems that have emerged at the bank over the past 20 months. Last week, federal regulators fined Wells Fargo $1 billion for various customer abuses.
The series of scandals began in September 2016 when Wells Fargo admitted to opening millions of fake accounts, a shocking disclosure that forced the ouster of longtime CEO John Stumpf and sparked hearings in Congress. The bank has also acknowledged forcing at least 570,000 customers into auto insurance they didn't need, leading some of them to have their vehicles repossessed. Wells Fargo has also said it charged about 110,000 homebuyers' unnecessary mortgage fees.
The bank has been accused of other predatory behavior, including ripping off mom-and-pop shops on credit card fees and retaliating against workers who made ethics complaints.
Related: Wells Fargo's 20-month nightmare
Wells Fargo has said in filings that its sales tactics are being investigated by federal, state and local government agencies, including the Department of Justice, the SEC and the Department of Labor.
Wells Fargo said in its statement on Thursday that it is "making significant progress in our work to identify and fix any issues, make things right, and build a better, stronger company."
Bank executives got an earful from activists and shareholders who gathered this week at the annual shareholder meeting.
"This company," activist shareholder Sister Nora Nash said at the meeting, "has harmed and wounded millions of its customers."