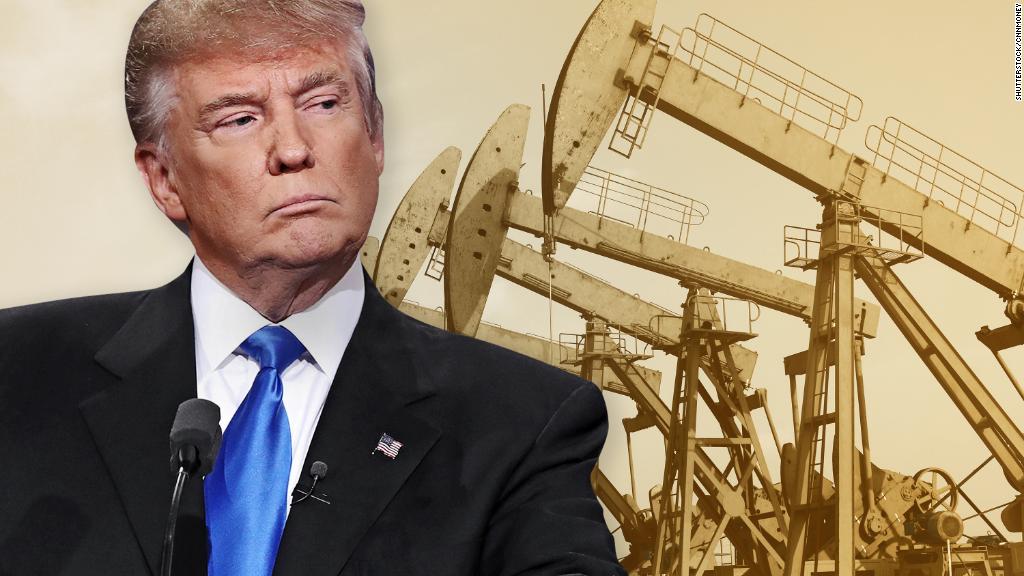 ExxonMobil missed the invitation to America's big oil party.
Booming shale oil production could soon make the United States king of the oil world. Yet Exxon, the nation's most powerful oil company, is still in decline in large part because of its late arrival to the shale game.
Exxon (XOM) delivered a fresh reminder of its difficult position on Friday, reporting oil and natural gas production fell by 6% during the first quarter. That's despite the recent surge in crude oil prices.
It's part of an alarming trend: Exxon's output is down seven of the past eight quarters.
"They are trying to catch up, but they're late to the party," said Brian Youngberg, senior energy analyst at Edward Jones.
Chevron (CVX), Exxon's smaller US rival, has been able to move much more quickly to capitalize on the shale boom and higher prices. Chevron's global production jumped 6% last quarter, helping to fuel a 33% profit increase that exceeded expectations.
Not surprisingly, Chevron's fastest growth occurred in the shale oil hotbed of the Permian Basin, where output spiked by 65%.
Exxon is struggling to keep up -- and Wall Street is losing patience. The oil giant said shale production increased by a more modest 18% at its Permian and Bakken projects.
Even though the US is on track to pump a record amount of oil in 2018, Exxon's domestic oil production inched up just 2% during the first quarter. Overall oil output failed to grow for the seventh quarter of the past eight. Exxon pumps less oil than it did a decade ago.
"Production was on the low side. That's obviously not a good thing. There is no escaping that," said Pavel Molchanov, an energy analyst at Raymond James.
Related: Surging oil prices rattle President Trump
Exxon's stock fell 3% on Friday, leaving it down 4% over the past year. Chevron is up 20% over that span, while ConocoPhillips (COP) has soared 38%.
Darren Woods, Exxon's CEO, attempted to reassure investors by saying that the company is positioned "well for future growth" thanks to new discoveries and acquisitions. Exxon also noted that it ramped up capital spending by 17%.
One bright spot: Exxon generated the highest amount of cash flow from operations and asset sales since 2014. That's despite Exxon being hurt by an earthquake in Papua New Guinea that halted production.
Yet Exxon is still recovering from missteps during the leadership of former CEO Rex Tillerson, who left Exxon last year to become US Secretary of State. Under Tillerson, Exxon was slow to recognize the game-changing potential of shale oil. Huge technology advances unlocked vast amounts of oil that had been trapped beneath the earth.
"They viewed shale as not important," said Youngberg.
Instead of plowing money into what became lucrative shale plays in Texas and North Dakota, Exxon stuck to the Big Oil script by investing heavily in expensive projects, including ones in Russia, Alaska and the Gulf of Mexico.
However, some of these big bets failed to pay off. Most notably, Exxon's dream of teaming up with Russian oil company Rosneft was scuttled by US sanctions on Moscow. In March, Exxon pulled out of the Rosneft joint venture, undoing one of Tillerson's crowning achievements.
Related: Oil prices could keep rising. Here's why
Shortly after Tillerson left the company, Exxon made a shale splash in January 2017 by acquiring assets in the Permian Basin for $5.6 billion.
The deal doubled Exxon's position in the Permian, the fastest growing shale field in the United States. It was also Exxon's biggest purchase since buying natural gas producer XTO Energy for $41 billion in 2010, just before natural gas prices crashed.
"That was one of the worst acquisitions in the history of the energy business. It was exquisitely poorly timed," said Molchanov. "Rex Tillerson deserves much of the blame for it. It was essentially $40 billion down the drain."
Rather than invest in shale, prior to 2015 Exxon spent heavily on share buybacks that were ill-timed. Exxon's stock price has since declined and the company halted buybacks during the oil-price crash three years ago.
"They used to buy a ridiculous amount of shares -- at the wrong time," Youngberg said.
Exxon upset Wall Street on Friday by saying it won't restart its buyback program just yet. Exxon did boost its dividend more than expected though.
Given the ground Exxon has to catch-up to its rivals, Youngberg said holding off on buybacks probably makes sense.
"It reflects their strategy of attempting to jump-start growth," said Youngberg.