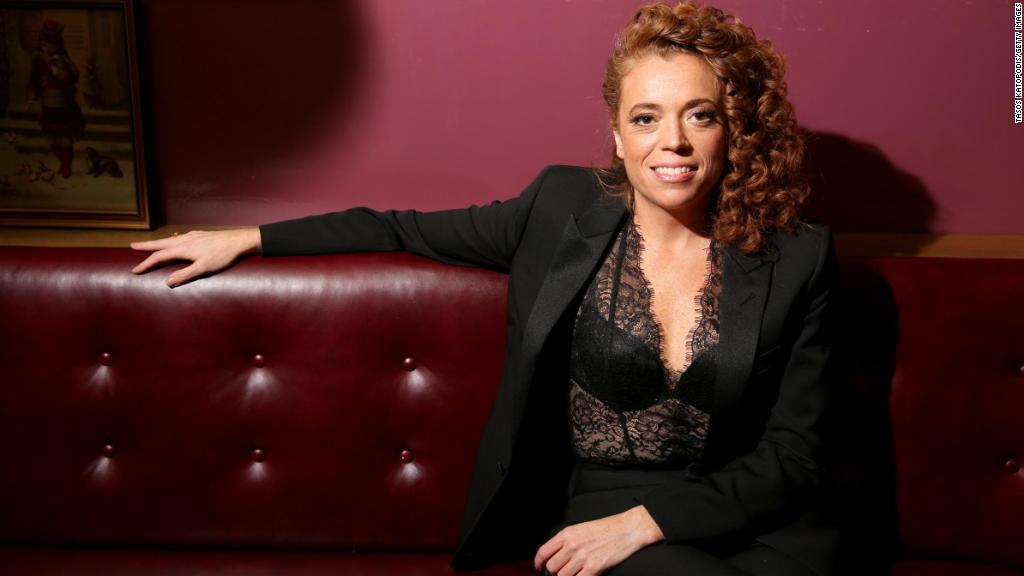 The White House Correspondents Association has regrets, but Michelle Wolf does not.
"I wouldn't change a single word that I said. I'm very happy with what I said, and I'm glad I stuck to my guns," Wolf told interviewer Terry Gross on Monday.
By now you've surely heard all about Wolf's Saturday night performance at the correspondents dinner in Washington, D.C.
All sorts of critics have weighed in. There's been a backlash and a backlash TO the backlash, with supporters defending Wolf's controversial jokes.
Wolf's interview with Gross is her first in-depth response to all the hemming and hawing.
In the interview, airing on Tuesday's "Fresh Air" radio broadcast, Wolf said "I wasn't expecting this level" of controversy, "but I'm also not disappointed there's this level."
"I knew what I was doing going in," Wolf said. "I wanted to do something different. I didn't want to cater to the room."
The "room," meaning the thousands of journalists and other guests who attended Saturday's black-tie dinner.
"I wanted to cater to the outside audience, and not betray my brand of comedy," she said.
Her performance was shown live on CNN and several other channels.
Afterward, she was criticized for her use of expletives and her personal jabs at press secretary Sarah Sanders and counselor to the president, Kellyanne Conway.
Related: White House correspondents think about changing dinner for Trump era
Some prominent journalists joined Trump administration aides in defending Sanders.
But Wolf said on Twitter that her jokes were about Sanders' "despicable behavior," not her physical appearance.
Wolf told Gross that the people who called her out for making jokes about womens' appearances "didn't pay attention to what was said."
She added, "I mean, if there is two people that I actually made fun of their looks on Saturday it was Mitch McConnell and Chris Christie and no one is jumping to their defense. I made fun of Mitch McConnell's neck and I did a small jab at Chris Christie's weight and no one is jumping to their defense."
Wolf's raunchy stand-up act was the talk of the town and a viral sensation on social media. Her follower count on Twitter has more than tripled in two days since the event.
On YouTube, streams of the stand-up act have been viewed more than six million times combined.
But for every person who praised Wolf for speaking truth to power, someone else criticized it for being in poor taste.
The head of the correspondents association, Margaret Talev, expressed regret that the jokes overshadowed the dinner's celebration of the First Amendment.
Related: Here's how people reacted to Michelle Wolf's White House correspondents' roast
There's an important backdrop for this dinner debate: President Trump's sustained attacks against the news media, including the White House press corps.
Trump has skipped two straight correspondents' dinners, breaking with decades of presidential tradition.
Wolf told Gross that his absence affected her approach on stage.
Past comedians "go kind of table by table pointing at people and making fun of them, in a way that I think used to be fun because the dinner used to have the president there," she said. "It used to be we're all poking fun of each other, the president's going to poke fun at us, we're going to hit back."
But now? Things have changed. Tensions have been heightened.
"It seems like it's a much more serious environment and to kind of not go after the big issues and just have a little fun in the room seemed just not as exciting to me," Wolf said.
Among other issues, she called Trump "racist," addressed Sanders' "lies," and homed in on the president's purported wealth, calling him "so broke."
On Sunday the president called Wolf's act "filthy" via Twitter. On Monday he said the dinner was "a total disaster and an embarrassment to our great Country and all that it stands for."
Wolf previously said she thought it was "cowardly" for Trump to skip the dinner.
Sanders was essentially there in Trump's place, seated at the head table by the podium.
Wolf pointed out to Gross that Sanders stayed in her seat while others stood and applauded the winners of some journalism awards.
In particular, Sanders sat while a team of CNN reporters received the Merriman Smith Award for their reporting on the so-called Russia dossier.
Sanders "sat the whole time, while we all stood and shook their hands," Wolf said. "I would say if this is about celebrating the media, she wasn't there to celebrate the media."