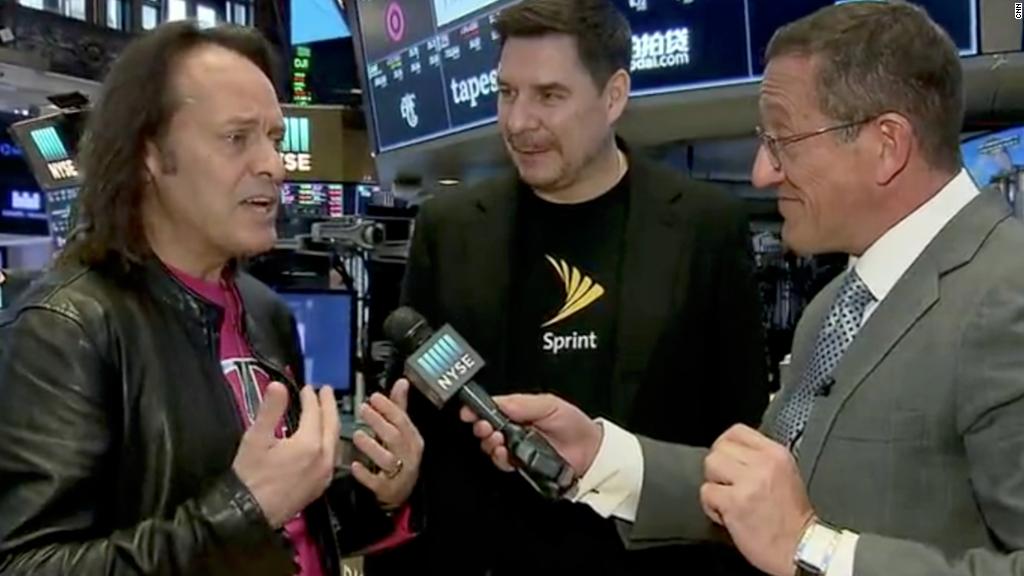 A massive bet on Sprint has cost Japanese billionaire Masayoshi Son a lot.
His company, SoftBank (SFTBF), spent tens of billions of dollars on the US wireless carrier. And now Son is set to do something he had previously signaled was unthinkable: give up control.
Under the deal announced Sunday to merge Sprint (S) with T-Mobile (TMUS) in the United States, SoftBank will end up with a minority stake of about 27% in the combined company. T-Mobile's owner, Deutsche Telekom (DTEGF), will hold around 42% and also have control of the board and voting rights.
The merger, if it gets past regulators, will fulfill Son's long-standing goal of creating a heavyweight challenger to AT&T (T) and Verizon (VZ). But he won't be in the driver's seat.
Son, an ambitious dealmaker, has seen his vision fall apart before. He masterminded SoftBank's 2013 takeover of Sprint with the aim of quickly merging it with T-Mobile. But concerns about regulatory challenges from the Obama administration effectively killed that plan, and talks with T-Mobile ended in 2014.
"I lost my confidence that moment," Son said at an earnings presentation early last year. "I really didn't like the world anymore, I did a lot of thinking, and I lost my hair," he joked, gesturing to his bald pate.
Related: T-Mobile and Sprint agree to merge, finally
During the 2014 talks, Son was negotiating for a majority stake in the combined company, which made sense because Sprint was larger than T-Mobile at the time.
When the two companies again came close to a deal late last year, negotiations collapsed because Son and Deutsche Telekom CEO Tim Hoettges reportedly couldn't agree on who would have control.
In a presentation shortly after the talks ended, SoftBank said that "maintaining control" was a key part of its strategy for Sprint.
Nearly six months later, Son has changed his stance. That partly reflects financial reality: T-Mobile's market value is now more than twice the size of Sprint's. And the deal would also remove what analysts have described as a major headache for SoftBank.
Sprint is facing fierce competition in the US wireless industry and will need billions of investment as carriers prepare to shift to 5G technology in the coming years. Being part of a much bigger player, even as a minority shareholder, could help Son pursue some of his broader ambitions while sharing the financial burden.
Son set up a tech fund worth close to $100 billion with Saudi Arabia last year. It has pumped money into companies working on computer chips, artificial intelligence, autonomous cars and other technologies.
The introduction of 5G networks will help advance many of those industries and Sprint and T-Mobile are emphasizing how eager they are to build one: the 25-page presentation explaining their planned merger mentions 5G nearly three dozen times.
"This is what's going to enable, finally, autonomous cars, drones, AR, VR," Sprint CEO and SoftBank board member Marcelo Claure told analysts and investors on a conference call on Sunday, referring to augmented reality and virtual reality. "And if you look at SoftBank, that's where we're making investments."
By playing up their plans to build a 5G network, the companies involved in the proposed merger are appealing to the Trump administration's desire for the United States to take the lead in building the next generation of wireless technology.
But that may not be enough to convince regulators to green light the deal. Columbia University law professor Tim Wu tweeted Sunday that the merger "has decent odds of being nixed."