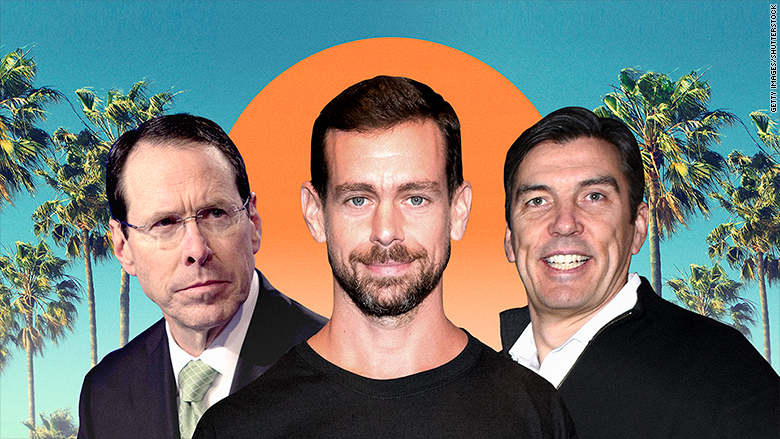 What's Next: M&A Heyday: Tim Armstrong, CEO of Verizon's Oath, tells me the consolidation of tech, media and telecom will likely grow more intense as companies race to keep up with consumers' "massive shift" to mobile and over-the-top services. "People are trying to position themselves for whatever their weakness areas are and make them strengths."
Sign up for PACIFIC: The new CNNMoney newsletter about the center of change and innovation
"It used to be that companies merged. Now ... industries merge," Armstrong said in an interview at the Milken Global Conference. "If you look across different sectors like retail and financial services and media and tech, there's a lot of activity and it is driven by keeping up with consumers."
This is why the DOJ vs. AT&T-Time Warner ruling is being watched so closely across tech, media and telecom, he said. "It's a giant signal of how Washington is going to treat M&A overall. It will landscape things for the future."
Will regulators OK T-Mobile-Sprint? "Right now, I don't think we have a viewpoint on it. It's too early."
Fun stat: The volume of global M&A mega-deals (deals over $10 billion) is already higher in the first quarter of 2018 than at any point in history.
Favorite parlor game: Who will buy Twitter? (More below)
---
Today's PACIFIC
Good morning. All eyes are on Apple, which reports earnings after the bell. Expectations are low due to a slowdown in iPhone sales. We're also watching capital returns, services and China sales. Also reporting: Snap and T-Mobile.
I'm back at Milken this morning, then off to New Orleans for Collision, the North American offshoot of the global WebSummit conference.
Bonus: Canadian Prime Minister Justin Trudeau has just announced that next year's Collision will be held in Toronto.
---
Bird's the Word: Twitter's new shows
Twitter has announced new deals with NBCUniversal, Disney, Viacom and others to bring original programming to the platform, including a new version of ESPN's "SportsCenter."
The Big Picture: Viewers already engage with television and social media at the same time. These deals marry the two screens, simplifying things for viewers and advertisers. Twitter head of content Kay Madati: "People on our service tell us directly what they want to see through conversations on Twitter."
What's on offer:
• NBCUniversal: Live content from NBC, NBC News, MSNBC, CNBC, Telemundo, TODAY, and E! News.
• Disney: Live shows from ESPN (including "SportsCenter Live") and ABC, Disney Channel, Freeform, Disney Digital Network, Walt Disney Studios Motion Pictures, Radio Disney and Marvel.
• Viacom: Live news and awards coverage for MTV and BET, a daily pop culture news show from Comedy Central.
• More: Live content from Fox Sports, Turner, Hearst, Will Packer and MLS.
Seeds for the idea: Twitter marketing, January 2017: "Self-professed superfans jump onto Twitter to join dialogues and share excitement around their favorite programs ... while enjoying direct access to talent and watching exclusive clips and information. ... Our research shows that ... passionate audiences are more likely to intend to buy what they see advertised during their favorite shows."
Twitter resurgent
So, who might buy Twitter?
The new partners -- Comcast-NBCUniversal, Disney or a combined CBS and Viacom -- are all within reason. Then again, so are most big tech players.
That said, Bloomberg's Shira Ovide rightly notes that a potential takeover has become more difficult since Twitter started doing well again. The company's market value is now at $23 billion, up from $15 billion in 2016.
"Still," Ovide writes, "deal hope springs eternal."
Sign up for PACIFIC: The new CNNMoney newsletter about the center of change and innovation
---
Amazon Everywhere
• Vancouver: Amazon plans to expand its Vancouver workforce to 5,000 people by 2022, making it one of the largest employers in British Columbia.
• Boston: Amazon will expand its Boston Tech Hub with 2,000 technology jobs in machine learning, speech science, cloud computing, and robotics.
---
Ride-Hail Hell: Uber, Lyft face assault problem
The nightmare scenario of the gig economy: A new CNN investigation has found that at least 103 Uber drivers in the U.S. "have been accused of sexually assaulting or abusing their passengers in the past four years." 18 Lyft drivers have been accused as well.
Nearly one third of the Uber drivers and nearly one quarter of the Lyft drivers "have been convicted for crimes ranging from forcible touching and false imprisonment to rape, and dozens of criminal and civil cases are pending."
CNN's Sara Ashley O'Brien, Nelli Black, Curt Devine and Drew Griffin:
• Uber "said it plans to host 50 community forums nationwide for advocates, leaders, drivers and riders across to talk about the issue. The changes came after CNN first contacted Uber about this story."
• "Uber was made aware of CNN's reporting for this story months ago but the company failed to make any executives available to speak on the record. It canceled an on-camera interview with an Uber executive earlier this month."
• "On a call with CNN last week for an unrelated story, Uber CEO Dara Khosrowshahi said cracking down on sexual assault is a 'new priority for us.'" A Lyft spokesperson said "the safety of the Lyft community is our top priority."
The Big Picture: Rider safety is to Uber and Lyft what data protection is to Facebook and Google. Scandals like these will up pressure on companies to take responsibility for the bad actors who use their technologies.
---
What's Up? Why Koum left Facebook
Speaking of.... My colleague Jordan Valinsky emails:
WhatsApp CEO Jan Koum is leaving his job nearly four years after Facebook bought the messaging app for $22 billion. His departure is reportedly due to disagreements over Facebook's handling of user data.
Why he left, via WaPo's Elizabeth Dwoskin:
• Koum was "worn down" by the constant fights over Facebook's "attempts to use its personal data and weaken its encryption" in order to make it easier for businesses to use its tools.
• Koum's co-founder Brian Acton "left the company in November ... He recently endorsed a #DeleteFacebook social media campaign ... in the wake of the controversy over data privacy ... and "donated $50 million of his money to Signal, a rival messaging app that is geared toward security and privacy."
• "Other WhatsApp employees are demoralized and plan to leave in November, four years and a month after the Facebook acquisition, when they are allowed to exercise all their stock options ..."
The Koum Memo, via CNNMoney's Seth Fiegerman:
• "I'm leaving at a time when people are using WhatsApp in more ways than I could have imagined. The team is stronger than ever and it'll continue to do amazing things."
• Koum said he planned to take "some time off" to collect "rare air-cooled Porsches" and play ultimate frisbee.
Bonus for folks at the F8 developers conference today in San Jose: "Facebook's Privacy Changes Leave Developers Steaming" by NYT's Sheera Frenkel.
Sign up for PACIFIC: The new CNNMoney newsletter about the center of change and innovation
---
What Bill Gates told Trump
"That's not a good use of my time,"
-- Gates' response when President Trump asked if he wanted to be his science adviser.
---
Talk of Tinseltown: DOJ-AT&T deadline set
"DOJ wraps up AT&T antitrust trial with a call for remedies in Time Warner merger" by CNNMoney's Hadas Gold and Jessica Schneider:
• "Judge Richard Leon ... said that he plans to issue his ruling on June 12 but left open the possibility that a ruling could come sooner."
• "The government's lead attorney, Craig Conrath, said the Justice Department prefers structural remedies to the deal, including "partial divestures." Should the merger be approved, he argued, AT&T should be forced to sell a portion of Time Warner such as the Turner Networks, which include CNN, TNT and TBS."
• "AT&T and Time Warner lead attorney Dan Petrocelli slammed the government's case, saying it's 'thin, tenuous' and a 'house of cards.' 'This is a case of theories in search of facts,' he said, telling Leon that the trial "has exposed serious questions about the credibility of the government's entire presentation.'"
What's Next? Depends on who you ask:
• Reuters' Diane Bartz says Judge Leon appears to be "mulling" a "compromise deal."
• NYT's Cecilia Kang says Leon "has given little indication of his thinking throughout the trial, and he gave no sign of his leanings on Monday, either."
---
What Next: The New York Times' interactive feature on InSight, NASA's latest mission to Mars.
See you tomorrow, from New Orleans.
Want this in your inbox every morning? Sign up for PACIFIC: The new CNNMoney newsletter about the center of change and innovation