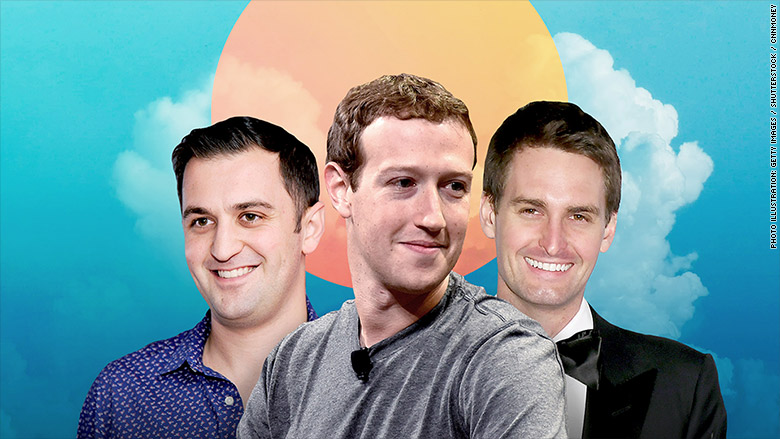 What's Next: Marketing morals. A year of scandal in tech, from #DeleteUber to #DeleteFacebook, will not result in meaningful regulation or broad-sweeping changes to business models, our best sources in Silicon Valley and on Capitol Hill believe. But it has put a premium on good behavior. The scrutiny over how tech companies affect society, handle data and prioritize growth vs. impact is forcing tech to spend more time thinking about "values" as strategy.
Sign up for PACIFIC: The new CNNMoney newsletter about the center of change and innovation
The case study for this is Lyft. The company has consistently emphasized its values in order to distinguish itself from Uber, which is still struggling to get out from under a cloud of scandal nearly one year since Travis Kalanick stepped down as CEO. Today, Lyft tells me it will announce a $1.5 million investment in its Relief Rides program, which gives free rides to victims and first responders after natural disasters and other crises. Lyft will also announce that it is expanding Relief Rides to provide free rides for veterans and low-income individuals going to job interviews.
Another: Apple's decision to hit Facebook for its monitoring of user data. "Privacy is something that's important to consumers," Tim Armstrong, the CEO of Verizon's Oath, told me this week. "Strategically, it's going to be one of the battleground areas. The companies that do well respecting privacy and do well with safety and security will do better than the ones that don't."
This is value as edge. The key for businesses will be convincing consumers they are driven by a sincere desire to do good and not merely by profit.
---
Today's PACIFIC
Good morning. We're in New Orleans for Collision.
Today
• 4:30 p.m. CT, Center Stage: I'll interview Lyft CEO John Zimmer.
Tomorrow
• 11:40 a.m. CT on Center Stage: I'll moderate a discussion on music and tech with Wyclef Jean, Major Lazer's Christopher Leacock and Combs Enterprises' Dia Simms.
• 2:35 p.m. CT at StartUp University: I'll moderate a discussion on startup investing with Kleiner Perkins' Eric Feng, Khosla Ventures' Benjamin Ling and Harvard Business School's Julia Austin.
---
Business As Usual: Facebook moves on
What's Next: Mark Zuckerberg tells Wired it will take three years to fix Facebook.
• "I think this is about a three-year transition to really build up the teams, because you can't just hire thirty thousand people overnight to go do something."
• "The good news is that we started it pretty early last year. So we're about a year in. I think by the end of this year we'll have turned the corner on a lot of it. We'll never be fully done. But I do really think that this represents a pretty major shift in the overall business model and operating model of the company."
The Big Picture: The fixes may takes years, but internally Facebook is moving on. Facebook sources tell me senior staff see Zuckerberg's announcements yesterday as a pivot away from scandal and back to business as usual.
Yesterday in San Jose
My colleague Jordan Valinsky emails:
The Facebook founder took center stage at the company's annual F8 developer's conference yesterday, addressing the controversies swirling around the company and standing firm on its plans to expand.
What Zuck told developers:
• "We are all here because we are optimistic about the future. ... We have real challenges to address but we have to keep that sense of optimism too. What I learned this year is we have to take a broader view of our responsibility."
• Facebook "will never be unprepared again" for meddling in elections.
What Zuck announced, via CNNMoney's Heather Kelly:
• A new dating tool that will be able "to pick what groups or events they want to 'unlock' to see more potential matches with the same interests."
• "A new privacy feature that will, once launched, allow users to clear their browsing history on Facebook including what they've clicked on and which websites they've visited."
• New Instagram features including video chatting, AR filters and a tool that "will filter comments and hide ones it detects as bullying. "
• A new redesign for Messenger and enhanced translation tools.
• A new Oculus Go VR headset for $199.
What Zuck told media, via Recode's Peter Kafka:
• "At Off the Record, an annual gathering of journalists and media executives ... Zuckerberg repeatedly emphasized his interest in help news organizations sell subscriptions to their content."
• "'People come to Facebook primarily not to consume news but to communicate with people,' he said. 'The way we can help out the most with that is by helping out with a business model that is profitable and sustainable for news organizations.'"
How it's playing: "Zuckerberg doesn't understand journalism" (The Atlantic)
Other Facebook news
• "Facebook commits to civil rights audit, political bias review" (Axios)
• "Facebook's smart speaker could debut outside of US" (Engadget)
Sign up for PACIFIC: The new CNNMoney newsletter about the center of change and innovation
---
Brave new world
Facebook's Oculus and AEG Presents have unveiled Oculus Venues, which will allow headset users to experience live concerts and events virtually through Oculus Go and Gear VR. The first show will be Vance Joy's concert on May 30th at the Red Rocks Amphitheater.
---
Cashing In: How Apple won earnings day
Buybacks. The company returned $22.8 billion to shareholders last quarter in the form of stock buybacks — by far the most of any company in history.
The massive return, coupled with soaring profits, more or less eclipsed the fact that Apple only sold 52 million iPhones in the first quarter.
The Numbers, via CNNMoney's Seth Fiegerman:
• "Apple said Tuesday that it sold 52.2 million iPhones during the first three months of the year, up just 3% from the same period a year earlier.
• "Apple sales hit $61 billion for the quarter, an increase of 16% from the same period a year earlier, fueled by the higher price tag of the iPhone. The company's profit soared 25% for the quarter, hitting $13.8 billion."
The Big Picture: Apple will need to purse new innovations in consumer technology as it adjusts to a slowdown in demand for its top product: the smartphone.
---
Oh, Snap: Evan Spiegel's bad quarter
Yikes: Snap is down 20% today.
Why?: "Snapchat user growth stagnant amid redesign backlash," via CNNMoney's Kaya Yurieff and Seth Fiegerman:
• "Snap added just four million users during the first three months of 2018 amid a backlash to a significant app redesign."
• "The redesign was supposed to attract new users amid concerns of lackluster audience growth. Instead, growth slowed."
• "Revenue jumped 54% to $230.7 million, but came in below analysts' expectations. Snap said the redesign impacted its revenue by 'disrupting user behavior' and creating some apprehension among its advertisers."
The Big Picture. Yurieff emails:
• "Snapchat's redesign was supposed to attract new users amid concerns of lackluster user growth. Instead it was met with huge user outcry, and that disruption hurt revenue and made some advertisers skeptical."
• "Activate, an influencer marketing network, says 86% of marketers and 89% of influencers are using Snapchat less for influencer marketing campaigns than they did last year. And Instagram continues to rise with 92% of marketers and 88% of influencers using Instagram for more campaigns than last year."
Sign up for PACIFIC: The new CNNMoney newsletter about the center of change and innovation
---
Sign of the times
The New York Times has hired more business and technology than political reporters over the past year, per AdAge's Jeanine Poggi. What's Next: The Times is now planning to rename its business section and make its Sunday section more like a magazine.
---
Talk of Tinseltown: Disney-Comcast's AT&T factor
New details on "Comcast's Last-Ditch Plan to Snatch Fox From Disney," via THR's Paul Bond and George Szalai:
• "Comcast launching a rival, and possibly hostile, bid for the same Fox assets that Disney ... agreed to buy [would set] up a battle for size and leverage that, even by Hollywood standards, would be ferocious."
• Wall Street insiders predict the Comcast-Disney-Fox showdown won't resolve itself until a judge determines the fate of AT&T-Time Warner, with a decision expected June 12.
• "If AT&T-Time Warner becomes a reality, Comcast and Disney suddenly would seem smaller and likely would be more motivated to scoop up Sky. Or those Fox assets. Or all of it."
The Big Picture: This one is likely to go to the mattresses. As I reported last week, Disney CEO Bob Iger and Comcast CEO Brian Roberts have a deep animus toward one another, which means the battle for Fox will be unpredictable and possibly irrational.
---
The New 'Magazine': Condé Nast goes OTT
The latest from the NewFronts, via Deadline's Dade Hayes:
• "Condé Nast said it will expand its over-the-top video offerings with dedicated channels for Wired, GQ and Bon Appétit, part of a NewFronts presentation that also lifted the curtain on 60 digital pilots and a range of new Snapchat shows."
• "Dawn Ostroff, the network TV veteran who has been president of Condé Nast Entertainment since 2011, called the company's offerings 'the new primetime for a new generation.'"
The Big Picture: Magazine publishers like Hearst and Condé are leveraging their brands and getting into television and streaming as the traditional magazine business collapses.
---
What Next: Eater's 38 Essential New Orleans Restaurants, Spring 2018, for the Collision crowd.
See you tomorrow.
Want this in your inbox every morning? Sign up for PACIFIC: The new CNNMoney newsletter about the center of change and innovation