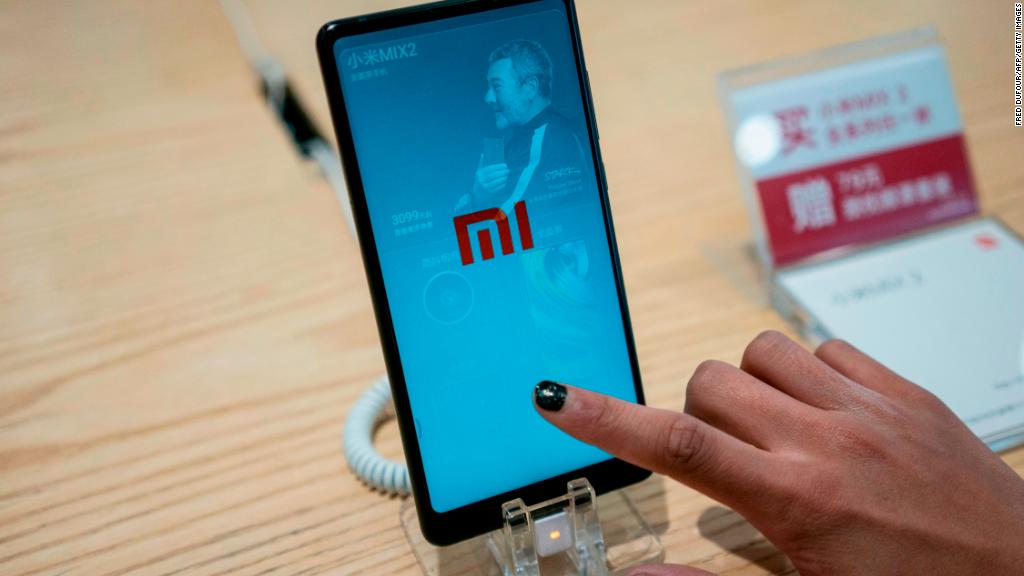 Xiaomi, one of the world's leading smartphone makers, has filed to go public in Hong Kong in what could be the biggest IPO in nearly four years.
The Chinese company submitted documents Thursday to list shares on the Hong Kong stock exchange. Its filing didn't give details on the size of the planned IPO, but reports have suggested it could be worth around $10 billion.
A deal of that size would make it the biggest stock market listing since Alibaba (BABA) went public in September 2014, according to Dealogic.
Xiaomi, one of the world's most valuable startups, declined to comment Thursday on the value of the IPO, which is expected to happen in the next couple of months.
When it raised money in late 2014, Xiaomi was valued at $45 billion. Some recent reports have suggested the IPO could put its valuation around $100 billion, but a person familiar with the company's plans to go public told CNNMoney that it would be lower than that.
A wave of other huge Chinese tech companies are also reportedly considering going public in the next year, including online payments giant Ant Financial.
Founded in 2010, Xiaomi was the fifth biggest smartphone maker in the world last year, shipping more than 92 million devices, according to research firm IDC.
Related: How China's Xiaomi took India's smartphone market by storm
Xiaomi's main business is phones, but it also makes a range of other internet-connected devices, including laptops and even smart rice cookers.
The company says it sells its products in 74 countries and regions. It has enjoyed particularly strong growth in India, where it has overtaken Samsung (SSNLF) as the biggest selling smartphone maker.
Revenue and profits soar
The documents Xiaomi filed Thursday shed some light on its finances, showing revenue soared nearly 70% last year to around 115 billion yuan ($18 billion). Operating profit more than tripled to 12 billion yuan ($1.9 billion).
Xiaomi made headlines in 2014 when it became the world's most valuable startup. But the company then ran into trouble, suffering a drop in smartphone sales in 2016 as it struggled with supply chain problems.
Related: Chinese smartphone sales suffer biggest decline ever
CEO Lei Jun said in an open letter Thursday that the crisis was "a turning point" for the company.
"As far as we know, apart from Xiaomi, there has never been another smartphone company that has successfully rebounded after a decline in sales," he wrote.
Like Apple (AAPL), Xiaomi also makes money through services linked to its smartphones, which come with Xiaomi-branded music and video streaming apps already installed.
Last year, Xiaomi's internet services business brought in about 10 billion yuan ($1.5 billion) in revenue. But that's still a fraction of the 80 billion yuan ($12.5 billion) it made from smartphone sales.
Related: China's biggest tech companies have reason to be worried
Trade war risk
Xiaomi is seeking to go public at a sensitive time for Chinese tech companies.
US officials have warned Americans against buying smartphones from two other big Chinese firms, Huawei and ZTE, saying they pose a security risk.
Related: Pentagon: Stores on US bases should stop selling Huawei and ZTE phones
Chinese tech companies have also found themselves caught up in a trade dispute between Washington and Beijing.
Xiaomi acknowledges that a trade war could be a risk for investors. In its filing Thursday, the company said that in the event of trade or import protection policies, "our business and operations may be adversely affected."
-- CNN's Alanna Petroff contributed reporting.