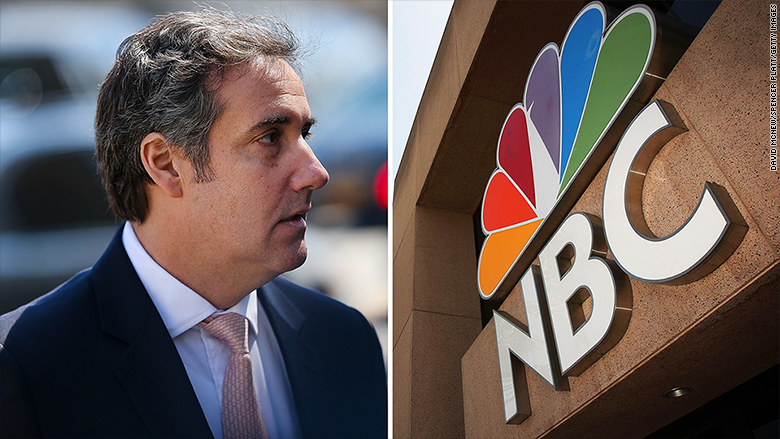 NBC News on Thursday afternoon corrected an explosive story it had reported earlier in the day that said federal authorities had wiretapped Michael Cohen, President Donald Trump's personal lawyer.
The correction was announced on MSNBC during "Meet the Press Daily" by the story's lead reporter, Tom Winter. He said US officials had told him that it "was not a wiretap" but instead a "pen register."
"In plain English, that means it was a log of phone calls that were made from specific phone line -- from a specific phone line or specific phone lines," Winter said.
Calling it an "important distinction," Winter explained that a pen register meant authorities were "not able to listen in in real-time or record his conversations." Instead, they were only able to monitor incoming and outgoing calls. Winter's initial story cited two sources with knowledge of legal proceedings involving Cohen.
Soon after Winter corrected his report on MSNBC, the story was corrected online and an editor's note was appended to it.
"NBC News has changed the headline and revised parts of the original article," the note said.
A spokesperson for NBC News directed reporters to Winter's on-air correction and the online editor's note.
ABC News, which had said it had independently confirmed the NBC News report, also issued a correction. Reached by email, an ABC News spokesperson declined to comment beyond the tweet.
Rudy Giuliani, who recently joined Trump's legal team, had expressed doubt about the accuracy of the NBC News report earlier in the day. Speaking to The Daily Beast, he said, "Us lawyers have talked about it, we don't believe it's true."
An April 13th court filing previously revealed that prosecutors in Manhattan had obtained search warrants on multiple email accounts maintained by Cohen.
"We already have considerable amounts of information about Mr. Cohen's activities," Assistant US Attorney Thomas McKay said during a hearing the same day, in reference to the search warrants obtained in the investigation.