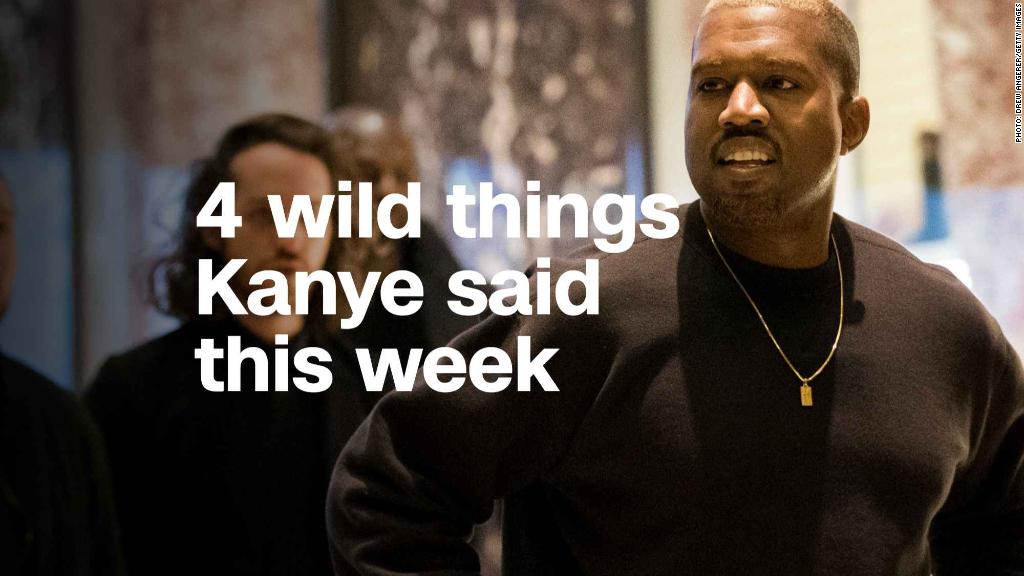 Adidas is standing behind Kanye West after the rapper described slavery as a choice.
CEO Kasper Rorsted said Thursday that Adidas (ADDDF) had not considered dropping West as a designer and celebrity ambassador. West designs clothing and shoes for the German sportswear company under the Yeezy line.
"Kanye has been, and is, a very important part of our strategy and has been a fantastic creator," Rorsted said in an interview on Bloomberg TV. "I'm not going to comment on every comment he or somebody else [is] making."
West caused an uproar earlier this week when he told TMZ, "When you hear about slavery for 400 years ... For 400 years? That sounds like a choice."
He later tried to clarify his comments on Twitter.
"Of course I know that slaves did not get shackled and put on a boat by free will," he wrote. "My point is for us to have stayed in that position even though the numbers were on our side means that we were mentally enslaved."
In another tweet, Kanye wrote, "The statement was an example of free thought. It was just an idea."
Rorsted said the company would speak with West about the matter, but had not done so yet.
Adidas has never broken out how much revenue the Yeezy line brings in.
"Kanye and the Yeezy are a very important part of our brand, from a revenue standpoint less so," Rosted told Bloomberg. "Adidas is a large global company with a very strong presence around the world, and will continue to perform well. "
Experts agree.
"Adidas sold 400 million pairs of shoes last year. West sold tens of thousands of pairs," said Matt Powell, senior industry adviser for sports at NPD Group. He said West has even less impact on clothing sales at the company.
Related: Lululemon has made a big comeback since its sheer pants nightmare
Adidas has partnered with West since 2013, when the company signed him away from rival Nike (NKE). In 2016, Adidas expanded its relationship with the rapper, calling it "the most significant partnership ever created between a non-athlete and an athletic brand."
Since West signed with Adidas, Powell said Nike and other rivals have also signed more deals with non-athletes. But he said it's not clear whether those deals are really bringing in the additional sales to justify their cost. And he said the controversy over West's remarks could hurt the sales of even Adidas' non-Yeezy products.
"It depends on how long the story lasts," Powell said. "I think Rosted's comments today, that they would be talking with West, were appropriate. But you never know what kind of celebrity backlash there is going to be in these cases. I think today's consumers want to know what a brand's values are. If those values don't align with their views, they're prepared to take their business elsewhere."
The company on Thursday reported a 21% increase in North American sales over the past year, beating Nike and Under Armour.
— CNNMoney's Alanna Petroff contributed to this story.