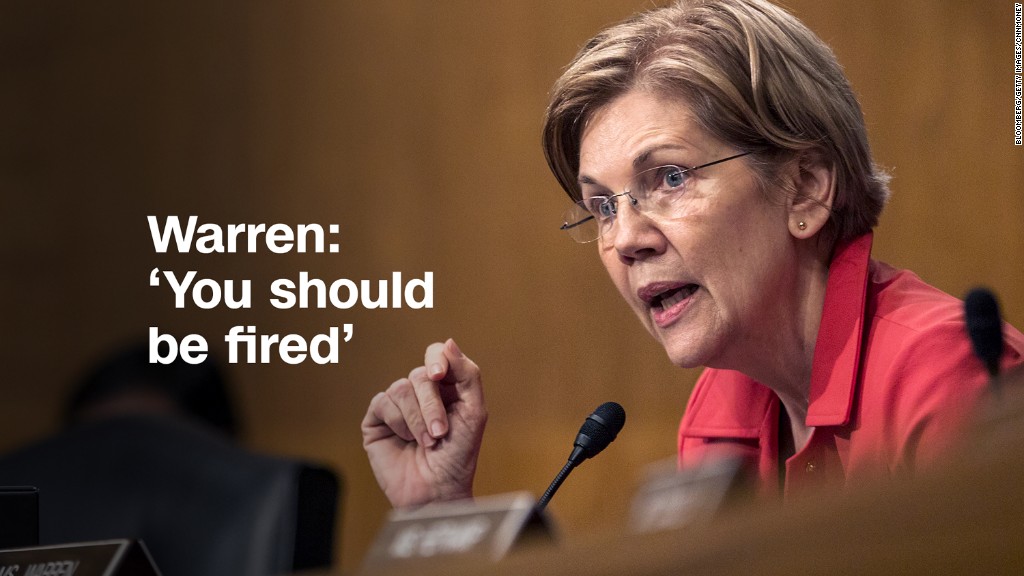 Wells Fargo will pay $480 million to put to rest claims that the bank misled shareholders about its fake-accounts scandal.
A class-action securities fraud lawsuit brought by investors alleged that Wells Fargo (WFC) made misstatements and omissions in its disclosures about its notorious sales practices.
Wells Fargo said in a statement Friday that it "denies the claims and allegations." But the bank said it agreed to pay "to avoid the cost and disruption of further litigation." The preliminary settlement is subject to final approval by a federal judge.
Federal law requires public companies like Wells Fargo to warn shareholders about non-routine legal matters. Wells Fargo has acknowledged that it stayed silent for at least six months after it learned that regulators were investigating the bank's creation of fake customer accounts.
Wells Fargo was in talks with the Consumer Financial Protection Bureau about unauthorized accounts as early as March 2016. Investors did not learn about the bombshell findings until September 2016, the same time the rest of the world found out.
Related: US government urged Wells Fargo to probe its 401(k) tactics
Wells Fargo did not mention the looming settlement or "sales practices" at all in an SEC document filed just weeks earlier in 2016.
The fake-accounts scandal turned out to be a seminal moment for Wells Fargo, tarnishing the bank's reputation and upending its management team.
Wells Fargo CEO Tim Sloan said in a statement that the bank believes that "moving to put this case behind us is in the best interest of our team members, customers, investors and other stakeholders."
Yet Wells Fargo remains under a cloud of legal scrutiny. The bank's sales tactics are still being investigated by the Justice Department, the Labor Department and the SEC.
Wells Fargo also recently said that the federal government has urged the board to probe whether the bank made inappropriate recommendations to customers about their 401(k) plans.