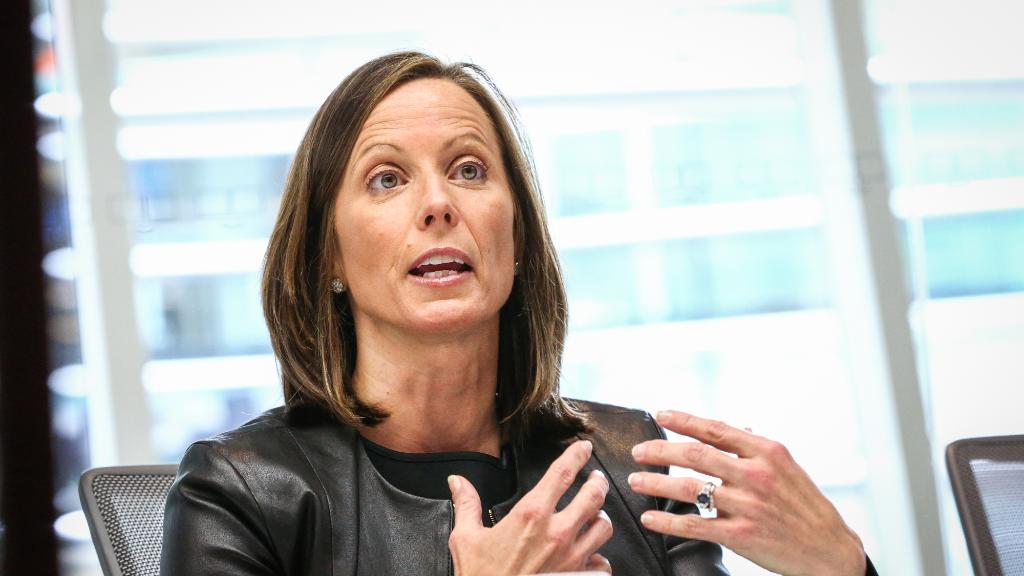 Nasdaq CEO Adena Friedman knows how to make things happen. Not only has she attained a black belt in Taekwondo, but she's also the first woman to lead a major US stock exchange.
"It's really, really important to own your life and own your career," Friedman tells CNN's Poppy Harlow in the latest episode of Boss Files. "You have to understand where you want to take your own career and you have to find ways to make it happen. No one else is going to sit there and do it for you. It's really up to you."
Friedman, 48, joined Nasdaq in 1993 as an intern and rose through the ranks, serving as head of corporate strategy and ultimately taking over as chief financial officer in 2009. She left in 2011 to take the role of the chief financial officer at private equity firm Carlyle Group for three years, but returned to Nasdaq in 2014. Last year, she was named CEO.
"I've had the chance to see Nasdaq grow as an organization, evolve and become a global technology company," Friedman says. "I think I was part of the effort to create what it is today, so I understand it well and it became a very natural progression."
Watching both her parents balance professional careers and family helped her gain an understanding of what it takes to succeed.
While growing up in Baltimore, Friedman would often visit her father on the floor of T.W. Rowe Price where she would entertain herself by drawing on the walls. Later on, when Friedman was writing her essay for her business school applications, she recalls describing her mother as her hero because she chose to go to law school after having a family.
Beyond her parents' influence, Friedman says her work ethic and strong performance have helped to get her where she is today.
Related: A former refugee, she's now the first Latina CEO of a major US company
"I'm very fortunate to have been given a lot of opportunities, but I think I've been given opportunities because I've performed well," she says. "I believe that if the right people are in the door, then they should be given an equal opportunity to succeed."
It's a "meritocracy," she says.
Being a woman has not defined her career, says Friedman. But part of her mission at Nasdaq is to create opportunities for more women to succeed in finance.
To date, no Wall Street bank has ever been led by a woman. Of the S&P 500 companies, women make up just 26% of executives and only 5% of CEOs, according to Catalyst.
Nasdaq recently signed the Parity Pledge, a commitment to interview at least one qualified woman for every senior executive role.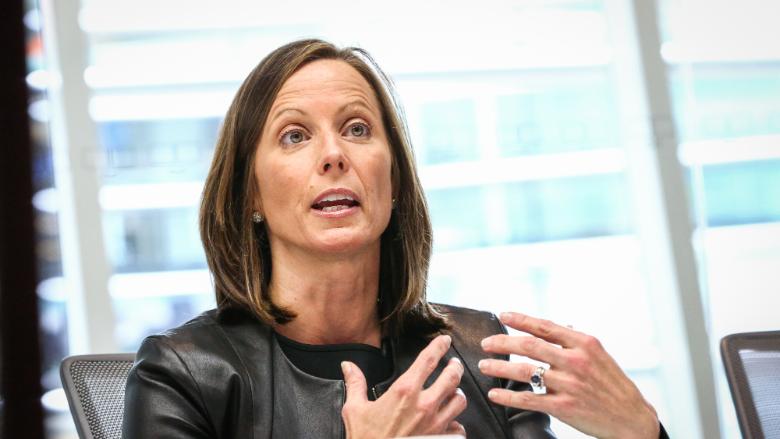 "You see so many fewer women in the recruitment pool, so therefore it makes it harder to reach parity," says Friedman. "That's why we've got to get more women to go into finance, to get more women to go into tech, and to take advantage of the education available to them because that will then get them into the industry."
Part of the solution is "recruiting the right people."
Yet winning over talent against the likes of big Wall Street and Silicon Valley firms sometimes takes some convincing.
"Our pitch is that Nasdaq provides the technology that drives economic growth around the world, and you could argue that banks provide the fuel for growth around the world," Friedman tells Harlow. "Young people coming into Nasdaq specifically realize that they're here more than just to have a fun experience, but they're actually here to make a difference."
Related: Accenture CEO seeks total gender equality by 2025
Friedman's plan is to reinvent Nasdaq as a technology company. She is overseeing its transformation from a stock exchange to an emerging company that provides the market infrastructure technology for exchanges around the world, including the cryptocurrency market.
"I think that we are much stronger as an industry today than we were then. I think the more diversity of thought and the more diversity of views is always going to drive to a better decision, and so as we continue to bring more great people into the industry I believe that we will end up with better outcomes," she says.