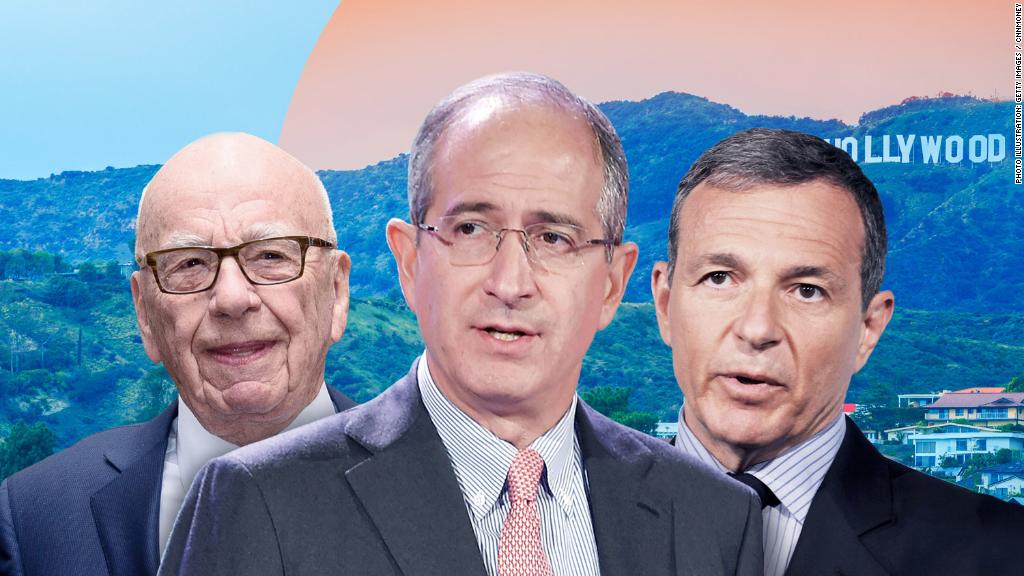 Disney bid for most of 21st Century Fox to beef up its movie and TV business and threaten Netflix as the content king.
Comcast is ready to throw a wrench in that plan. It is talking to investment banks about usurping the Disney-Fox deal, three sources with knowledge of the matter told CNN's Dylan Byers. Comcast (CMCSA) would make an offer worth about $60 billion for the same assets Fox agreed to sell to Disney. That's about $8 billion more than Disney offered.
News of Comcast's anticipated bid was first reported late Monday by Reuters.
Related: The Disney-Comcast War Gets Hot
The jockeying between Disney and Comcast for more media assets makes sense. American consumers are cutting their cable subscriptions and spending more time online with services like Netflix (NFLX), so legacy companies are looking for ways to scale their business and build influence.
It's not the first time Comcast has shown interest in Fox. The company considered a bid for most of Fox's assets late last year, but dropped out in mid-December.
An added factor: Comcast has also bid for Sky in a challenge to Fox's own attempt to purchase the European broadcaster.
Related: Comcast offers $31 billion for Sky, setting up showdown with Fox
Each marriage would bring something different to the table.
For Disney, the deal would be all about expanding its content library. A union would add big-name Fox franchises like the X-Men and Avatar to a lineup that already includes the Marvel Cinematic Universe and Star Wars, giving Disney unprecedented dominance over the domestic box office.
The company would also add all of Fox's regional sports networks to its arsenal, a move that it hopes would counter sliding viewership on its flagship sports channel, ESPN. Sports still reach live viewers, and local fans watching regional networks are particularly loyal.
That could give Disney more clout as it wades into streaming, too. Its newly launched ESPN+ service is still adding programming — it just reached a deal for exclusive UFC content Tuesday — and a Disney-branded streaming service is on the way next year.
Disney would also take Fox's share of Hulu, giving the company a majority stake in a streamer with 20 million subscribers.
Related: Hulu passes 20 million subscribers and announces offline viewing
Comcast's angle is a bit different, because, unlike Disney, Comcast is also a distributor, according to BTIG media analyst Rich Greenfield.
But Comcast's move is also similar. Like Disney, it's about diversification. Greenfield added that the company's US cable business is slowing because of competitors like AT&T's DirecTV Now and Google's (GOOGL) YouTube TV, which offer streaming bundles that are cheaper than a traditional cable package.
Fox would add to what Comcast already has on offer within NBCUniversal, which includes channels like Bravo and E!, as well as the Universal Pictures film library.
And like Disney, Comcast would gain a foothold in streaming. It also owns a sizable chunk in Hulu, and a deal with Fox would give it a majority stake.
It could still be some time before Comcast decides whether to jump in. According to Reuters, CEO Brian Roberts will only bid if AT&T (T) wins its case against the Justice Department.
The trial, which hinges on the US government's opposition to AT&T's purchase of Time Warner (TWX), wrapped up last week. A decision is expected by June 12. (CNN is owned by Time Warner.)
The prospect of a gatecrash came just before Disney reported quarterly profit that beat Wall Street expectations, driven in part by success at its theme parks and the smash hit "Black Panther." The movie has grossed $1.3 billion worldwide.
Disney CEO Bob Iger refused to speculate about the Comcast bid on the call. He told CNBC earlier in the day that Disney is confident in its own bid.
-—CNN's Dylan Byers contributed to this report.