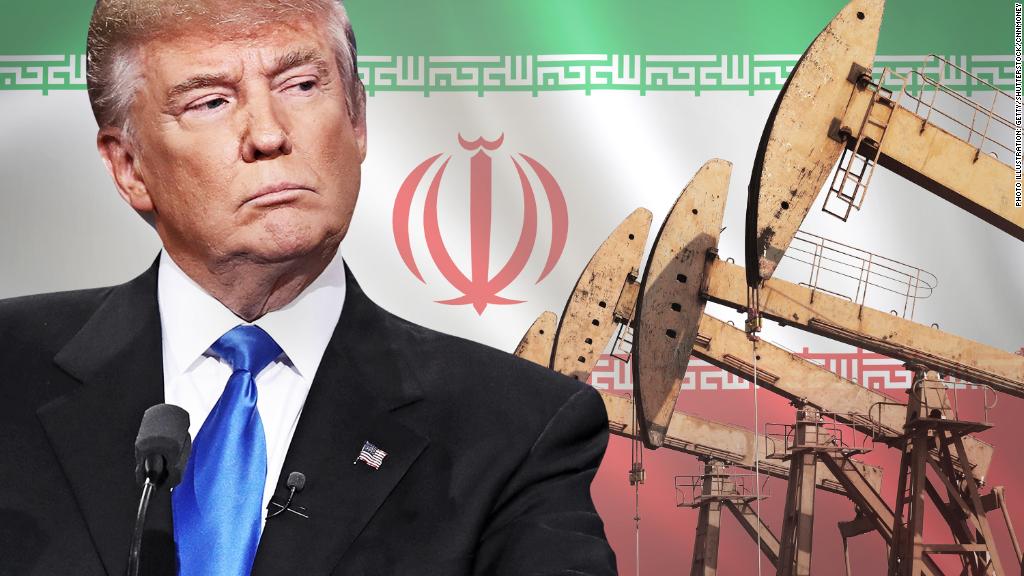 Boeing stands to lose billions of dollars in sales due to the sanctions on Iran President Trump just announced. But it can stand to take the hit.
Treasury Secretary Steven Mnuchin on Tuesday told reporters that licenses for Boeing and Airbus to export commercial planes and related parts to Iran will be revoked after a 90-day period. The company is not trying to beat that deadline.
Sales and profits at the aircraft maker are very strong, and it has a backlog of orders for nearly 6,000 commercial jets, worth about $486 billion. That doesn't even include the 110 jets Iran ordered.
In fact, Boeing had been preparing to put the brakes on the Iran sales even before Tuesday's announcement. Trump said that the United States is pulling out of deal meant to curb Iran's nuclear weapons program and reinstating economic sanctions on Iran.
CEO Dennis Muilenburg told investors last month that Boeing had already pushed back the delivery plans for the first Boeing 777 jets it had originally planned to deliver to Iran later this year.
Related: Ditching Iran deal would harm global economy, OPEC official says
"We continue to follow the U.S. government's lead here," he said.
And he said it won't be a problem if those Iranian orders are canceled permanently, since its current production plans no longer rely on those sales. If US - Iran relations improve and the sales are reinstated, it will be a bonus for Boeing, he said.
Boeing has deals to sell 80 aircraft to Iran Air and an additional 30 jets to Iran Aseman Airlines. The company valued the two sales at $19 billion, although Iranian officials had said the actual sales price was closer to $10 billion.
One of the biggest incentives Iran had to reach a deal with the U.S. and Europe to end sanctions was getting access to modern commercial aircraft and replacement parts for existing aircraft. The aircraft being used by Iran Air and other airlines there are among the oldest in the air. Iranian officials have said they'd like to buy about 500 passenger jets in coming years, and to resume direct flights to the United States.
Related: Who loses from Trump killing Iran deal?
President Trump has long been a critic of the Iranian nuclear deal, which lifted sanctions on Iran. So investors have had plenty of reason to doubt that Boeing's Iran sales would go through. Even so, Boeing's stock has been on fire in recent years. It was the best performer on the Dow last year, nearly doubling in value. And Boeing (BA) shares are among the best performers on the blue chip index, rising 15% so far in 2017.
Boeing and European rival Airbus (EADSF) are virtually duopoly in terms of selling commercial jets worldwide; they control almost the entire market for commercial passenger jets between them.
Airbus also has deals to sell more than 100 jets to Iran. But even if European countries do not impose sanctions on Iran, those Airbus sales to Iran could be blocked by US sanctions anyway, since Airbus has a US plant and its jets use US-made parts.
"We're carefully analyzing the announcement," Airbus said in a statement after Trump's announcement, "and will be evaluating next steps consistent with our internal policies and in full compliance with sanctions and export control regulations."
--CNNMoney's Donna Borak contributed to this report.