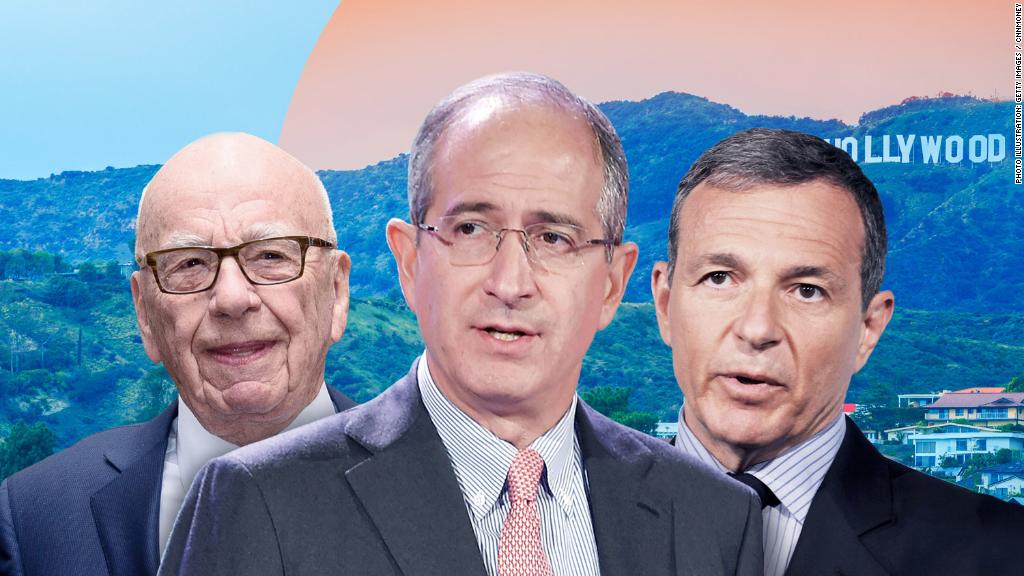 What's next: The Disney-Comcast war gets hot. Comcast is talking to investment banks about usurping Disney's $52-billion bid for 21st Century Fox, three sources with knowledge of the matter tell me. The plan being discussed would see Comcast make an all-cash offer of around $60 billion for the same assets Fox agreed to sell to Disney.
Sign up for PACIFIC: The new CNNMoney newsletter about the center of change and innovation
You Saw This Coming: Last month, we told you that Comcast CEO Brian Roberts was intent on stopping Disney's acquisition and that he was likely to move on Fox. Roberts and Disney CEO Bob Iger have a deep dislike of one another, our sources say, which makes this battle personal and unpredictable.
What Now: Roberts is waiting for the federal judge's ruling on the AT&T-Time Warner acquisition. If that gets approved, Roberts is likely to move on Fox. Iger may then move to counter-counter offer. Everything we know about these two executives leads us to believe that this will go to the mattresses.
The Big Picture: Disney and Comcast are fighting for scale in a world where tech, media and telecom have collided. The Other Big Picture: It's not strictly business. It's personal.
Bonus: What they make, via Variety: Iger: $41.2 million a year, on average. Roberts: $33.2 million a year, on average.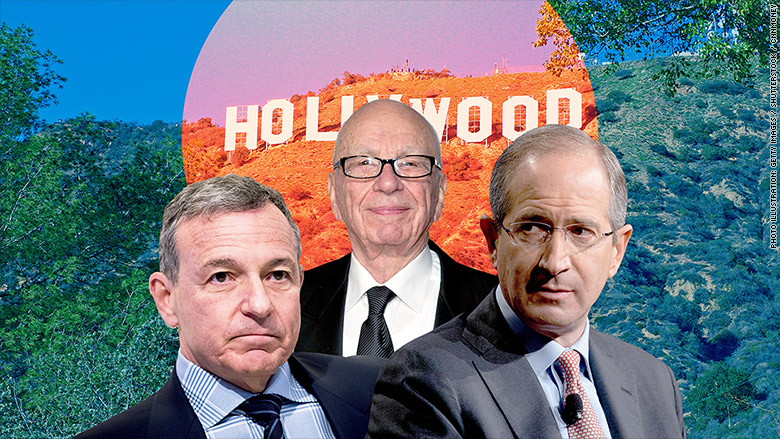 ---
Today's PACIFIC
Good morning. Here's what's next.
• Today in Los Angeles: The Uber Elevate summit, where I'll be talking to Uber chief product officer Jeff Holden about the future of on-demand aviation.
• Today in Mountain View: The Google I/O summit, where my colleague Heather Kelly is covering the latest breaking news about Google's new products.
• Today on Wall Street: Disney earnings, which the company will report after close-of-market. Expect a big boost from "Black Panther."
• Thursday in Washington: A White House AI summit: Representatives from Amazon, Google, Facebook and 30+ companies will meet with the Trump administration to discuss how artificial intelligence can boost the economy.
• Next week: US-China trade talks, round 2: Xi Jinping's top economic adviser Liu He will be in Washington to meet with Trump's team.
---
Up in the Air: Uber reveals flying taxis
Uber has revealed the design model for UberAIR, a fleet of electric air taxis that its says will be available for public use by 2023.
"We think cities are going to go vertical in terms of transportation and we want to make that a reality," CEO Dara Khosrowshahi told CBS News this morning.
Why it matters: This design model is the standard that manufacturers will use to build out the fleet, an Uber spokesperson tells me. It's a signal to the industry about what to build.
What you need to know:
• The acronym: eVOTL, which stands for electric vertical take-off and landing vehicles.
• The timeline: Uber plans to launch demonstration flights in Dallas and Los Angeles in 2020 and to have UberAIR ready for public commercial use in 2023.
• What it looks like: Watch the video simulation.
The Big Picture: Daily vertical transportation could radically transform the way humans live their lives, build their cities, choose where to live and organize their time. It would also demand an entirely new set of laws and regulations to govern the urban skies. Whether Uber owns that future and when it actually happens remains to be seen.
But: When this future actually happens, and whether Uber owns that future, remains to be seen. There's no real prototype yet and the capability of Uber's autonomous technology isn't totally clear.
What's Next: My interview with Uber CPO Jeff Holden in tomorrow's PACIFIC
Sign up for PACIFIC: The new CNNMoney newsletter about the center of change and innovation
---
Down on Earth: Uber's other summit
The Other Big Picture: Khosrowshahi is hoping UberAIR will fix the company's public image. Uber is still suffering from past allegations about its corporate culture and, more recently, a CNN investigation which found that 103 Uber drivers were accused of sexual assault over a four-year period.
Uber's board will meet in San Francisco this afternoon to discuss, among other things, its forced arbitration policy.
My colleague Sara Ashley O'Brien emails:
• "When users sign up for Uber, they agree to its terms, which includes resolving any claim on an individual basis through arbitration. Critics say that has helped the company keep the issue of sexual assault and rape by Uber drivers under the radar."
• "Lawyers behind a proposed class action lawsuit have agreed to give Uber two weeks to decide whether it will compel nine women who say they've been attacked by Uber drivers into forced arbitration, or whether it will revise its rules."
• "Uber has not responded to Sen. Blumenthal's request that the company drop its forced arbitration clause for riders who have been assaulted by drivers."
---
What California is reading
"The Pleasure and Pain of Being California, the World's 5th-Largest Economy" by NYT's Thomas Fuller:
• California is now the fifth-largest economy in the world, ahead of Britain.
• "Apple brought in more revenue in its latest fiscal year -- $229 billion -- than the entire economic output of Wyoming, five times over."
• "California's economy has soared ... but not without inflicting some pain. Paralyzing traffic is one symptom; the increasingly absurd price of putting a roof over one's head is another."
Sign up for PACIFIC: The new CNNMoney newsletter about the center of change and innovation
---
New Intelligence: Google I/O: All eyes on AI
My colleague Jordan Valinsky emails:
What's Next: Google's annual developers conference will showcase the company's advancements in artificial intelligence, a refreshed Android OS and search. CEO Sundar Pichai is also expected to address the elephant in the room: user privacy.
What To Expect:
• Android P: The next version of Google's mobile operating system will likely be revealed, including new notifications and its first design overhaul in nearly four years.
• AI: Google has rebranded its Google Research division as Google AI, "reflecting the centrality of artificial intelligence to the company's future," per The Verge. AI will be weaved throughout Google products.
• Assistant: Google will announce new innovations for its personal assistant, raising its IQ against Amazon Alexa. One new tool, per the AP, is the ability to make restaurant reservations "without human hand-holding."
• Maps: Google is making "a concerted push to integrate more apps with Google Maps," per Bloomberg. That includes dropping the price for developers to use its mapping software tool.
The Privacy Question:
• Google sources tell us Pichai will stress that the data privacy is a top priority for the company. Google has as much if not more access to user data as Facebook -- who you know, what you read, where you go -- but has not faced the same level of public scrutiny.
• Today at Axios, Mike Allen writes that "Google is a gigantic octopus, with sprawling, growing tentacles reaching deep into every nook and crevice of media companies." But it's not just media companies: It's you, too.
Sign up for PACIFIC: The new CNNMoney newsletter about the center of change and innovation
---
Musk Watch: Elon drops $10m on Tesla
Elon Musk has spent $9.9 million to buy 33,000 additional shares of Tesla at market value, a signal to critics that he's confident in his company.
My colleague Chris Isidore reports:
• "The purchase is unusual, since CEOs typically don't buy shares of their company stock on the open market."
• "Musk was already by far the company's largest shareholder, holding about 22% of the shares outstanding. Monday's purchase is a relatively small one in terms of those holdings, increasing his stake in the company by less than one-tenth of 1%."
Elswhere: Musk, who has a penchant for announcing new projects, from candy to flamethrowers, now says he will use dirt from the Boring Company's tunneling to create bricks that can alleviate the nation's housing crisis.
• @elonmusk: "The Boring Company will be using dirt from tunnel digging to create bricks for low-cost housing."
• Over at Bloomberg, Sarah McBride considers how many affordable housing units those bricks will actually create.
Bonus: The story we're not covering: Musk and Grimes at the Met Gala. ... But the Daily Mail is.
---
Valleyspeak: Valinsky's top links
Palantir is at the heart of the Iran deal (Bloomberg)
Wall Street is warming to bitcoin (NYT)
Walmart will announce a Flipkart deal (Reuters)
Amazon has a fake review problem (BuzzFeed)
Snap hires an Amazon exec as CFO (Recode)
---
The Locavore: JuneBaby takes James Beard
"Seattle's JuneBaby Named Best New Restaurant at Beard Awards," by NYT's Julia Moskin:
• "JuneBaby, a Seattle restaurant focused on the foods of the American South, was named Best New Restaurant on Monday night at the James Beard Foundation's annual awards ceremony in Chicago."
• "Its founding chef, Edouardo Jordan, is the first African-American to earn that prize. He also picked up an award for Best Chef in the Northwest for his first restaurant, Salare."
Other Beard winners:
• Outstanding Restaurateur: Los Angeles' Caroline Styne of Lucques Group, which includes Lucques, a.o.c., Tavern and others.
• Outstanding Service: San Francisco's Zuni Café.
• Outstanding Wine, Beer, or Spirits Professional: Napa Valley's Miljenko Grgich, of Grgich Hills Estate in Rutherford.
• Outstanding Baker: San Francisco's Belinda Leong and Michel Suas of B. Patisserie.
Why we're kicking ourselves: The award for Outstanding Bar Program went to Cure in New Orleans. We were just in New Orleans. We could have tried the Count Camillo.
See the full list of winners here.
---
What Next: My colleague Anthony Bourdain's field notes for Seattle, San Francisco and Los Angeles.
See you tomorrow.
Want this in your inbox every morning? Sign up for PACIFIC: The new CNNMoney newsletter about the center of change and innovation