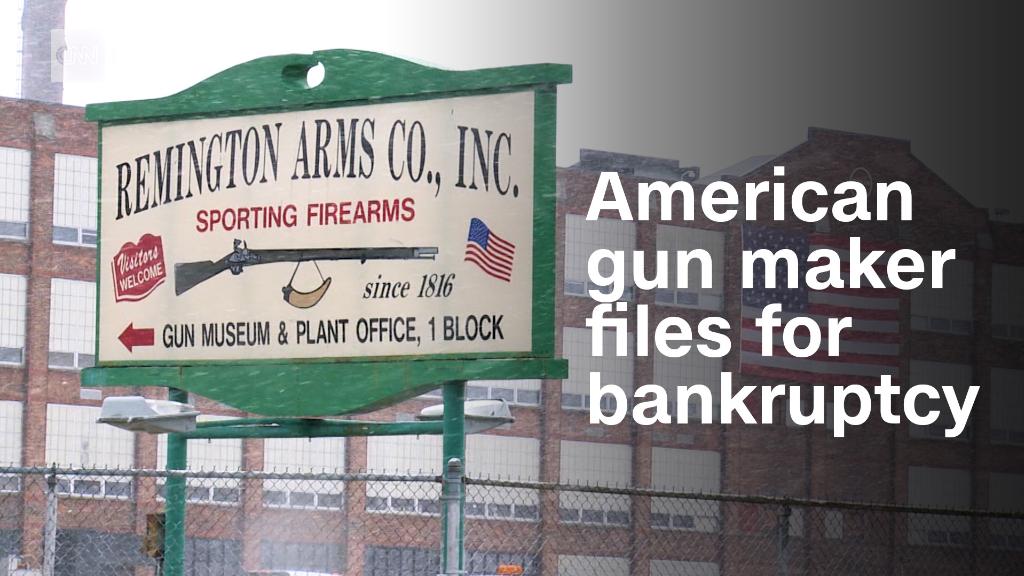 Sturm Ruger shareholders voted on Wednesday to conduct a report on gun safety, an extremely unusual move for the gun industry.
The vote requires that the gun maker's board of directors issue a report "on the company's activities related to gun safety measures and the mitigation of harm associated with gun products," according to a Sturm Ruger (RGR) document.
The vote requests that the company provide "evidence of monitoring of violent events" associated with its guns and research on producing safer guns. It also requests an assessment of "reputational and financial risks related to gun violence in the U.S." The report is due on February 8, 2019.
Chief Executive Officer Christopher Killoy said it won't stop the company from making guns.
"The proposal requires Ruger to prepare a report, that's it, a report," said Killoy during the annual shareholders meeting in Prescott, Arizona. "The shareholders have spoken and we will follow through on our obligation to prepare that report in due course."
"What the proposal does not and cannot do is to force us to change our business, which is lawful and constitutionally protected," he said.
Ruger could not be reached for comment. On Tuesday, the gun manufacturer reported a 22% drop in quarterly sales and a 36% plunge in profit. The gun industry has suffered since the election of President Trump, as fears of federal gun control have diminished.
Related: Ruger AR-556 rifle used in church massacre
Avery Gardiner, co-president of the Brady Campaign to Prevent Gun Violence, said the shareholder move appears to be unprecedented.
"I'm not aware of any other shareholder resolutions that deal with gun violence ever passing," she told CNNMoney. "They are making this something where they are literally putting their money where their mouth is."
Rommel Dionisio, gun industry analyst for Aegis Capital, also said the move is a first.
"It is rather unprecedented that a majority of shareholders would vote in favor of something that poses a challenge to the ongoing processes of the company itself, however minor that challenge may prove to be in the long run."
The proposal was spearheaded by Colleen Scanlon, senior vice president and chief advocacy officer for Catholic Health Initiatives, a system of hospitals and academic institutions. Her organization was one of four shareholders who spoke at the meeting, and all of them asked the Ruger executives what they were going to do about gun violence and gun safety.
"We as shareholders are saying that gun violence is significant enough that you, as a gun company, need to address what your responsibility to gun safety is," Scanlon told CNNMoney.
She said that hospitals within the Catholic health system have treated many patients with gunshot wounds, and she wants Ruger to focus on smart gun technology. She said that her institution was one of 11 religious shareholder organizations to draft the proposal
"Wouldn't it be wonderful to see them leading an effort about making a smarter gun, like fingerprint activated guns and tracking systems for finding lost or stolen guns, like with iPhones?" she said. "We know that gun owners are responsible and sensible people, but we know that guns can end up in the wrong hands."
Related: Bank of America is still working with Remington
Catholic Health Initiatives is also a shareholder in American Outdoor Brands (AOBC), and co-filed a similar proposal for that company to conduct a study.
Without mentioning any names, Killoy suggested that certain shareholders are not acting in the best interests of the company.
"What [the report] does not do and cannot do is force us to adopt misguided principles created by groups, who do not own guns, know nothing about our business and frankly would rather see us out of business," said Killoy at the shareholder meeting. "The proposal also cannot change what Ruger is about and what we stand for."
Gun control activism has been on the rise since a mass shooting at a high school in Parkland, Florida, that killed 26 students and educators.
Vista Outdoor (VSTO) said last week that it might dump its gun brands. Dick's Sporting Goods (DKS) announced earlier this year, after the shooting in Parkland, that it would to stop selling "assault-style" guns. Walmart stopped selling military-style semiautomatic rifles in 2015.
Related: BlackRock will offer gun-free retirement funds
After Dick's announced its decision, Walmart (WMT), L.L. Bean and the grocery chain Kroger (KR), which sells guns through its Fred Meyer stores, all raised their minimum gun buying age to 21.
Wall Street has also gotten involved. BlackRock (BLK), the largest shareholder in Ruger and American Outdoor Brands and the second-largest shareholder in Vista, said last month that it's launching gun-free funds for retirement plans. One of America's oldest gun makers, Remington, sought bankruptcy protection in March