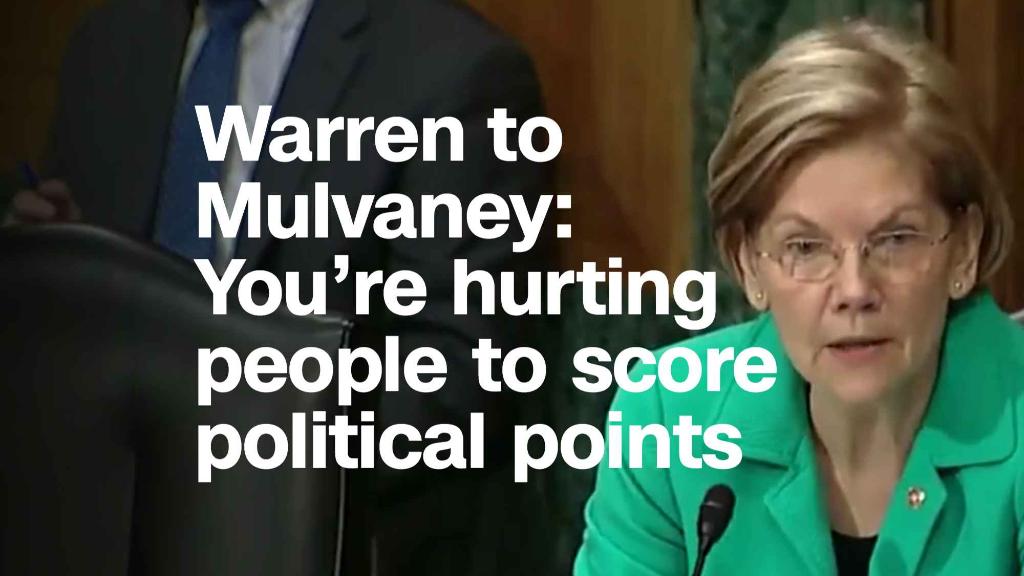 Mick Mulvaney has a few more ideas to revamp his consumer watchdog agency. And this time he's targeting a unit dedicated to protecting millions of student loan borrowers.
A division of the Consumer Financial Protection Bureau that helped borrowers deal with costly surprises and runarounds by their loan servicers will be folded into the bureau's office of financial education.
Mulvaney, the interim director of the bureau, announced the plans in an email to staff on Wednesday.
The division has helped return $750 million to student loan borrowers to compensate for abusive practices by lenders. It has helped more than 60,000 borrowers get answers from lenders about student loan repayment.
And it has sued Navient, the nation's biggest student loan company, claiming it gave borrowers bad information.
Related: Change could weaken fair lending office at consumer bureau
The move raised alarm bells among consumer advocates, who said that Mulvaney was once again seeking to weaken consumer protections by moving the student loan division under the broader financial education unit.
"Shuttering the CFPB's student lending office is an appalling step in a longer march toward the elimination of meaningful American consumer protection law," said Christopher Peterson, financial services director at the Consumer Federation of America.
CFPB spokesman John Czwartacki said that "contrary to malicious rumors and misinformation being spread elsewhere, the Bureau of Consumer Financial Protection is not shutting down its efforts to protect and inform students."
Czwartacki described it as a "modest org chart change" to keep the bureau in line with its statute.
"The bottom line is there is no functional or even practical change," he said.
The reorganization of the bureau also detailed a number of personnel changes. Brian Johnson, a former top aide to Representative Jeb Hensarling, a Texas Republican, was named the director's "final stop" on all policy matters.
The reshuffle at the student loan division comes on the heels of a decision by Education Secretary Betsy DeVos to stop states from enforcing consumer protection laws against federal student loan servicers.
Senate Democrats quickly blasted the consumer bureau's move as a dereliction of its duties.
"Mick Mulvaney has defaulted on his obligation to help the thousands of Americans who are struggling with unfair student loans," said Senator Sherrod Brown, the top Democrat on the Senate Banking Committee. He cited the 3,000 student loan borrowers who default every day.
Related: Democrats to CFPB chief - Who's looking out for consumers?
Brown urged President Donald Trump to nominate a director with bipartisan support and with a track record of strong consumer advocacy.
"People with student loans need help," said Democratic Senator Brian Schatz, a member of the Senate panel. "They're already overburdened because college isn't affordable, and then they have to deal with companies that misplace paperwork, misapply loan payments, or purposefully omit information."
Over the past few years, the CFPB fined both Citibank and Discover for illegal student loan practices after its investigations found the banks had charged incorrect late fees and interest. Those kinds of actions were "very much informed" by the work of the student lending office, said Persis Yu, a staff attorney at the National Consumer Law Center, a nonprofit group that advocates for low-income Americans.
Last year, the CFPB sued Navient, claiming it gave borrowers bad information and processed their payments incorrectly. The case is ongoing, and Navient has denied wrongdoing. But Yu said she is concerned that the CFPB might drop the lawsuit.
"The work of the financial education office doesn't match what the student office was doing," she said. "There are a lot more abuses to uncover."
It's not the first time a change at the CFPB has incited fear that the agency is shifting away from pursuing predatory lenders and abusive practices by companies.
In February, Mulvaney proposed folding the bureau's fair lending division under his own direct oversight and stripping the office of its enforcement authority.
That changes meant the office won't be able to go after lenders that charge higher interest rates to minorities than to whites or otherwise discriminate. Instead, staff will now focus on "advocacy, coordination and education," according to a memo emailed to employees Tuesday.