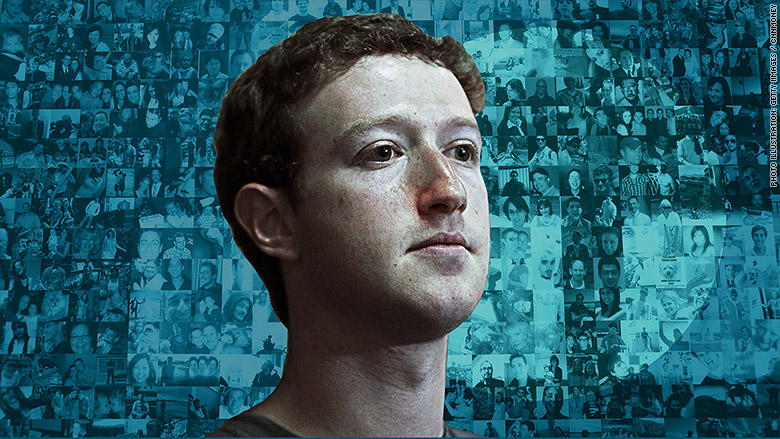 What's Next: Facebook's Nightmare, Revisited. The House Intelligence Committee has just released 3,000 Facebook ads that the Russia-based Internet Research Agency ran during and after the 2016 presidential campaign to sow political and cultural discord among US voters.
Sign up for PACIFIC: The new CNNMoney newsletter about the center of change and innovation
They highlight two inconvenient truths:
1. We're so obvious: Our political divisions have become so ripe and our national discourse so poor that all it takes to exploit our partisan anxieties is a low six-figure ad spend on alarmist, agenda-driven Facebook ads.
2. We're so vulnerable: Facebook says point-blank that it will never be able to fully prevent foreign meddling on its platform "because we're up against determined, creative and well-funded adversaries." This will happen again, in 2018, 2020 and beyond.
My colleague Donie O'Sullivan reviews the ads here. He also notes that Facebook and Google's handling of ads around Ireland's recent abortion referendum raise questions about their readiness for 2018 and 2020.
Meanwhile ... Bloomberg has found that at least a dozen U.S.-designated terror groups still maintain a presence on Facebook, despite its assurances about taking down terrorist content.
---
Today's PACIFIC
Good morning. Look forward, don't look back.
Just in: San Francisco is one of eight cities vying for the 2020 Democratic National Convention, my colleague Dan Merica reports. It would likely be held at Chase Center, the Warriors' new billion-dollar arena at Mission Bay, which will be completed in 2019.
Today in Washington: The White House AI Summit we told you about earlier this week is happening today. Representatives from Facebook, Google and about 40 other US companies will meet with administration officials to discuss how AI could boost the US economy while also benefitting US workers. WSJ's John D. McKinnon has a preview.
---
Preferential Pipes: Net Neutrality ends June 10
The FCC has announced that net neutrality will end on June 10.
The Big Picture: The repeal will allow internet service providers like AT&T, Comcast and Verizon to control the speed at which users can access certain websites and services:
• Most internet providers support an end to net neutrality because they believe it hampers competition and blocks them from charging more money for video and data-rich content.
• Most big tech companies support net neutrality and believe an equal playing field is necessary to foster digital innovation and the growth of new companies. They also don't want to pay more for faster download times, or pass those costs on to their users.
• More than 20 states have filed suit to try to block the FCC's repeal.
Elsewhere in telecom: China's ZTE has halted its main operations following the US government ban on its sale of components to US companies.
As my colleague Sherisse Pham reports, the fact that a major Chinese company might go out of business because of the US government has major implications for the US-China fight over trade and technology.
Sign up for PACIFIC: The new CNNMoney newsletter about the center of change and innovation
---
New Plastic: Apple to offer credit card
Breaking now: Apple and Goldman Sachs are planning to launch a new joint credit card.
WSJ's Tripp Mickle and Liz Hoffman have the scoop:
• "The planned card would carry the Apple Pay brand and could launch early next year, people familiar with the matter said."
• "As new iPhone sales growth slows, Apple is focusing on services such as mobile payments, streaming-music subscriptions, and App Store sales. Apple Pay, which generates revenue on each transaction, is a key contributor ..."
The Big Picture: An Apple credit card "would deepen the technology giant's push into its customers' wallets and mark [Goldman's] first foray into plastic."
---
Sunshine State: California to require solar
The State of California, long a leader in clean energy, will require new homes to be built with solar panels starting in 2020.
The Details, via WSJ's Erin Ailworth:
• "The California Energy Commission voted 5-0 to approve a mandate that residential buildings up to three stories high, including single-family homes and condos, be built with solar installations starting in 2020."
• "The commission expects the cost of adding solar [will] add about $40 to an average monthly payment on a 30-year mortgage" ... and save them "$80 a month on heating, cooling and lighting bills."
• "The change appears to have broad support from home builders as well as California leaders and solar advocates."
The Big Picture, via NYT's Ivan Penn: "The new requirement ... brings solar power into the mainstream in a way it has never been until now."
Sign up for PACIFIC: The new CNNMoney newsletter about the center of change and innovation
---
Valleyspeak: Jordan Valinsky's top links
Apple scraps $1 billion Irish data center (Reuters)
Google acquires a cloud computing startup (Fortune)
Tesla is facing 4 government crash investigations (Fortune)
WeWork hires a White House chief security officer (Recode)
Snap may not be profitable til 2021 (TheStreet)
Airbnb wants you to visit Puerto Rico (CNET)
---
The Fox Wars: Will Disney give up Sky?
The latest in Disney vs. Comcast: Disney could give up Sky Broadcasting in order to seal its 21st Century Fox acquisition.
• Disney has offered $52.4 billion for Fox, which may soon own all of Sky; Comcast has counter-offered for Fox at somewhere around $60 million.
• THR's Paul Bond says "letting Comcast get Sky so that Disney could close on Fox is an arrangement that makes sense, given Comcast's mission is to grow more rapidly overseas ... while Disney's goal has more to do with total domination of the movie business and crushing Netflix."
Why we're dubious: Disney CEO Bob Iger has called Sky a "crown jewel" of the Fox assets. It includes highly coveted rights to the Premiere League, which could keep television subscribers from cutting the cord. Also: Why would Iger want to let Comcast CEO Brian Roberts have anything?
Bonus: Fox's James Murdoch is calling for a "robust" regulatory review of Comcast's Sky offer. Variety's Cynthia Littleton has the details.
---
Going Direct: Apple to sell video subs
"Apple Plans to Sell Video Subscriptions Through TV App," via Bloomberg's Lucas Shaw, Gerry Smith and Mark Gurman:
• "Apple plans to begin selling subscriptions to certain video services directly via its TV app, rather than asking users to subscribe to them through apps individually downloaded from the App Store."
• "This would simplify the process and bolster Apple's TV app on Apple TV, iPhones and iPads, making it a central place for people to find, watch, and buy content."
The Big Picture: Going direct allows Apple to "boost its services business, which it expects to generate $50 billion a year in revenue by 2021."
Sign up for PACIFIC: The new CNNMoney newsletter about the center of change and innovation
---
Remix to Ignition: Spotify takes on R. Kelly
Spotify has announced that it will stop promoting R. Kelly's music and no longer include it on its playlists in the wake of multiple accusations of sexual violence against the artist.
But: His music will still be available on the service:
• Spotify: "We don't censor content because of an artist's or creator's behavior, but we want our editorial decisions ... to reflect our values."
• "When an artist or creator does something that is especially harmful or hateful, it may affect the ways we work with or support that artist or creator."
The Big Picture: The move highlights the growing pressure on platforms to take greater responsibility for the content they host, and the fine line companies walk between responsible behavior and censorship.
---
What Next: This thread on Chinese nicknames for NBA players, from East Asia historian Nick Kapur. "China is crazy for the NBA," Kapur writes, "but official sources use boring phonetic transcriptions, failing to take advantage of Chinese characters having both sound and meaning. Chinese netizens have 'improved' on these official names."
See you tomorrow.
Want this in your inbox every morning? Sign up for PACIFIC: The new CNNMoney newsletter about the center of change and innovation