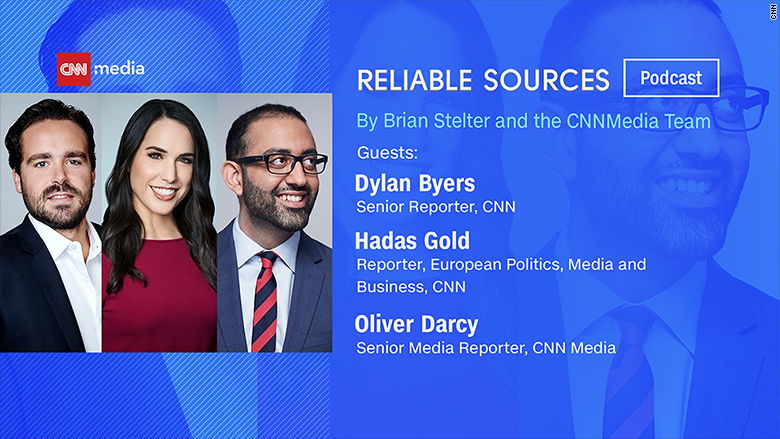 Are we in the middle of a May media blitz?
This past week alone has witnessed a near-constant barrage of media-related news about everything from AT&T's payments to Michael Cohen to the results of NBC's internal investigation.
With every day and every hour summoning new headlines, push alerts, and tweets, it's easy to get lost. CNNMoney media reporters Oliver Darcy and Hadas Gold and CNNMoney tech reporter Dylan Byers joined Brian Stelter on this week's Reliable Sources podcast to highlight the week's main media stories -- and some that may have been overlooked.
Here are just a few stories highlighted on the podcast:
Trump's threat to pull press credentials
President Donald Trump took to Twitter on Wednesday to suggest pulling credentials for journalists and complain that network news coverage of his presidency is "negative (Fake)."
Byers called the move a "head fake," arguing that the threat "feels like the sort of thing that the Trump administration throws out there... to get a rise out of the press, get the alarm bells ringing, distract perhaps from the sort of bigger questions." The "hard dance" of reporting on Trump's threats, he said, is having to cover them responsibly "without giving it too much oxygen."
Trump did ban outlets including Politico and the Washington Post during the campaign. And his newest threat hasn't gone uncritiqued by some of his allies. Matt Drudge, Darcy mentioned, spoke out against Trump's threats, fearing the licensing of journalists and precedents set for the future. "It's not unwarranted to wonder, if Trump starts selecting which outlets are in the briefing now, what happens [in] future administrations?" Darcy said.
Gold said she found press secretary Sarah Sanders' response to Trump's tweet "stunning."
"You can't say that you're standing for a free press while the president of the country is talking about how he wants to pull media credentials," she said. "That just doesn't work."
Pressure from Salem executives
Gold and Darcy reported that executives within the conservative company Salem Media Group pushed their radio talent to "cover Donald Trump more favorably during the 2016 presidential campaign," according to emails sent to former "The Morning Answer" co-hosts Elisha Krauss and Ben Shapiro.
Gold said Krauss believes she was fired for refusing to play the game. "She said, 'Look I was hired to give my opinion, and Salem gives the impression that they have a... diverse group of people giving their opinions and are being honest about how they actually feel.' And what she said is it is a façade. They were just puppeteering behind the scenes what their hosts say because of what the people at the top believe."
Michael Medved and Hugh Hewitt were also pressured, according to emails, Gold said. Hewitt denied being pressured to change his position in a text message to CNNMoney.
The war over Fox
Disney's been gunning to buy most of Rupert Murdoch's Fox, but the "new twist," Stelter said, "is that Comcast is really getting serious about trying to come in and crash this party."
While Disney offered $52.4 billion to acquire the majority of 21st Century Fox assets, Comcast has offered $60 billion. Now, Disney is deciding whether to counter-counter-offer.
"Whoever comes out the victor in this battle is going to all of a sudden have an immense, massive library of content, film, television that is really going to give them an edge in terms of the Hollywood race to sort of be the biggest, best media company out there, as they compete with the tech companies up in Silicon Valley," Byers said.
He added he spoke to an executive in Hollywood who believes that within the next 10 years, there will only be eight media companies. "Disney isn't among those," he said. "So companies we think of as massive media conglomerates, those too can be subsumed."