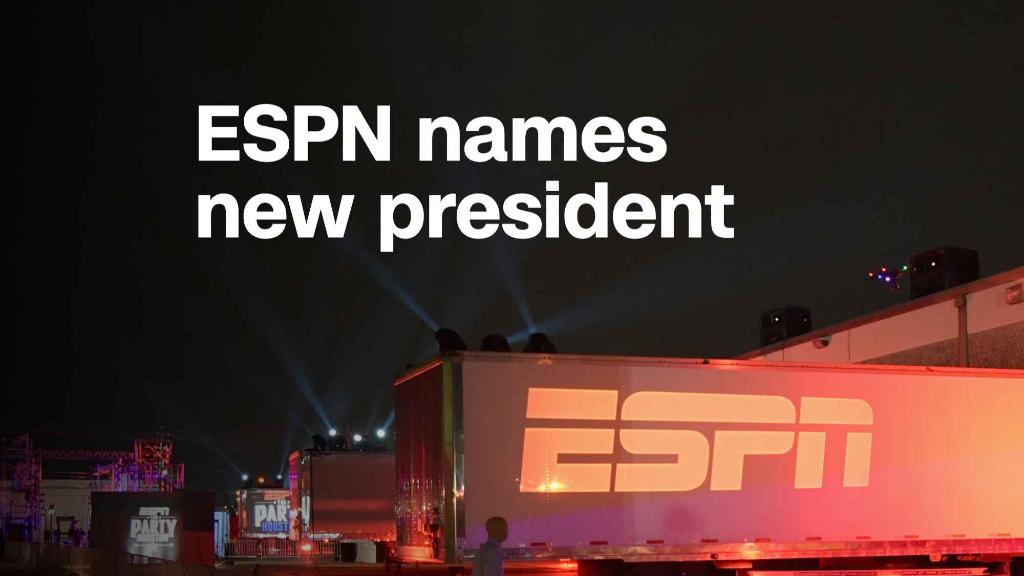 ESPN's 2018 upfront presentation was all about the network's "firsts."
Organizers called it "ESPN F1rst," and took advertisers down memory lane with a tour of the network's historic achievements.
But no "first" was as important as the introduction of its new president, Jimmy Pitaro.
Pitaro took the stage at New York's Minskoff Theatre for the first time since taking the reins of the company.
The former Disney (DIS) executive took over as president in March following the departure of John Skipper, who resigned over a cocaine extortion plot.
The new president spoke about new content and initiatives the network is planning, but made it clear that while the network has new leadership, its mission will stay the same.
Related: ESPN president resigns, citing substance addiction
"The mission statement at ESPN is to serve the sports fan anytime, anywhere and so that in my opinion is just as relevant today as it's ever been," Pitaro told reporters following the presentation. "I think we're doing a fantastic job at serving the sports fanatic, but as we think about expanding our audience, what about the casual sports customer. Are we doing everything we can to serve him or her?"
Although he hasn't on the job for long, Pitaro -- who was confident, but clearly getting his bearings at the event -- also spoke about what he hopes will become his imprint.
"I'm not focused on my own personal legacy. I am very focused on the ESPN legacy," he said. That legacy includes a holistic sports experience that can capture fans wherever they are.
"As we think about what's important to the business, I'll start with direct-to-consumer," Pitaro said. "We have a fantastic app that is, in my opinion, the best sports experience on a digital platform anywhere. We now have the first multi-sport, direct-to-consumer streaming service in the US that is doing very well."
ESPN has struggled as younger viewers ditch cable. It recently unveiled a new app, ESPN+, to attract that younger demo.
At the event, the network also introduced advertisers to its new "Sunday Night Baseball" broadcasting team. It includes former Yankees slugger Alex Rodriguez, and its completely revamped "Monday Night Football" team that now includes former Dallas Cowboys tight end,Jason Witten.
Cowboys owner Jerry Jones was in attendance to share stories about Witten's playing days before sending him off to his new career in the booth.
The network also announced new content that's heavily focused on the NBA. That included "Basketball: A Love Story," a mosaic of more than 60 short stories featuring basketball stars from LeBron James to George "The Iceman" Gervin, which will debut in October.
Related: ESPN+ is the farm team to ESPN TV's major league. Is it worth your $5 per month?
The other big content announcement Tuesday morning was "The Last Dance."
The docu-series, which debuts on the network and streaming service in 2019, is a 10-hour documentary series from ESPN and Netflix that "chronicles one of the greatest icons and most successful dynasties in sports history, Michael Jordan and the 1990s Chicago Bulls," according to the network.