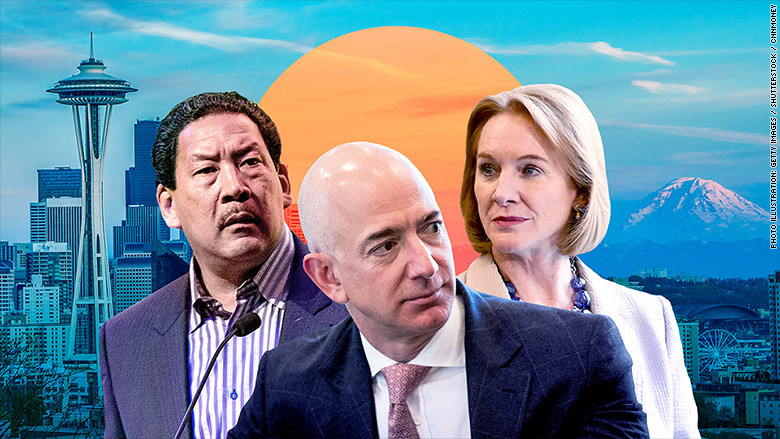 The Big Picture: Seattle and Amazon screwed the homeless.
The war that pitted Seattle's City Council against Amazon, Starbucks and other businesses over homelessness has ended in a lose-lose-lose draw that should be remembered as one of the biggest fiascos in the city's history as a leader of progressive policy, business and political leaders there tell me.
Sign up for PACIFIC: The new CNNMoney newsletter about the center of change and innovation
The Council voted 8-to-1 to pass a compromise tax that will charge businesses $275 per-employee per year, instead of the $540 per employee figure initially proposed. The city expects the tax to raise roughly $47 million per year.
• The City of Seattle lost: It failed to articulate a a well-thought out strategy for dealing with homelessness; passed a watered-down bill that alienated the business community; and only won half as much revenue as it said it needed.
• Amazon and big business lost: Amazon fought the Council with threats and criticism rather than seizing the opportunity to take the lead on an issue that it has demonstrated a commitment to elsewhere.
• The homeless lost: The nearly 12,000 homeless people living in King County are worse off because Seattle and Amazon got in a pissing match.
What went wrong: This could have been avoided, our sources say: Seattle Mayor Jenny Durkan could have brought the City Council together with Amazon, Starbucks and other businesses to hash out a plan that made sense for both sides. Seattle and Amazon could have then trumpeted their success as a model for how liberal cities and tech companies plan to deal with the homeless epidemic they've helped to create.
Instead ... Amazon now says it is questioning its future in Seattle:
• "We remain very apprehensive about the future created by the council's hostile approach and rhetoric toward larger businesses, which forces us to question our growth here," Amazon VP Drew Herdener says.
• "The city does not have a revenue problem -- it has a spending efficiency problem. We are highly uncertain whether the city council's anti-business positions or its spending inefficiency will change for the better."
• "This City continues to spend without reforming and fail without accountability, while ignoring the plight of hundreds of children sleeping outside," said SVP John Kelley.
What's Next: The homelessness epidemic is the "inconvenient truth" of the tech boom that has fueled growth in Seattle, the Bay Area and Los Angeles. City leaders and big tech should own it. There is a massive opportunity for progressive politicians and tech leaders to innovate on solving this issue. Doing it now would save lives (and generate good press). Avoiding it will yield massive problems down the line.
---
Today's PACIFIC
Kevin Durant is going to get another ring.
Speaking of the playoffs, we're still thinking about the business implications of the Supreme Court's decision to green-light legal sports gambling.
Dallas Mavericks owner Mark Cuban emails:
• "The ability to integrate betting into and around streams of our games will extend the value proposition beyond just viewership. Think of Amazon Video. No ads. But gambling will create more value and new transactions. That's valuable to content distributors or something that we could own."
Cuban says the value of every major sports team will double.
---
The Scale Wars: Martin Sorrell on M&A
Martin Sorrell, the former CEO of advertising giant WPP, weighed in on the future of tech, media and advertising at LUMA Partners' Digital Media Summit in New York this morning.
What Sorrell Said, via WSJ's Ben Mullin:
• "Facebook and Google say they are tech companies -- they are media companies ... Amazon will be the third force."
• Disney "has a real shot" of competing with the big tech companies, especially if it succeeds in acquiring 21st Century Fox.
• Fox needs to sell because Amazon and Netflix can spend $10 million and $7 million on one hour of programming, respectively, whereas Fox can only spend $3 million.
• A combined CBS-Viacom would be "almost as big as Facebook in terms of clout and heft." Shari Redstone should "put it together fast."
The Big Picture: Scale, as always. Media companies must scale up to compete with Apple, Amazon, Alphabet and Facebook.
The Latest in M&A:
• Fox TV chiefs Dana Walden and Gary Newman are in advanced talks to extend their contracts while Disney and Comcast vie for the company, per NYT's John Koblin.
• Les Moonves could be making a big mistake in suing Shari Redstone over the CBS-Viacom merger, says Bloomberg's Tara Lachapelle.
Bonus: All business is personal, part XXVI: Vanity Fair's William D. Cohan goes deep on Redstone's "kabuki theater."
Sign up for PACIFIC: The new CNNMoney newsletter about the center of change and innovation
---
The Sharing Economy: Uber, Lyft end forced arbitration
CNN Gets Results: Both Uber and Lyft will no longer force victims of sexual assault into arbitration following a CNN investigation into assault and abuse complaints against hundreds of drivers.
The Latest, via CNNMoney's Sara Ashley O'Brien:
• "Uber will allow victims of sexual violence, including riders, drivers and employees, to choose the venue in which they want to pursue redress of their sexual harassment or assault claims, whether that's arbitration, mediation or open court."
• Lyft says it will also remove "the confidentiality requirement for sexual assault victims, as well as ended mandatory arbitration for those individuals so that they can choose which venue is best for them. This policy extends to passengers, drivers and Lyft employees."
The Big Picture: The sharing economy has created a new society in which strangers are asked to trust strangers. Companies are being held accountable for bad actors who use their services. As with Facebook, the "we're just a platform" excuse won't work.
Sign up for PACIFIC: The new CNNMoney newsletter about the center of change and innovation
---
Bad Content: Facebook pulls nudity
Facebook says it took down 21 million pieces of adult nudity in the first three months of the year as part of its effort to remove bad content.
The Details, via my colleague Kaya Yurieff:
• "Enforcement efforts include graphic violence; adult nudity and sexual activity; terrorist propaganda; hate speech; spam; and fake accounts."
• "The company estimated that for every 10,000 pieces of content seen on Facebook overall, between seven and nine ... violated its adult nudity and pornography standards."
• "Facebook's internal technology flagged adult nudity or sexual content about 96% of the time before it was reported by users, according to the report."
The problem Facebook can't solve: Hate speech.
• "Facebook ... took down 2.5 million pieces of hate speech during the period, only 38% of which was flagged by its algorithms."
• Facebook VP Guy Rosen: "For hate speech, our technology still doesn't work that well and so it needs to be checked by our review teams."
Facebook's announcement comes one day after it suspended 200 apps for possible misuse of user data. Mark Zuckerberg says his "top priorities this year are keeping people safe and developing new ways for our community to participate in governance and holding us accountable."
Bonus: Twitter CEO Jack Dorsey talks to The Verge about his company's efforts to reduce abuse by hiding bad tweets.
---
Valinsky's Links: Top links via PACIFIC's Jordan Valinsky
Masa Son promises Vision Fund 2 (Bloomberg)
China wants to bring tech firms home (CNNMoney)
Amazon Go moves to SF and Chicago (The Verge)
Apple Music passes 50 million subs (Variety)
Snapchat intros unskippable ads (Engadget)
---
Future of Towing Things: Tesla breaks a record
Tesla's Model X SUV has earned a Guinness World Record for towing.
• "Tesla released a video on Tuesday that shows ones of its electric SUVs towing a 287,000-pound Boeing 787-9 dreamliner nearly 1,000 feet on a taxiway at the Melbourne Airport in Australia."
• "The plane is part of Qantas Airlines' fleet and the effort set a new Guinness World Record for being the 'heaviest tow by an electric production passenger vehicle.'"
The Big Picture: I don't have a f---ing clue.
Meanwhile ... Reuters' Alexandria Sage reports that Tesla is planning a six-day stoppage for assembly line fixes.
---
What Next: Quartzy's Adam Epstein on how Westworld "satirized tech bros' quest for eternal life."
See you tomorrow.
Want this in your inbox every morning? Sign up for PACIFIC: The new CNNMoney newsletter about the center of change and innovation