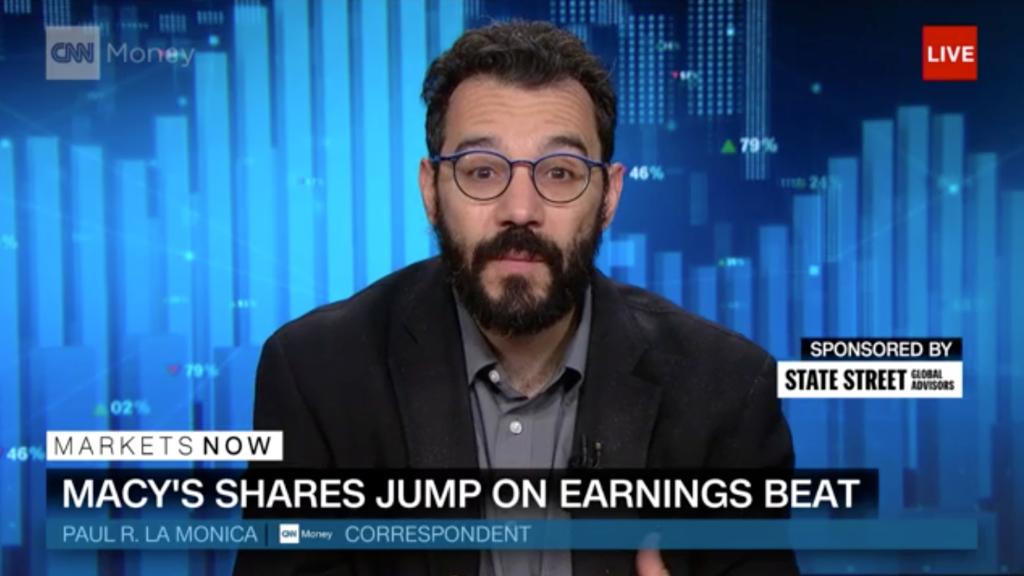 Don't count out Macy's yet.
Digital sales are up. People are going to actual, physical Macy's stores to shop. And tourists are flocking to Macy's flagship store in New York.
Macy's is so confident in its business that it boosted its outlook for the year.
The retailer once again posted double-digit sales growth from digital sales, thanks in part to improvements the company has made to its website and app.
Macy's said that sales were healthy at physical stores for all its main brands as well, which include Bloomingdale's and makeup and beauty chain Bluemercury in addition to Macy's.
Overall sales rose 3.6% from last year, better than expected.
CEO Jeff Gennette said in the company's earnings release that the solid results were proof that "the winning formula" for Macy's is "a healthy brick & mortar business, robust e-commerce and a great mobile experience."
Gennette, who took over for longtime Macy's CEO Terry Lundgren in March 2017, added that consumer spending remained "healthy" and that there were "significant improvements in international tourism."
Macy's chief financial officer Karen Hoguet said during a conference call with analysts that revenue from tourists rose 10% from a year ago.
Investors were elated. Shares of Macy's (M) surged 10% on the news.
Macy's good quarter suggests that many consumers are still willing to actually go to stores to shop instead of just buying clothes on their phones and tablets.
"This whole idea that there is this retail apocalypse that is inevitable and that the malls are dead? Clearly that's wrong because that's where Macy's is," said Bob Phibbs, CEO of the Retail Doctor, a consulting firm, in an interview after the results came out.
Like many department store chains, Macy's has to contend with threats from an ever-growing Amazon (AMZN) as well as more competition from discount chains like Walmart (WMT) and Target (TGT), both of which have aggressively invested in online commerce.
"This is the most competitive retail environment I've ever seen," Gennette said during the conference call, but added that the company was in good shape to contend with all its rivals.
To that end, Macy's is making some changes to how it approaches the Chinese retail market. The company said it is ending a joint venture with China's Fung Retailing that began in 2015.
Macy's will continue to have a presence on Alibaba's (BABA) Tmall, but the company said that its e-commerce team in San Francisco will run the China business.
But not everyone is convinced the Macy's turnaround is for real.
Morgan Stanley analyst Kimberly Greenberger downgraded Macy's to "underperform" last week, basically a "sell" rating. She thinks Macy's needs to close more stores than it already has and may have made the most it can from real estate sales.
Still, Macy's stock is now up nearly 30% this year, a clear sign that many on Wall Street also believe that Macy's is back on track.