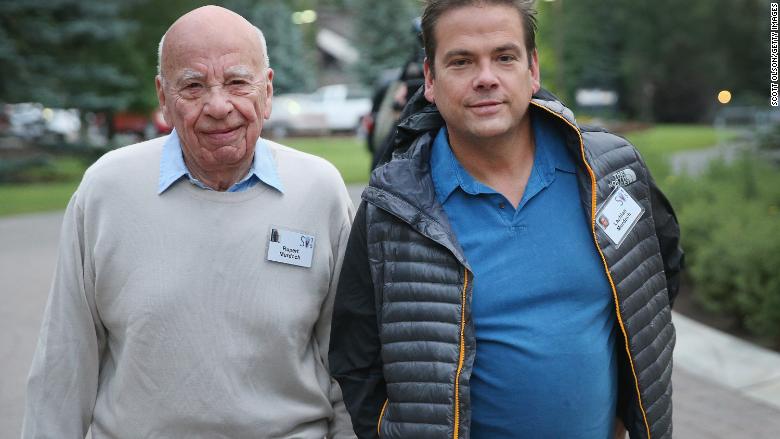 Lachlan Murdoch, the son of media mogul Rupert Murdoch, will become chairman and CEO of a proposed new Fox company,
21st Century Fox

(FOXA) announced Wednesday.

The elder Murdoch will serve as co-chairman. His son James, who was not mentioned in the press release, is expected to leave the company.

James Murdoch has been serving as the CEO of 21st Century Fox, while his brother and father have been serving as co-executive chairman.

John Nallen, the current company's CFO, will become COO of new Fox.

"New Fox," as it has been called, will include the company's major TV channels: Fox News, Fox Business Network, Fox broadcasting and the sports cable networks FS1 and FS2, among others. They are all assets the company said it would keep after striking a $52 billion-deal late last year with Disney for its major TV and film divisions, which include cable channels FX and National Geographic.

Disney would also get Fox's stake in Hulu, which is a joint venture between Disney, 21st Century Fox and Comcast, the parent company of NBC. Time Warner, CNN's parent company, also owns a 10% stake.

The Disney purchase is still pending approval from shareholders and regulators, and recent news has cast the fate of the Fox assets in doubt. Sources told CNNMoney last week that Comcast is in talks to make its own, higher bid for the business that Disney wants to buy.

The Murdochs are expected to spearhead the new, slimmer Fox once the deal shakes out. Wednesday's news formalized a power structure that many had come to expect.

Rupert Murdoch is one of the most powerful and influential media figures in the industry. And media observers have long debated which of his sons would ultimately inherit their father's company.

After Lachlan Murdoch essentially left the family media empire in 2005, the answer appeared to be James. But that began to change after Lachlan rejoined the business nearly a decade later.

Related: James and Lachlan Murdoch move into the spotlight

In recent months, James has distanced himself from the politics espoused by his father and the company's flagship channel, Fox News.

He denounced President Donald Trump's reaction to the race-related violence in Charlottesville, Virginia, last August. This was notable because his father speaks with Trump often. Some of Fox News' most-watched shows are also pro-Trump.

As news of the Disney-Fox deal began to cement last December, there were reports that James could move to Disney in a senior role after the Disney acquisition. But the Wall Street Journal reported last week that James would not join Disney, and instead would likely start a venture capital fund.