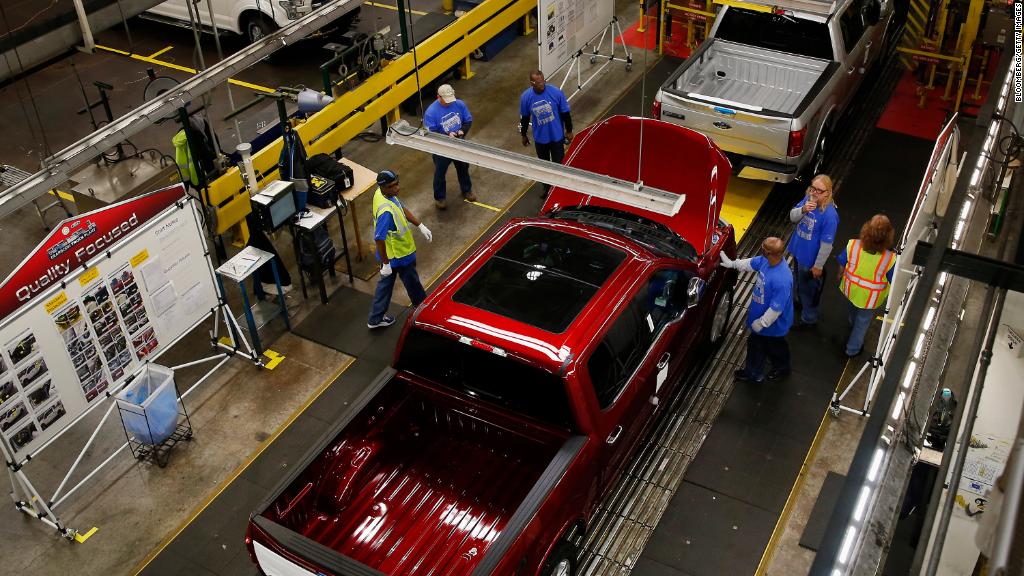 Ford says it will restart production of its popular F-150 pickup truck on Friday.
The automaker ceased manufacturing of the F-150 at its plants in Dearborn, Michigan and outside Kansas City, Missouri — the only two plants that make the truck — earlier this month after a fire broke out at a supplier's facility.
Ford said in a press release Wednesday that it would resume production of the truck at the Dearborn plant on Friday and at the Missouri plant on Monday, May 21.
The company expects production to be in full force at both plants by the end of the day Monday, a spokesperson confirmed.
"Ford teams, together with suppliers including Walbridge and other contractors, worked nearly around the clock to get America's best-selling vehicle franchise back on line as quickly as possible," the company said in a statement.
Ford said last week that it had an 84-day supply of the F-150, which has been the top-selling car in America for four decades, putting the car in danger of selling out if the production standstill dragged on.
Related: How the Ford F-150 became the most important vehicle in America
The F-150 is a key profit generator for Ford. The company said Wednesday it still expects the production lag to have an "adverse impact of $0.12 to $0.14 per share" on its second quarter earnings, or an estimated $470 million to $550 million.
The production shutdown came after a fire ravaged the Meridian Magnesium Products of America plant in Eaton Rapids, Michigan on May 2.
To get back on track, Ford recovered 19 dies — or tools used to shape metal into various parts — from the "badly damaged" Michigan facility, Ford said. One of the dies, weighing in at 87,000 pounds, was moved to a plant in Britain via a 30-hour flight on a massive Antonov cargo plane, the company said.
Production of the Ford F-Series Super Duty, a larger version of the F-150 pickup whose production at a plant in Louisville, Kentucky was also impacted, is slated to restart on Monday as well, the company said Wednesday.
The Meridian Magnesium Products of America plant where the fire broke out also produces parts for other automakers.
Fiat Chrysler (FCAU) said that production of its Chrysler Pacifica SUV at its Windsor Assembly Plant in Ontario, Canada, was still impacted as of Wednesday. FCA said it had no production disruptions at any of its other facilities to date.
— CNN's Chris Isidore and Danielle Wiener-Bronner contributed to this report.