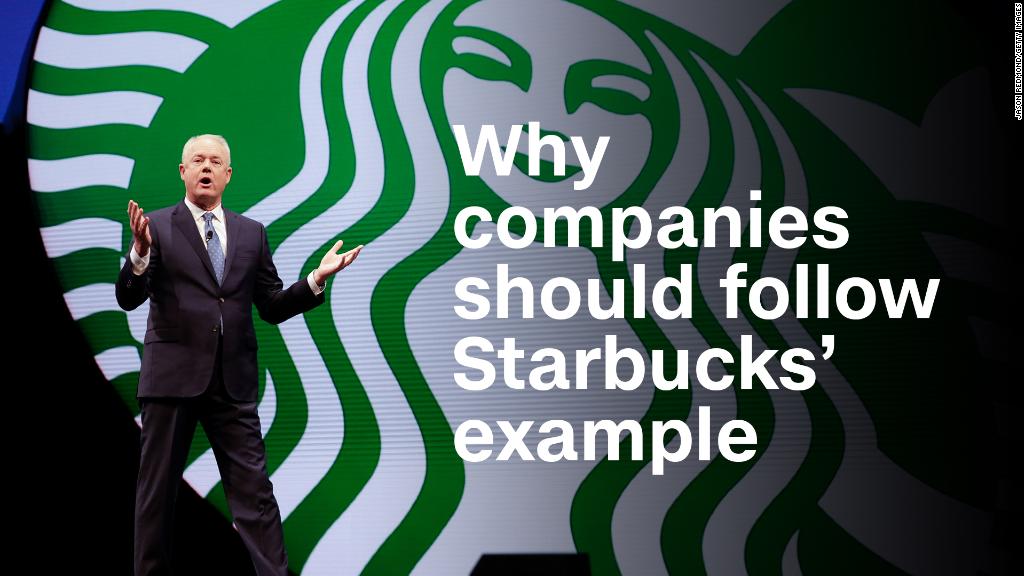 Starbucks is stepping up its expansion in China.
The Seattle coffee chain on Wednesday announced plans to build nearly 3,000 new stores in mainland China over the next few years. It's aiming to almost double its number of coffee shops in the world's second largest economy, from 3,300 at the moment to 6,000 before the end of 2022.
That means opening 600 new Starbucks a year in China -- or one every 15 hours -- a significant increase on the company's earlier goal of around 500 a year.
Starbucks (SBUX) expects its rapid expansion in the traditionally tea-drinking nation to boost its bottom line. It plans to triple its revenue and double its operating profit in China between 2017 and 2022.
Starbucks is pushing "a coffee culture in China where the reward will be healthy, long-term, profitable growth for decades to come," CEO Kevin Johnson said in a statement.
In December, Starbucks opened its largest store in the world in Shanghai.
Related: Nestle is paying $7.2 billion to sell Starbucks coffee
The company is flush with cash, having sold Nestle (NSRGF) the rights to sell Starbucks-packaged tea and coffee around the world for $7.2 billion earlier this month.
Starbucks is also aiming to tap into a growing trend of Chinese consumers drinking beverages on the go. It's bringing a new line of pre-made cold tea and coffee to China next month.
The company's business is growing much faster in China and other Asian countries than it is back home. Revenue in China and the Asia-Pacific region jumped 54% last quarter compared with the same period a year earlier, according to Starbucks' latest earnings report. In the United States, Canada and Latin America, revenue rose just 8%.