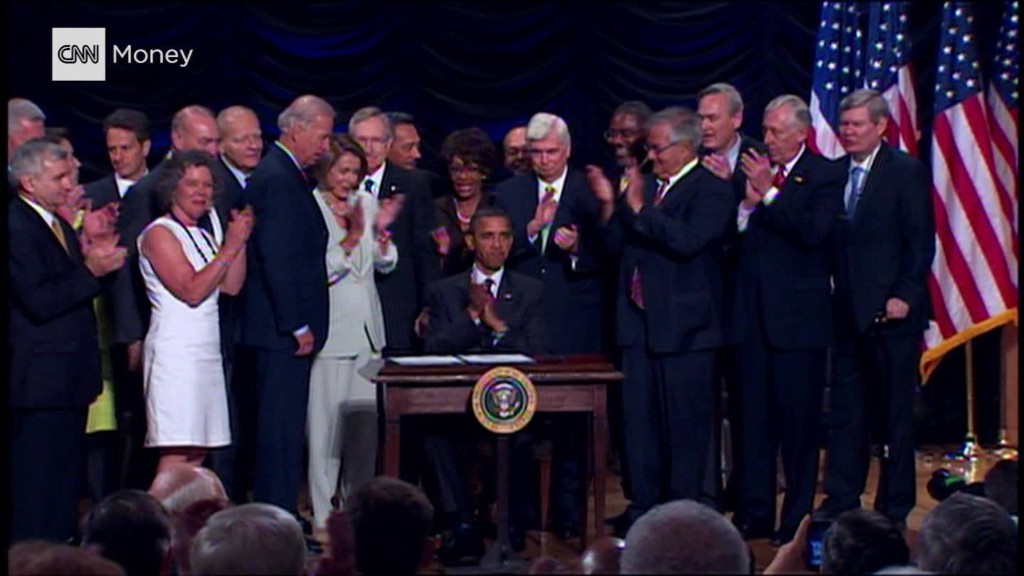 American banks angling to get relief from post-crisis rules may soon be breathing easier.
The House is set to vote next week on a Senate bill that would cut regulations for thousands of community banks and regional lenders, including State Street, BB&T and Sun Trust, according to a spokeswoman for House Majority Leader Kevin McCarthy on Wednesday.
After nearly two months of tough negotiations, House Republicans brokered a deal last week with the Senate to move forward on a vote, ending a deadlock that would have jeopardized a bill backed by the White House, Republicans and some Democrats.
The House is now expected to vote on the Senate's bill unchanged and will likely send it to President Trump for his signature.
House Speaker Paul Ryan told reporters last Tuesday that the House agreed to advance legislation, crafted by Senate Banking Committee Chairman Mike Crapo, along with a companion package of bills supported by House Financial Services Committee Chairman Jeb Hensarling.
The majority of the House measures are aimed at removing barriers for businesses and entrepreneurs who are seeking capital and investment.
Related: Bankers worry Dodd-Frank rollback bill could in jeopardy
"I had a good meeting with the majority leader over break on this, and so we've got an agreement," Ryan said referring to Senate Majority Leader Mitch McConnell.
In a statement last week, Hensarling expressed optimism the Senate bill along with measures passed by the House in the last six months would "create regulatory policy that will help us achieve sustained 3% economic growth."
After weeks of stalemate, the outgoing Texas Republican signaled last month he might be willing to drop his demands to amend Crapo's bill, if the Senate would agree to move forward on a separate package of bipartisan bills passed by his committee.
"I'm far more wedded to substance than form, so as I've told other people, I'm more than happy to attend multiple signing ceremonies," Hensarling said at a US Chamber of Commerce event in late April.
Hensarling wanted to add a number of measures to the Senate bill. One would ease disclosure requirements for banks on mortgage loans. Another would allow more companies to file confidential IPOs without divulging all their sensitive financial information right away.
But any changes in the House would send the bill back to the Senate. And moderate Senate Democrats, whose support was critical in advancing the banking bill, have said they won't vote on the bill twice.
"This bill will not pass if it comes back to the Senate," said Senator Mark Warner, a Virginia Democrat, at an American Bankers Association conference in Washington. "We've stretched this about as far as we can go."
Democrats who supported the bill drew backlash from more progressive members of the party, who argued that a regulatory rollback would make the financial system more vulnerable to another crisis.
Senator Elizabeth Warren of Massachusetts, who opposed the bill, wrote on Twitter after it passed that "bankers are popping champagne."
Related: What's in the Senate banking bill
McCarthy welcomed both chambers "taking additional policy action" to help improve access to capital for entrepreneurs and small businesses "in the coming weeks."
A spokeswoman for Crapo, a Idaho Republican, declined to comment.
The Senate's bill would raise the threshold at which banks are considered "too big to fail." That trigger, now set at $50 billion in assets, would rise to $250 billion. That means more than two dozen midsize US banks would be shielded from some Federal Reserve oversight.
They would no longer have to hold as much capital to cover losses on their balance sheets. They would not be required to have plans in place to be safely dismantled if they failed. And they would have to take the Fed's bank health test only periodically, not once a year.
Community banks with less than $10 billion in assets would no longer have to comply with the so-called Volcker Rule. The rule bars financial institutions from making risky bets with money that is insured by taxpayers.