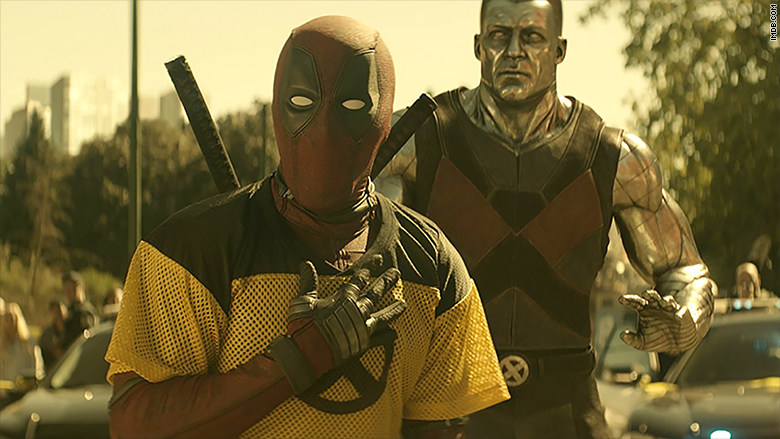 Analysts are predicting that "Deadpool 2" will have a big opening at around $130 million this weekend, but that's hardly news these days considering the string of successful Marvel superhero films like "Black Panther" and "Avengers: Infinity War."
20th Century Fox's "Deadpool" franchise, however, is different from The Avengers at Disney and nearly every superhero movie in one way that makes its box office achievements even more impressive: It's rated R.
When it comes to blockbusters, ratings matter. According to comScore (SCOR), the highest-grossing R-rated film on the all-time domestic box office list is 2004's "The Passion of the Christ," which comes in at No. 38. The top ten films of all time, three of which are from Disney's Marvel Studios, are all PG-13.
The original "Deadpool" found an audience despite its R rating, making $363 million domestically in 2016. The film comes in at No. 42 on comScore's list, the next R-rated movie to make the cut after "Passion of the Christ." "Deadpool" also holds the record for biggest opening for an R-rated film.
With its R-rating, "Deadpool" audiences were treated to a superhero film that pulled no punches. The film, which stars Ryan Reynolds as the titular hero, was replete with violence, sex and swearing. It was a self-referential and raunchy spoof of the entire superhero genre. This allowed it to stand out in an incredibly saturated market and even gave it some Oscar buzz.
"Deadpool 2" looks to capitalize on that success. With a strong $18.6 million opening on Thursday night, it will likely unseat "Infinity War" as the current king of the box office this weekend. But is "Deadpool's" R-rating going to keep it from being an even bigger hit?
"Part of the character's secret sauce is the vulgar irreverence that isn't going to make a PG-13 cut under our existing rating system," said Shawn Robbins, chief analyst at BoxOffice.com.
Robbins added that "Deadpool" is "oddly akin" to some of the most successful comic book films because it's popular with both adults and kids and even though some teenagers won't be able to buy a ticket, you can't water down the film for a rating.
"Then 'Deadpool' stops being 'Deadpool,'" he said.
And it's not just "Deadpool" that has bucked the PG-13 comic book trend. Fox had another R-rated superhero hit with last year's "Logan," a gritty film about X-Men's Wolverine. "Logan" amassed solid box office numbers and received an Oscar nomination, which is rare for a superhero film.
Disney is on track to buy most of 21st Century Fox, including its film studio, for $52.4 billion. That deal could bring Deadpool into the fold at Marvel Studios alongside The Avengers, but Disney's acquisition might change the R-rated antics of the fouled mouth hero since the house of mouse is built on a foundation of family friendly films.
However, Disney CEO Bob Iger said in March that there are no plans to change Fox Searchlight, the independent film arm of the studio that makes many R-rated films, so the company may not intend to squeeze everything through a Disney filter.
Related: 'Deadpool 2' gleefully revels in R-rated mayhem
The potential future of "Deadpool" under the Disney umbrella did not go unnoticed by Reynolds, who joked about the subject when Disney announced the deal in December.
"Time to uncork that explosive sexual tension between Deadpool and Mickey Mouse," he tweeted.