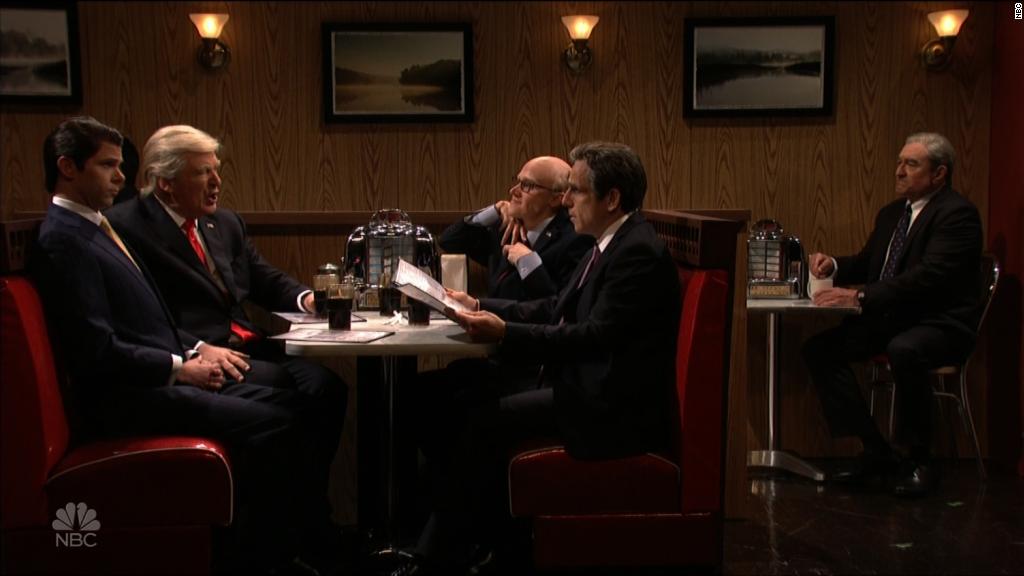 President Trump and Tony Soprano have the same taste in music, according to "Saturday Night Live."
The NBC variety show opened its season finale on Saturday night with Alec Baldwin's Donald Trump sitting alone in a New Jersey diner. The faux president put a coin in his table's jukebox and suddenly "Don't Stop Believin'" by Journey began to play.
Viewers at home have seen this scene before if they watched the series finale of HBO's acclaimed series, "The Sopranos." For the HBO's drama's finale, the titular character and New Jersey mob boss, Tony, plays the song as his family meets him for dinner.
"SNL" followed the iconic scene beat for beat with Baldwin's Trump being joined by his own "family." First was Kate McKinnon's Rudy Giuliani.
"So Rudy, did you go on Fox News last night?" Baldwin's Trump asked.
"Yeah, like 20 times," McKinnon's Giuliani responded. "Don't worry, I told them that you were openly colluding with Russia but ended with, 'SO WHAT?!'"
Ben Stiller's Michael Cohen then joined the table and was asked how his day at work was.
Related: 'SNL' cast members' moms critique the show's political sketches
"Really bad," Stiller's Cohen said. "Mostly just preparing to go to jail and stuff."
Then Mikey Day's Donald Trump Jr. sat down and explained that Alex Moffat's Eric Trump was outside trying to "parallel park" his big wheel to no success.
The nice dinner was going well for everyone until Robert De Niro's Robert Mueller appeared and sat alone at a different table.
"Am I the only one that sees that guy?" Baldwin's Trump said referencing Mueller.
On his way to the bathroom, De Niro's Mueller gave Baldwin's Trump a quiet stare down leaving Trump to look frightened into the camera before, just like in "The Sopranos" finale, the scene immediately cut to black.
Related: Stormy Daniels makes cameo on 'SNL' to mock President Trump
Then the cast reappeared and said the show's catch phrase, "Live from New York... It's Saturday Night!"