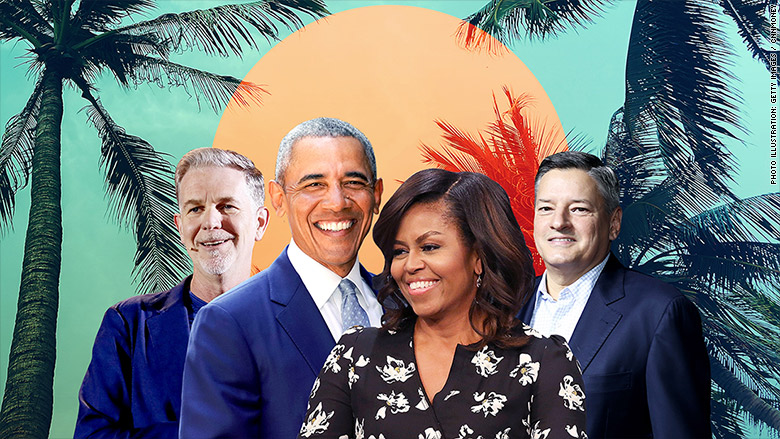 What's Next: The Obamas on Netflix. Netflix has signed President Barack Obama and Michelle Obama to a multi-year deal to produce films and series, potentially including scripted series, unscripted series, docu-series, documentaries, and features.
What we know, per sources close to the deal:
• This is a high 8-figure deal.
• The Obamas production company is called "Higher Ground Productions."
• The Obamas want to highlight positive stories about people making a difference, they do not want to use it as a platform to take on President Trump (at least directly).
The Big Picture: The deal is a landmark moment for tech's incursion into Hollywood. It's also a coup for Netflix, adding an unmatchable asset to their content portfolio and an edge over the competition. Meanwhile, the Obamas get an international media platform to advance their causes.
Read the statements from the Obamas and Netflix's Ted Sarandos here.
Sign up for PACIFIC: The new CNNMoney newsletter about the center of change and innovation
---
Today's PACIFIC
Bill Gates has just dropped his Summer reading list: 1. "Leonardo da Vinci," by Walter Isaacson. 2. "Everything Happens for a Reason and Other Lies I've Loved," by Kate Bowler. 3. "Lincoln in the Bardo," by George Saunders. 4. "Origin Story: A Big History of Everything," by David Christian. 5. "Factfulness," by Hans Rosling et al ... Blog post and video here.
What We're Reading: The new Theranos exposé: "Bad Blood: Secrets and Lies in a Silicon Valley Startup," by WSJ's John Carreyrou. Our colleague Sara Ashley O'Brien talks to the author.
---
Beijing Rising: China 1, US 0
The US and China declared a truce to the trade war over the weekend, even though China has made no commitment to stop intellectual property theft and done nothing to curb its technological ambitions.
"China is winning Trump's trade war," via WaPo's Heather Long:
• "Trump was supposed to get the Chinese to stop stealing US business secrets and technology. On this front, the statement was brief and lackluster."
• "There was little ... about IP protections and nothing about China altering its plans for high-tech growth and domination. ... The Trump administration's [original] list of demands ... included China agreeing to stop subsidizing its tech companies."
What's Next: More talks. But China is never going to give up its technological ambitions. China is moving fast to become the dominant technological superpower by 2025 and the dominant economic superpower by 2050. Axios' Jim Vandehei outlines all that here.
Sign up for PACIFIC: The new CNNMoney newsletter about the center of change and innovation
---
The Trust Crisis: Zuckerberg in Brussels
Mark Zuckerberg has agreed to let tomorrow's testimony before European Parliament be live streamed, after pressure from lawmakers and the public.
Why it's risky: Our Facebook sources believe the questioning is likely to be tougher and more focused than it was when Zuckerberg appeared before US lawmakers. A spokesperson says they're "happy for it to be live streamed."
My colleague Samuel Burke will be in Brussels. He emails: "Europeans just by cultural default are stronger in privacy. ... but European Parliament doesn't usually grill execs at this level, so it's hard to know exactly what's coming."
Other Facebook news:
• Facebook now requires anyone who wants to buy a political or issue ad in the US to prove that he or she is a permanent resident or citizen.
• Facebook is facing a surge in "dropshipping" scams, where sellers use "hip virtual storefronts" to lure people into buying shoddy products, per WSJ's Khadeeja Safdar.
• Facebook has partnered with Qualcomm to expand Terragraph, its super-fast wireless system. The Verge's Shannon Liao explains.
---
Alphabet Soup: Google unscathed by '60'
The CBS '60 Minutes' exposé on Google did little to generate concerns over the company's size or its data collection practices.
The investigation, by Steve Kroft, featured Google critics like European antitrust chief Margrathe Vestager and Yelp co-founder Jeremy Stoppelman speaking out against Google's unchecked control over the online search market.
The Fallout, to the extent there was any:
• Treasury Secretary Steve Mnuchin on CNBC: "These are issues that the Justice Department needs to look at seriously — not for any one company — but obviously as these technology companies have a greater and greater impact on the economy, I think that you have to look at the power they have."
Sign up for PACIFIC: The new CNNMoney newsletter about the center of change and innovation
---
CNN Gets Results
"After CNN report, lawmakers want answers from Uber, Lyft on sexual assaults" by CNNMoney's Sara Ashley O'Brien: "Nine members of Congress sent a letter to the CEOs of Uber, Lyft, Juno, Curb, and Via on Monday requesting details about their protocols related to sexual assault and harassment reports, training drivers, and more." The letter comes after a CNN investigation found that at least 103 Uber drivers have been accused of sexually assaulting or abusing their passengers in the past four years.
---
Musk Watch: Tesla fails Consumer Reports
What Elon Musk would rather not be reading:
"Tesla Model 3 Falls Short of a CR Recommendation: Despite record range and agile handling, issues with braking, controls, and ride quality hurt the Model 3's Overall Score":
• "We found plenty to like about the luxury compact sedan ... including record-setting range as well as exhilarating acceleration and handling that could make it a healthy competitor to performance-oriented cars such as BMW's 3 Series and the Audi A4.
• "Our testers also found flaws—big flaws—such as long stopping distances in our emergency braking test and difficult-to-use controls."
• "These problems keep the Model 3 from earning a Consumer Reports recommendation."
The Big Picture: What we've been saying for weeks: Elon Musk needs to demonstrate real, tangible progress at Tesla to convince people that he and all of his endeavors are still a safe bet. This is yet another a setback.
Sign up for PACIFIC: The new CNNMoney newsletter about the center of change and innovation
---
Top Links via PACIFIC's Jordan Valinsky
Amazon is already worrying Boston (WSJ)
Microsoft acquires conversational AI startup (VB)
Jack Ma imposes investment restrictions (WSJ)
Snap shares get a much-needed boost (CNBC)
TheSkimm closes a $12-million round (Variety)
---
The Fox Wars: Comcast mobilizes on Disney
The big picture on the Disney-Comcast wars, via NYT's Brooks Barnes:
• Comcast is "extremely" serious about its hostile bid for 21st Century Fox: "Comcast is mobilizing. It has already lined up bridge financing with investment banks, for instance, according to the people briefed on the company's strategy."
• Disney's response: "Analysts predict scorched earth. Disney could sweeten its bid, resurface horror stories about Comcast's customer service, remind Fox shareholders that Disney's regulatory process will be faster ... and raise questions about whether Comcast adhered to conditions the government put on past acquisitions, like NBCUniversal."
• When the battle really begins: After June 12, when a Judge rules on AT&T's Time Warner acquisition. "If the outcome is favorable to AT&T, Comcast intends to mount a campaign to snatch Fox from Disney."
The Big Picture, via Barnes: Disney and Comcast want "to add bulk as a counterattack against Netflix and other tech giants that have aggressively moved into the entertainment business."
Bonus: Comcast is one step closer to getting approval from the UK government to buy Sky for $31 billion, an important proxy war in its battle with Disney.
Sign up for PACIFIC: The new CNNMoney newsletter about the center of change and innovation
---
Full Court Press: ESPN bets on basketball
"ESPN is doubling down on basketball content" because "millennials love basketball," my colleague Ahiza Garcia reports:
• "26% of NBA fans are between the ages of 18-34. ... The coveted demographic could give ESPN a leg up with advertisers and brands."
• ESPN plans to launch four new basketball-centric projects this season ... including "Detail," which features Kobe Bryant giving in-depth analysis of the current playoffs, and "Basketball: A Love Story," a 63-part series of shorts featuring the sport's biggest names.
The Big Picture: ESPN is crucial to Disney's success on the television side, and ESPN needs compelling content outside of live sporting events.
---
What Next: "How Superheroes Made Movie Stars Expendable": The New Yorker's Stephen Metcalf on "the Hollywood overhauls that got us from Bogart to Batman."
See you tomorrow.
Sign up for PACIFIC: The new CNNMoney newsletter about the center of change and innovation