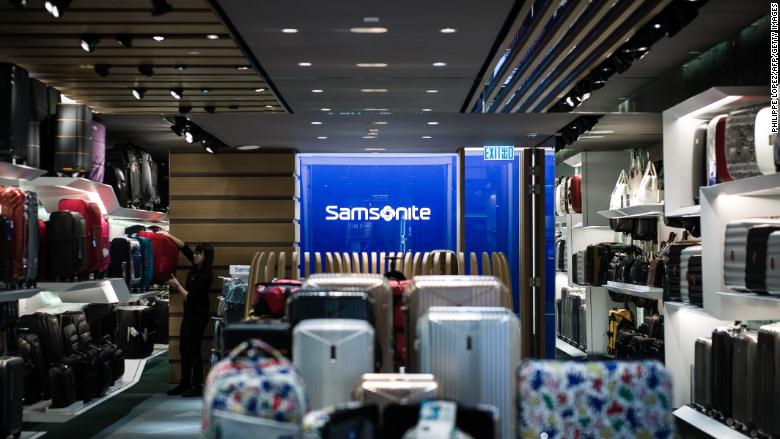 Trading in Samsonite shares was suspended after the world's largest luggage maker was accused by an investment firm of questionable business practices.
The stock plunged by 10% in Hong Kong before trading was halted after it came under attack by short sellers -- investors who profit by driving down the value of a company's shares.
Blue Orca Capital, a new firm led by renowned short seller Soren Aandahl, claimed in a report published on its website Thursday that Samsonite (SMSOF) has masked slowing growth by borrowing heavily to make acquisitions.
"Like an addict searching for its next fix, Samsonite has already announced its search for its next acquisition (in women's handbags). The market should be skeptical," reads the report.
Blue Orca also accused the company of using questionable accounting techniques to massage earnings and inflate its profit margins.
"Samsonite is a mid-level brand masquerading as a premium luxury player," according to the investment firm.
Related: Jim Chanos: Tesla investors are 'paying money to lose money'
Samsonite shares were halted in Hong Kong late Thursday morning at the request of the company while it prepared its response to the report.
Samsonite said in a statement Thursday night that the Blue Orca allegations were "one-sided and misleading, and accordingly, the conclusions drawn in the report are incorrect."
The company added that it would issue a more detailed response to the report "in due course." It warned shareholders to treat the report with caution and said it reserved the right to take legal action against Blue Orca.
Samsonite said its shares will resume trading in Hong Kong on Friday.
Much of the report's criticisms focus on Samsonite's acquisition strategy, which included the $1.8 billion buyout of upscale American rival Tumi two years ago. It alleges Samsonite used certain accounting techniques to artificially boost its profit margins following the deal, and believes the company's shares are overvalued by 44%.
Most mainstream analysts have a different view on Samsonite. Nine of 15 brokers who cover the stock rate Samsonite a buy, according to data provider Factset. Analysts expect Samsonite's operating profit to increase more than 20% in the current financial year.
"We believe the short seller's significantly lower target price for Samsonite does not factor in the company's ability to generate sustained positive free cash flow," said Morningstar analyst Lorraine Tan in a note on Thursday.
Blue Orca also flagged what it described as "dodgy" transactions between Samsonite CEO Ramesh Tainwala and Indian entities it said were controlled by him and his family. It even accused Tainwala of lying about having a doctorate in business administration.
"Ultimately, we believe that Samsonite is simply carrying too much baggage to trade at such a high premium," the report said.
Related: Bill Ackman's Herbalife disaster is finally over
Aandahl, who established Blue Orca earlier this month, has a track record for uncovering accounting shenanigans.
The Harvard-educated former attorney cut his investment teeth short-selling Chinese companies listed in the United States. In 2016, he was named "Short Seller of the Year" by investment publication Activist Insight.
Like many short sellers, Blue Orca doesn't disclose who its investors are or how much money it manages. The company makes money for its clients by taking a "short" position in a stock and then trying to drive down its price by circulating negative reports.
Last year, Aandahl targeted Australian sandalwood grower Quintis, which he described as having a "ponzi-like structure." The stock plunged almost 80% and the company is now in administration.
His forecasts haven't always been on the money. In 2016, he advised investors to sell shares in Japanese trading house Itochu (ITOCF), but the stock has almost doubled in value since.