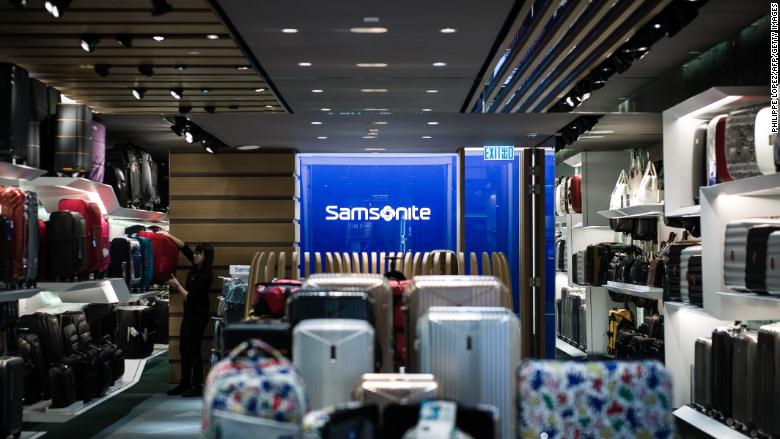 Samsonite has fired back at an investment firm that accused it of questionable business practices, but its response failed to reassure shareholders.
The company's stock plummeted more than 12% in Hong Kong on Friday, following a 10% drop the day before.
Samsonite came under fire Thursday from Blue Orca Capital, a new firm led by renowned short seller Soren Aandahl. Short sellers are investors who profit by driving down the value of a company's shares.
The Blue Orca report accused Samsonite, the world's biggest luggage maker, of masking slowing growth by borrowing heavily to make acquisitions.
In statements issued late Thursday, Samsonite said the allegations were "one-sided and misleading, and accordingly, the conclusions drawn in the report are incorrect."
It warned shareholders to treat the Blue Orca report with caution, as "it may be intended specifically to undermine confidence in the company and its management, and to harm its reputation."
Chairman Timothy Parker said he has "full confidence" in the capabilities of CEO Ramesh Tainwala, whose credentials were challenged by Blue Orca, and the wider management team.
Related: Samsonite shares plunge after investment firm questions its business practices
Samsonite didn't address the report's other claims in detail, but added that it didn't believe it had any information it needed to disclose to investors under Hong Kong securities rules.
It pledged to provide more information "in due course."
"We intend to draw a line under this matter as quickly as possible, and move on to focus on what is important -- the future growth of our business," Parker said.
Blue Orca accused Samsonite of using questionable accounting techniques to massage earnings and inflate its profit margins.
Much of the report's criticisms focus on Samsonite's acquisition strategy, which included the $1.8 billion buyout of upscale American rival Tumi two years ago. It alleges Samsonite artificially boosted its profit margins following the deal.
It argued the company's shares were overvalued by 44% ahead of the release of its report. They are now down 21% since it was published.
Most mainstream analysts have a different view on Samsonite. Ten of 15 brokers who cover the stock rated Samsonite a buy on Friday, according to data provider Factset. They expect Samsonite's operating profit to increase more than 20% in the current financial year.
"We believe the short seller's significantly lower target price for Samsonite does not factor in the company's ability to generate sustained positive free cash flow," said Morningstar analyst Lorraine Tan in a note on Thursday.
-- Daniel Shane contributed to this report.