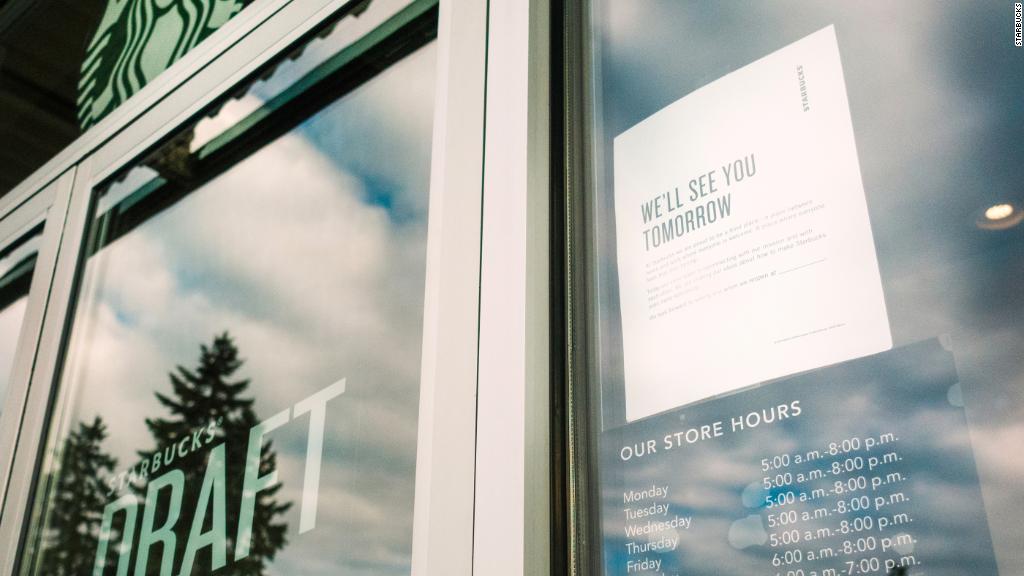 Starbucks hopes that its afternoon of racial bias training will help open a discussion about race.
"We realize that four hours of training is not going to solve racial inequity in America," Starbucks Chairman Howard Schultz told CNN's Poppy Harlow on Tuesday. But he said, "We need to have the conversation. We need to start."
Schultz added that the company is "deeply committed to this being a long-term journey."
About 8,000 company-owned locations will shut down on Tuesday afternoon to offer 175,000 employees a mandatory anti-bias training. Workers at each location will break into small groups to learn together. Schultz, CEO Kevin Johnson and musician and activist Common will serve as virtual guides.
Schultz said that the company hoped a wide range of professional advisers would "help us understand and walk in the shoes of people of color, and understand that racial bias does exist; unconscious bias exists."
Racial bias training will be integrated into the company's employee-onboarding process, Schultz told CNN.
Related: Starbucks around the US are closing for anti-bias training: What you need to know
Schultz also penned an open letter to customers on Tuesday, in which he said Starbucks is renewing its pledge to be an "inclusive gathering place for all."
Starbucks (SBUX) announced the training soon after two black men were arrested at a Philadelphia Starbucks in April.
"The situation was reprehensible," Schultz said in the letter, which also ran as a full-page ad in the New York Times, USA Today and two Philadelphia papers.
Schultz told CNN that he was "horrified," when he heard what had happened.
He said that the incident was counter to the company's core values. "For this to happen is such an anathema. It was hard for me to actually imagine this could happen at Starbucks," he said.
"The entire company's history is based on 'we are all in this together.'"
Related: Starbucks' new all-are-welcome policy: Now what?
The company found that "insufficient support and training" and "bias" led a former white employee to call police on the two men, Schultz said.
Schultz told Harlow that he does not blame the manager for the incident. "I took full responsibility," he said.
Starbucks has also changed its policy to allow people to use its restrooms and spend time in stores, even if they haven't made any purchases.
"The incident has prompted us to reflect more deeply on all forms of bias, the role of our stores in communities and our responsibility to ensure that nothing like this happens again at Starbucks," Schultz said. "The reflection has led to a long-term commitment to reform systemwide policies, while elevating inclusion and equity in all we do."
Schultz told CNN that closing the stores will cost the company "tens of millions of dollars," and that at least one shareholder had concerns. But Schultz sees the trainings not as a cost, but as an investment in employees.
-- CNN's Yon Pomrenze contributed to this report.