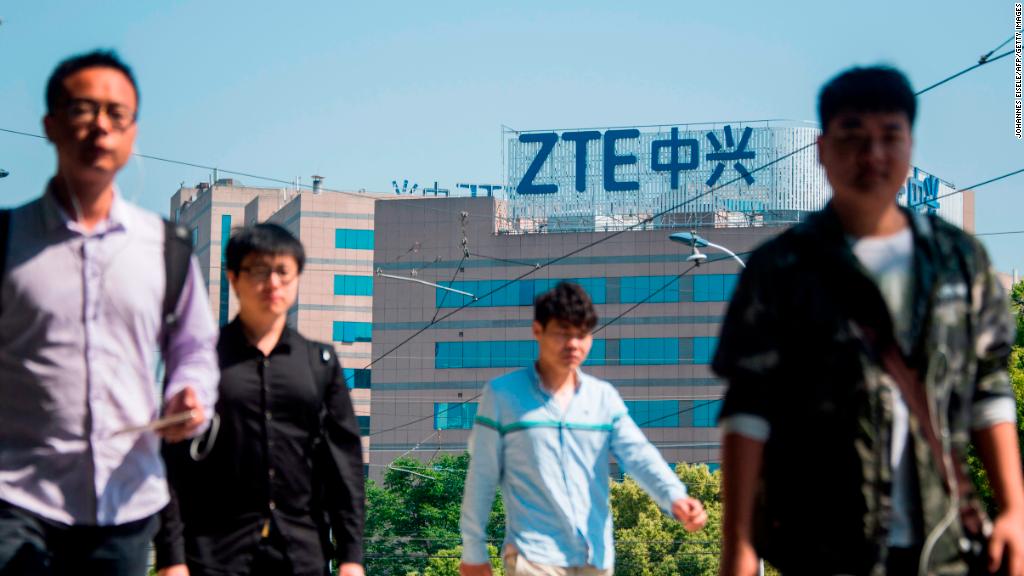 China's ZTE will struggle to recover from a ban on buying US components even if the Trump administration throws the tech company a controversial lifeline.
ZTE (ZTCOF), which makes smartphones and telecommunications equipment, has been in crisis since the US Commerce Department banned it from buying crucial parts from American companies six weeks ago. The department said ZTE had failed to honor a deal under which it admitted to violating sanctions on Iran and North Korea.
The Trump administration has a tentative deal to get it back into business by lifting the ban and imposing other punishments instead. But a backlash from members of Congress has added uncertainty to the outcome.
Whatever happens next, experts say ZTE is facing a long list of problems, including billions in lost revenue, strained relationships with major customers and a tarnished brand.
Related: Companies become bargaining chips in US-China trade turmoil
ZTE, which employs around 75,000 people, relies on US tech for its products, sourcing chips from companies like Qualcomm (QCOM) and Intel (INTC). The ban brought its factories to a standstill. Shareholders, meanwhile, have been stuck in limbo, with the company's Hong Kong-listed stock suspended since the ban took effect.
Wary customers
Even if the ban is replaced with a big fine and an overhaul of ZTE's management, the company is likely to suffer lasting damage from the crisis.
Charlie Dai, an analyst at research firm Forrester, estimates the disruption will have wiped out between 10% and 20% of the revenue ZTE was expected to earn in the current financial year. The company had revenue of about 109 billion yuan ($17 billion) last year.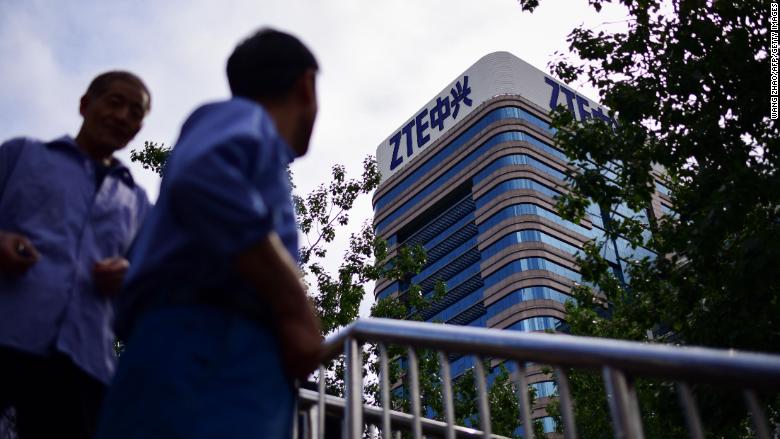 ZTE didn't respond to a request for comment on the financial impact of the ban. In its last earnings report in late April it said it was "still unable to complete a comprehensive and accurate assessment or forecast."
Its repeated tussles with the US government could hurt its main business of selling equipment like wireless base stations and fiber optic cables to telecom operators around the world.
"ZTE may have more difficulty in securing new, overseas carrier customers over the next 12 months, since customer confidence is now lower," Edison Lee, a telecom analyst at investment bank Jefferies, wrote in a research note this month.
Related: ZTE is thrust center stage in the US-China trade fight
Its big rivals in Europe -- Ericsson (ERIC) and Nokia (NOK) -- could benefit.
Analysts at Swiss bank UBS (UBS) said that some of ZTE's international customers may buy more from Ericsson and Nokia even if the ban on the Chinese company is withdrawn.
ZTE could be forced to cut its prices in an attempt to attract new business, the UBS analysts predicted in a note published this month.
The company has a lot of customers in emerging markets in Asia, Latin America and Africa. The ban has already forced some of them to scramble for alternatives.
MTN (MTNOF), a major operator in Africa, said earlier this month that it was looking at contingency plans "given our exposure to ZTE in our networks."

Damaged reputation
ZTE also makes smartphones, a business that accounts for about a third of its annual revenue. Its top market for smartphones is the United States, where it's the fourth biggest seller.
Some analysts say the company could have trouble repairing its reputation.
Mo Jia, a Shanghai-based analyst at research firm Canalys, said ZTE's brand image with consumers and the carriers that sell its phones is now "damaged."
Some big operators -- MTN and Australia's Telstra (TLSYY) -- have already stopped selling ZTE smartphones because of the supply problems.
"It will take time for ZTE to regain or repair its partnerships," Jia said.
Related: China's biggest tech companies have reason to be worried
The company's devices were slammed earlier this year by US intelligence agencies. Top officials from the FBI, CIA and NSA testified before Congress in February that ZTE and Huawei, another Chinese smartphone maker, pose a security threat to American customers.
Both companies have repeatedly rejected such claims, but they've faced other public setbacks, including the Pentagon recently telling stores on US military bases to stop selling their phones.
Analysts expect that kind of pressure to continue even if the Commerce Department lifts the ban on supplying parts to ZTE.
"ZTE's smartphone business will face challenges, especially in the United States, where ZTE and Huawei remain under fire from other branches of the government," said Avi Greengart, a New York-based analyst at research firm Global Data.
ZTE has stronger ties with US carriers than Huawei. But Greengart predicts ZTE may lose business to other makers of affordable handsets like Alcatel and LG.