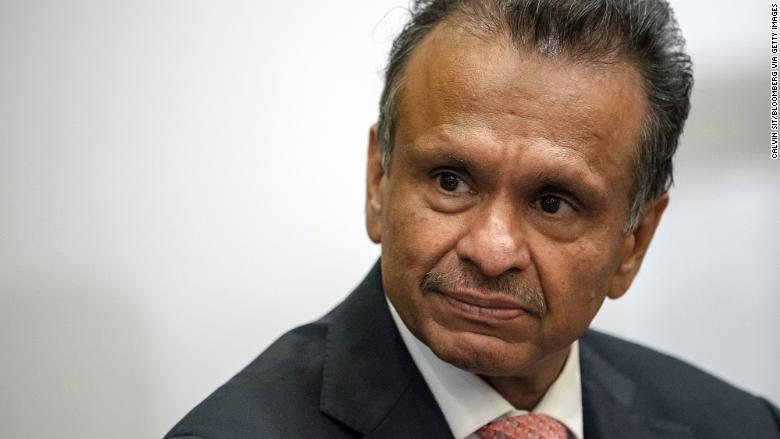 The CEO of Samsonite has resigned following allegations he made false claims about his educational background.
The world's biggest luggage maker said in a filing to the Hong Kong stock exchange Friday that Ramesh Tainwala would leave the company after an investment firm accused him of falsely claiming to have a doctorate in business administration.
Tainwala's resignation as CEO is effective immediately. Samsonite (SMSEY) said he will be replaced by CFO Kyle Gendreau.
Tainwala cited "personal reasons" for stepping down, according to the company. It said its board "thoroughly reviewed the facts" related to the allegation about his educational background "and has determined that accepting his resignation is in the best interests of the company and its shareholders."
CNNMoney wasn't immediately able to reach Tainwala for comment.
Blue Orca Capital, a new firm led by renowned short seller Soren Aandahl, made the claims against Tainwala in a report published on its website that also accused Samsonite of using questionable accounting techniques to massage earnings and inflate its profit margins.
Related: Samsonite says it has nothing to hide, but shares plunge again
In a flurry of statements on Friday, Samsonite reiterated its stance on the report, describing it as "one-sided and misleading." It also gave a detailed response challenging specific allegations by Blue Orca.
"The conclusions drawn in the report about the company and its financial results are incorrect," it said. "The company's financial disclosures are an accurate reflection of the strong core fundamentals of the business."
Following the release of the Blue Orca report last week, Samsonite's shares dropped 21% over two days of trading in Hong Kong. They were suspended for most of this week at the company's request. After resuming trading on Friday, they ended the day almost 10% higher.
"The removal of Samsonite's CEO is a victory for basic corporate governance," Blue Orca founder Soren Aandahl said in an email to CNNMoney. "We are reviewing Samsonite's statement and will respond in due course."
Lorraine Tan, an analyst at investment firm Morningstar, said that Tainwala's resignation was a "needed move" but that "suspicions are likely to linger" following Blue Orca's allegations.
Morningstar thinks Samsonite's stock is worth about 35% more than its current price, and is advising its clients to buy the shares. But "it will take the stock some time to recover fully," Tan said.
In its report, Blue Orca asserted that Tainwala "at various points in his career held himself out as a doctor." It pointed to examples including a profile on financial information provider Bloomberg's website, SEC fillings and company materials that referred to Tainwala as a doctor.
Blue Orca said its investigations found he had enrolled in but never completed his doctorate program.
Tainwala subsequently told The Wall Street Journal that he "never claimed" to hold a doctoral degree. He said that friends and colleagues referred to him as "doctor" as a joke, knowing that he had not completed his doctoral studies.