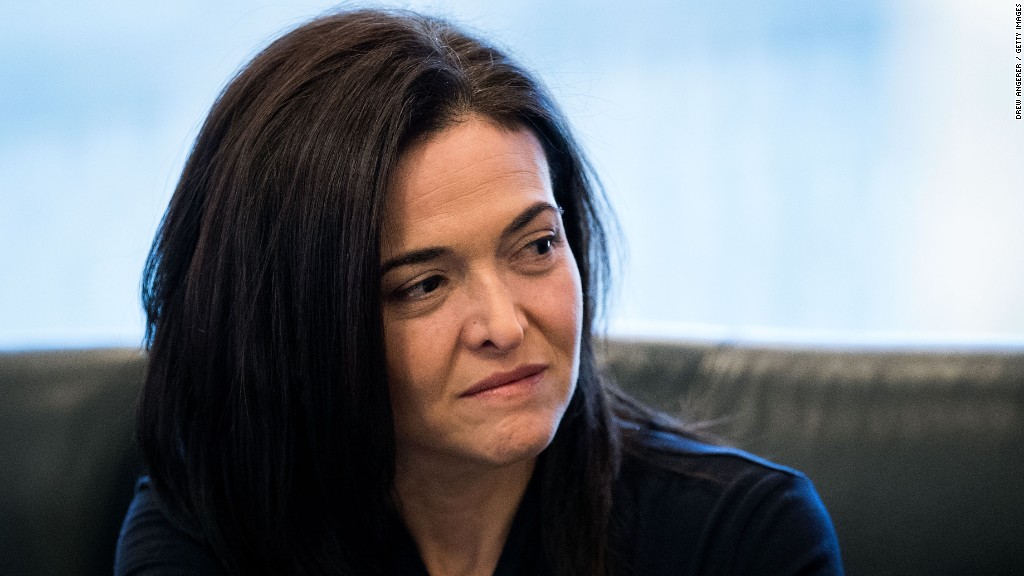 Facebook COO Sheryl Sandberg said on Thursday the company is applying its "diverse slate approach" to new board appointments.
The company's "diverse slate approach" is a sort of "Rooney Rule," the National Football League policy that requires teams to consider minority candidates for coaching and operations-level roles.
Facebook (FB) already applies the approach to its workforce. The company presents its hiring managers with at least one qualified candidate who is a member of an underrepresented group to fill an open role.
Sandberg made the announcement during the company's annual shareholder's meeting, adding that she "wanted to make that commitment publicly." Her announcement was met with some applause.
Sandberg's statements came in response to remarks from civil rights activist Reverend Jesse Jackson, who for years has put pressure on Facebook and other tech companies to diversify boards.
In January, Facebook hired its first black board member, former American Express CEO Kenneth Chenault. The company has two female board members, Sandberg and Susan Desmond-Hellmann, CEO of the Bill & Melinda Gates Foundation.
Related: Facebook executive shuffle highlights that men still run its big products
Facebook isn't the only tech company trying to diversity its board of directors.
Airbnb, the second most valuable privately-held American startup, pledged this week to do better when it comes to board diversity. At the Code Conference, CEO Brian Chesky said he plans to appoint at least one first female board member this year.
"We will appoint one person at least — one woman this year," Chesky said. I'd like to add two this year."
Chenault also joined Airbnb's board in January.
Earlier this month, Amazon (AMZN) adopted a shareholder proposal to apply the "Rooney Rule" to its board of directors.
Facebook's last board appointment was a white man: Jeff Zients, the CEO of holding company Cranemere. Zients, who served as a top economic adviser for former President Barack Obama, was appointed to its board of directors and audit committee earlier this month.
Minorities and women are underrepresented on Fortune 500 boards. Almost 70% of directors Fortune 500 companies are held by white men, according to a study from the Alliance for Board Diversity.
They're also underrepresented in the greater tech community. Facebook's latest diversity report from August barely moved the needle: It increased its Hispanic and Black workforce by 1% each to 5% and 3%, respectively.
In early May, Facebook went through one of the most significant reorganizations in its history, streamlining the sprawling business and paving the way for new ventures like blockchain. The move left men in charge of Facebook's biggest products.