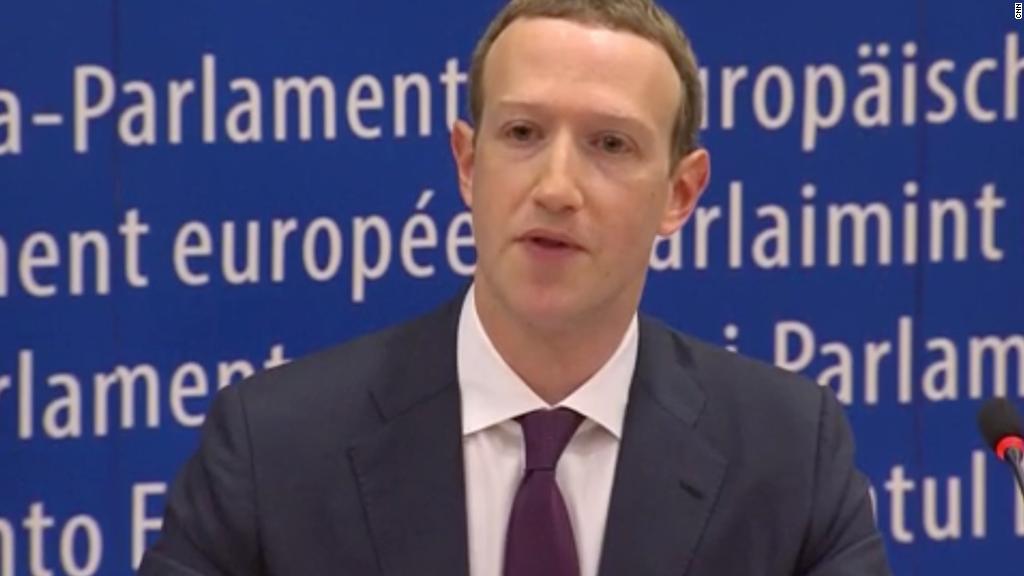 Mark Zuckerberg was grilled by politicians on both sides of the Atlantic in the wake of the Cambridge Analytica scandal.
On Thursday, Facebook (FB)'s shareholders finally got their turn.
Zuckerberg and other top Facebook execs were hit with sharp questions and criticisms about data privacy, election meddling and corporate governance at the company's annual shareholder meeting Thursday.
"If 'privacy is a human right,' as stated by Microsoft's CEO, then we contend that Facebook's poor stewardship of customer data is tantamount to a human rights violation," said Christine Jantz, chief investment officer at NorthStar Asset Management, during the meeting.
Another attendee asked if Facebook's board would "commission a study to evaluate the impact on shareholder value of breaking up Facebook's business line" given recent regulatory scrutiny into the company's data practices.
Outside the meeting space in Menlo Park, California, a group called Freedom From Facebook flew a plane carrying the banner: "You broke democracy."
Related: Facebook has gotten too big for Mark Zuckerberg
Zuckerberg kicked off the unusually dramatic meeting by admitting that "a lot has happened since the last year when we were here."
During that time, Facebook was hit with damaging stories about fake news, foreign election meddling, filter bubbles and social media addiction. In March, Cambridge Analytica, a data firm with ties to President Donald Trump's campaign, was revealed to have accessed information from millions of Facebook users without their knowledge.
The data scandal wiped away tens of billions of dollars from Facebook's market value at one point, though the company has since rebounded.
On Thursday, Zuckerberg reiterated recent pledges to take a "broader view" of Facebook's responsibility and be more "proactive" in reviewing content on the platform.
In response to one question from civil rights activist Rev. Jesse Jackson about whether elections will be secure in the future, Zuckerberg called what happened in 2016 a "big wake-up call."
"There's no doubt that in 2016 we were slow as a company in identifying the kind of misinformation operations that Russia tried to run," Zuckerberg said. "We were looking for more traditional types of cyber attacks. ... But we weren't tracking this new threat."
While Zuckerberg once again expressed his commitment to tackling these pressing issues, Facebook shot down a series of shareholder proposals for better transparency and corporate governance.
Zuckerberg controls the majority of voting rights at Facebook, meaning he can effectively shoot down or approve measures single-handedly.
James McRitchie, an investor, said during the meeting that Facebook risks becoming a "corporate dictatorship." He added that Zuckerberg should "take a page from history: Emulate George Washington, not Vladimir Putin."