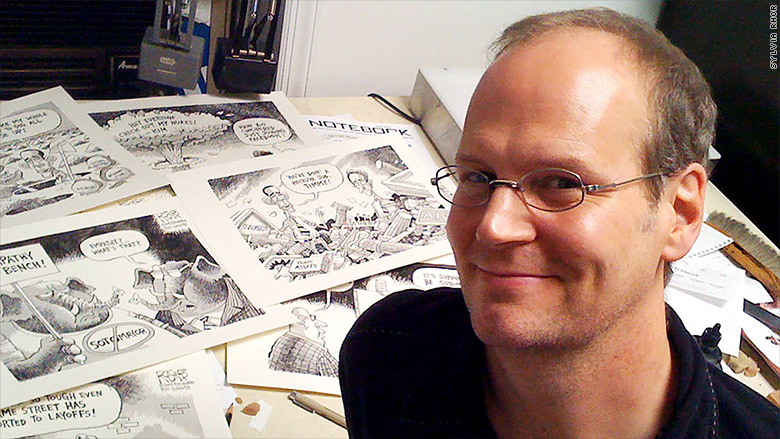 Readers of the Pittsburgh Post-Gazette have been denied one of its regular features, with the work of veteran editorial cartoonist Rob Rogers relegated from the newspaper's pages to his own social media feeds.
Rogers' cartoons haven't been published in the Post-Gazette since May 24, when he sketched a critique on the inaction of the Republican-controlled Congress. Since then, the paper has run the work of syndicated artists. Rogers, meanwhile, has continued to draw, posting his last several cartoons on Facebook, Twitter and his personal website.
No explanation has been given for Rogers' absence from the paper. Post-Gazette executive editor David Shribman and editorial director Keith Burris did not respond to a request for comment.
Rogers, who has been with the Post-Gazette since 1993 and has drawn in Pittsburgh for more than 30 years, told CNN in an email that he could not comment on the situation, but he did confirm that he is still employed by the paper.
"I am drawing for tomorrow but I am not sure what will become of that one yet," he said.
Rogers has offered some clues on social media about his absence. On Thursday, he used his pen to ridicule Roseanne Barr's explanation for her racist Twitter tirade. The cartoon depicted a Klansman asking a doctor, "Could it be the Ambien?"
"Another killed cartoon," wrote Rogers. "4th in a row."
The number climbed to six on Sunday, with Rogers' latest cartoon that took aim at President Trump's recent comments on pardons.
Rogers' work veers left, which has prompted speculation in the local press that he has been sidelined over ideological differences with the paper's leadership. In January, the Post-Gazette ran a non-bylined editorial that took on critics who have called Trump a racist.
"Calling someone a racist is the new McCarthyism," the editorial read. "The charge is pernicious. The accuser doesn't need to prove it. It simply hangs over the accused like a great human stain.
"If Donald Trump is called a racist for saying some nations are 'shit**** countries,' does that help pass a 'Dreamers' bill to keep gifted young people in this nation — people who have something to give the United States and are undocumented only because they were brought here by their parents illegally?" it added.
The piece drew a backlash, including from Post-Gazette staff members.
Burris told the Yale student newspaper that he and John Robinson Block, the publisher of both the Post-Gazette and the Toldeo Blade, has several discussions about the use of the word "racist" prior to publishing the editorial.
"It is our mission to make people think, and sometimes you have to risk offending people to make people think. The whole point of opinion journalism is to provoke thought," he said.
In 2016, Block was photographed with Trump, and the Toledo Blade reported that year that he and Burris spent time with Trump on the president's plane following a campaign rally in Toledo.
In April, a month after he was promoted to an executive position at both papers, Burris wrote what he called a "primer on opinion writing."
"I admit that in many newspapers today, the detachment and coolness of traditional, straightforward news reporting has been compromised. In my mind that is a pernicious thing," he wrote. "News reporters should not opine or analyze. Even off duty. And especially not on TV."
He added: "I do not tell news editors what to write and news editors do not tell me or the opinion writers who work with me what to write."