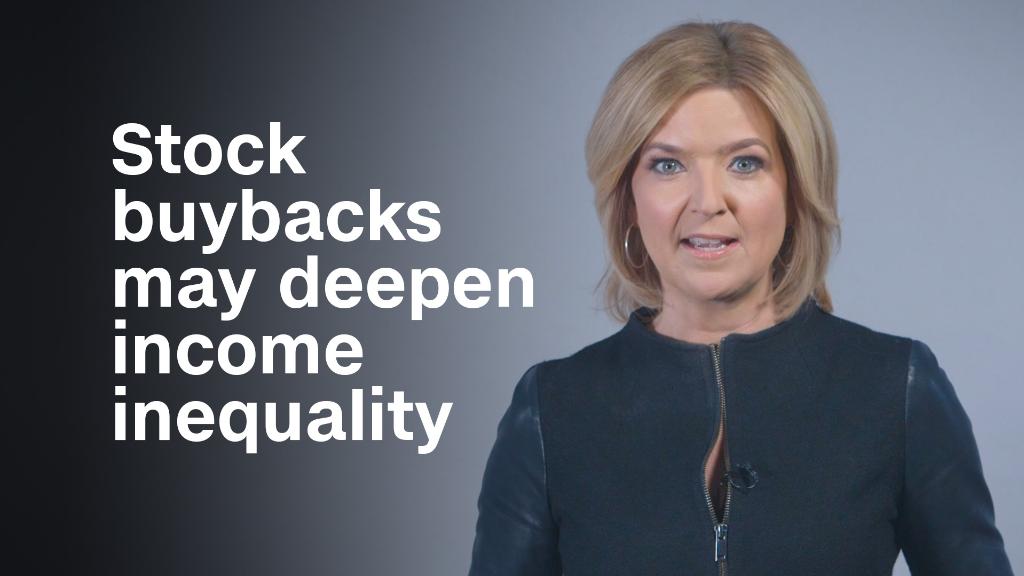 American companies announced a record $201.3 billion in stock buybacks and cash takeovers in May.
Apple made up nearly half that total, according to a report from investment research company TrimTabs. Last month, Apple (AAPL) pledged to purchase $100 billion worth of its own stock. It didn't provide a time frame for when it would complete the purchases.
Micron Technology (MU) ($10 billion) and Qualcomm (QCOM) ($8.8 billion) rounded out the top three in TrimTabs' report.
May's buyback announcement bonanza continues the trend started in the first quarter of 2018, when US companies completed $178 billion in buybacks. That was a record number, topping the prior record of $172 billion in 2007, right before the start of the Great Recession.
Howard Silverblatt of S&P Dow Jones Indices said that total buybacks and dividends for the past 12 months could top $1 trillion for the first time ever.
The massive uptick followed the US corporate tax cut law, which reduced the business tax rate from 35% to 21%. The tax law also gives companies a break on taxes owed when returning foreign profits.
Related: How businesses are really spending their tax cuts
Companies buy back their stock to boost prices. That reduces the number of outstanding shares, increasing demand and inflating earnings per share.
Critics say the return of capital to shareholders is a boon for Wall Street, but a slight to Main Street. Many argue the extra wealth should instead be invested to create jobs and boost wages.
Even Goldman Sachs warned against record buybacks.
"We expect cash return strategies will lag going forward," said David Kostin, the financial services company's chief US equity strategist, in April.
Instead, Goldman Sachs found that stocks of companies that have focused on capital spending, like Kohl's and Intel, have soared since the 2016 election.
Some companies have shared the early windfall with employees. For example, Walmart and Wells Fargo have devoted a portion of their tax savings to raise wages and benefits for workers. Comcast and Bank of America have rewarded workers with one-time bonuses.
Still, proponents of the buybacks are staunchly defending them. Jamie Dimon, JPMorgan Chase's CEO said on a Business Roundtable conference call Tuesday, "That is a natural function of capital markets and the proper deployment of capital."
Dimon, who's also chairman of the Business Roundtable, added that individuals may use the returned money to buy a home or start a new company or fund a venture capital firm.
"I don't understand how anyone can say that's a bad thing. That is coming from people who are basically ignorant."