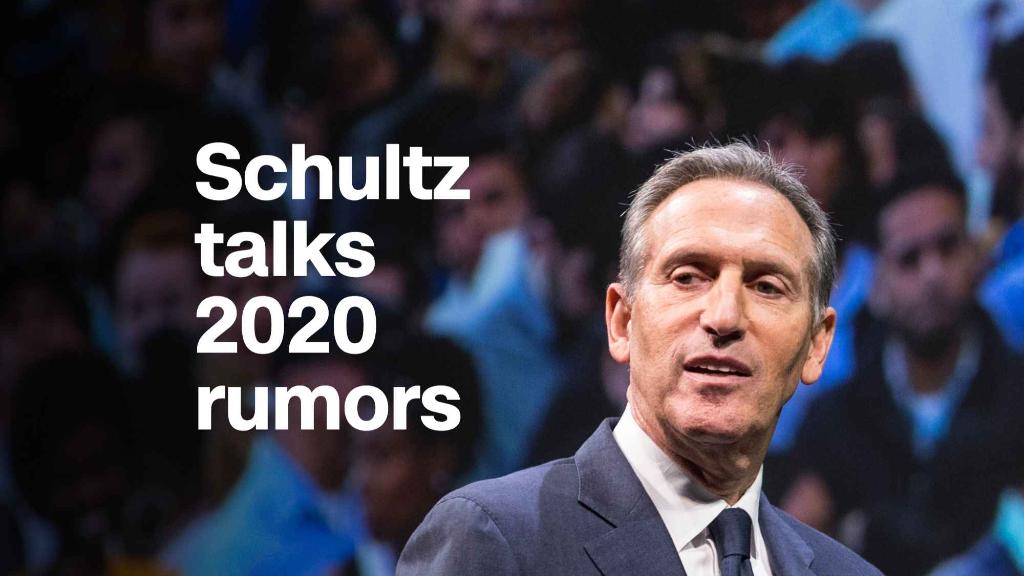 Howard Schultz made it easy for Americans to get coffee. Then he came back and made it better.
Schultz, the public face of Starbucks (SBUX) for nearly four decades, announced Monday that he plans to leave the company later this month.
He turned a local coffee chain into one of the most recognizable brands in the world. Schultz created a new store concept — a "third place" between the office and home where Americans could work and socialize.
In the process, Schultz built a company that reflected his progressive values and confronted many of the most controversial social issues in the country.
Related: Schultz: 'Big difference' between my qualifications and Trump's
'Wrong part of the business'
It's hard to remember a time when Starbucks wasn't on every big-city corner and in every suburban shopping center in America.
But it was tough to find a good cup of coffee when Howard Schultz first walked into a Starbucks at Seattle's Pike Place Market in 1981.
Starbucks didn't serve brewed coffee at the time — it just sold the beans — but Schultz, who was traveling on a client visit from his native New York, was hooked by the store's atmosphere.
"I literally had the kind of epiphany that just spoke to me," Schultz said on an NPR podcast last year. "This is such an extraordinary thing about what they were doing and the coffee, the romance, the passion that people had."
Related: Starbucks' Howard Schultz: Childhood in the projects inspired his ambition
Schultz persuaded Starbucks' three founders to hire him and moved a year later to Seattle to begin as director of retail operations and marketing.
In 1983, Schultz went to Milan for a trade show and visited espresso bars around the city. "I started realizing that this is a third place between home and work. But the beverage was the draw," he said.
Schultz returned to Seattle, convinced that Starbucks should expand to start brewing coffee and focus on becoming a community gathering spot. "Starbucks was in the coffee business but, perhaps, the wrong part of the business," he said.
Schultz left the company shortly after and started his own venture, Il Giornale, offering the Italian in-store brewed coffee and espresso concept in 1985. Two years later, with the help of local investors, including Bill Gates' father, Schultz bought Starbucks' six stores.
Related: Inside the first ever Starbucks store
Starbucks' investors gave Schultz the green light to expand, even at a loss, first into West Coast areas and then to Chicago.
"Investors I think understood early on that we were going to lose money in order to build a much bigger company," he said. "We believed early on that what we had seen in Italy was replicable in America."
In 1992, 11 years after Schultz stepped into Starbucks, he took the company public. It had 165 stores at the time.
In the following years, a cup of Starbucks became a status symbol. "He created an accessible luxury for people," said Paul Argenti, a professor of management and corporate communications at Dartmouth's Tuck School of Business.
By the time Schultz stepped down as CEO in 2000, Starbucks had 3,500 stores in more than a dozen countries.
Non-ground coffee
But the company hit a rough patch in the mid-2000s without Schultz at the helm.
In 2007, the company's stock cratered 42%. After growing rapidly — the company had 12,400 stores by the end of 2006 — Starbucks' traffic had slowed down.
McDonald's (MCD) and Dunkin' Donuts (DNKN) had taken away customers while Starbucks lost some of its coffee-shop appeal among loyalists. It misjudged the response to selling more food and DVDs, and no longer grinding all of its own coffee.
In a leaked letter that year to then-CEO Jim Donald, Schultz said the decisions had resulted in a "watering down of the Starbucks experience" and a "commoditization of our brand."
For example, by using flavor-locked bags for coffee, Starbucks had sacrificed "aroma — perhaps the most powerful nonverbal signal we had in our stores ... and the loss of our people scooping up fresh coffee from the bins and grinding it fresh in front of the customer," Schultz said.
Customers turned away: "Some people even call our stores sterile, cookie cutter, no longer reflecting the passion our partners feel about our coffee."
In early 2008, Schultz replaced Donald for his second stint as CEO to turn around his embattled company.
He closed underperforming stores and installed his former leadership team. Starbucks shut down stores for an afternoon to retrain employees, hoping to bring back a friendlier vibe and better espressos. And it discontinued breakfast sandwiches so the stores would smell more like coffee.
The strategy worked: Starbucks' stock recovered, gaining 143% in 2009.
Schultz stayed on to guide the company through technological changes, loyalty programs and the rise of mobile payments. He stayed on until 2017, passing the reins to his handpicked successor, Kevin Johnson.
America's culture war
Schultz is one of the most outspoken corporate leaders in the country, and Starbucks' policies and workers' benefits embody his social outlook.
In his exit letter to employees, Schultz said he sought to balance "profitability and social conscience."
Since 1988, Starbucks has offered health care to all full-time and part-time employees. The company offers a stock plan, free college tuition and paid parental and sick leave for its workers. It pays above minimum wage and achieved race and gender pay equity earlier this year. Schultz has also made commitments to hire veterans and refugees.
Related: Starbucks achieves pay equity in the United States
Starbucks has taken stances on sensitive issues, including immigration, same-sex marriage, guns, and racism.
"Starbucks is a big public corporation, and yet Schultz behaves more like a private company boss in terms of his activism on political issues," said Jerry Davis, a professor of business administration at the University of Michigan's Ross School of Business.
The food industry is "not necessarily where you expect to see the most overt political stances."
Schultz is leaving Starbucks at a fraught moment for the company.
Starbucks became the center of national attention in April, when two black men were arrested while they were waiting inside a Philadelphia store. Video of the arrests sparked protests and calls for boycotts.
Schultz said he was "ashamed" and "embarrassed" by the arrests. He said bias was common and "many people in America are not prepared to talk about race."
In a media blitz, Schultz publicly apologized for the arrests and worked to ensure Starbucks would preserve its progressive reputation.
Schultz and CEO Johnson, drawing on Starbucks' long tradition of tackling divisive issues, took what many considered another bold step for Corporate America: They ordered 8,000 US Starbucks stores to close for an afternoon to teach employees about racial bias.
The company completed the training last week with help from experts and researchers, including Sherrilyn Ifill, president and director-counsel of the NAACP Legal Defense and Education Fund, and Heather McGhee, president of the public policy organization Demos.
"Racial bias does exist. Unconscious bias exists," Schultz told CNN's Poppy Harlow. "We need to have the conversation. We need to start."