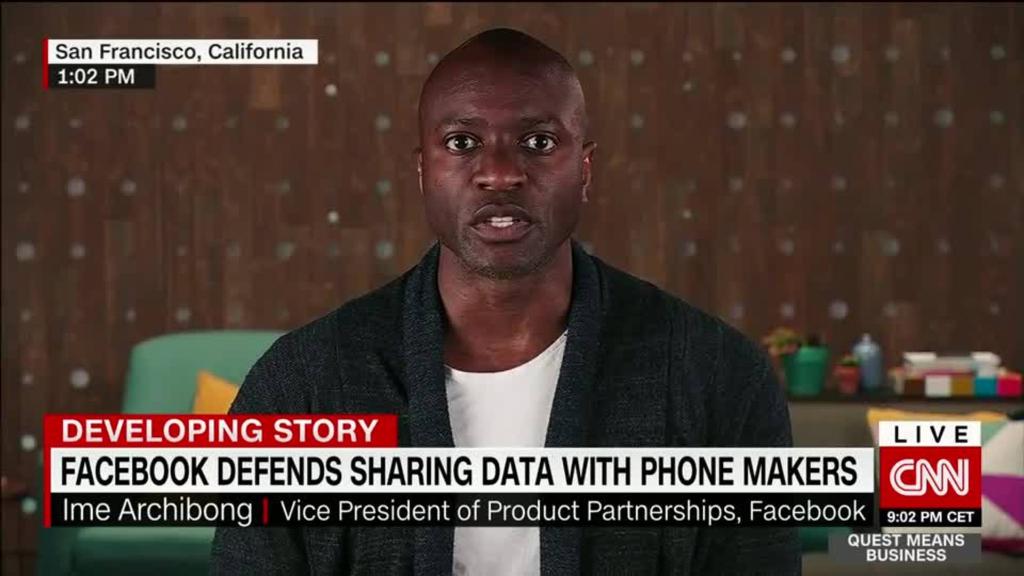 Facebook says it has provided access to its users' data to Huawei, a Chinese smartphone maker that US intelligence agencies have described as a security threat.
Facebook (FB) on Tuesday said it has been operating data-sharing partnerships with four Chinese device makers that enabled the companies to recreate Facebook-like experiences for their users.
The news is set to fuel further concerns about how Facebook handles people's personal information and protects their privacy. It comes after the social media company admitted earlier this week -- following an investigation by The New York Times -- that it signed data-sharing deals with dozens of phone and tablet makers over the years, including Apple (AAPL) and Samsung (SSNLF).
The agreement with Huawei is likely to draw particular scrutiny because of concerns expressed by US officials that the Chinese government can use the company's smartphones and other products for intelligence gathering -- allegations Huawei has repeatedly denied.
"Huawei is the third largest mobile manufacturer globally and its devices are used by people all around the world, including in the United States," said Francisco Varela, Facebook's vice president of mobile partnerships. "Facebook along with many other US tech companies have worked with them and other Chinese manufacturers to integrate their services onto these phones."
Related: Facebook faces new regulatory backlash over data privacy
Facebook said earlier this week that it forged partnerships with around 60 companies back when mobile phones were less powerful and app stores did not yet exist. The social media company said it gave device makers access to software only so they could build versions of Facebook that worked on different phones or operating systems.
Facebook announced in April it was winding down the partnerships. It said Tuesday that it has ended more than half of them and that the Huawei one will shut down this week.
The other three Chinese companies that signed data-sharing deals with Facebook are Lenovo (LNVGF), Oppo and TCL, which owns the rights to the Alcatel and Blackberry smartphone brands.
"Facebook's integrations with Huawei, Lenovo, Oppo and TCL were controlled from the get go — and we approved the Facebook experiences these companies built," Varela said.
He added that "all the information from these integrations with Huawei was stored on the device, not on Huawei's servers."
A Huawei spokesman said that "like all leading smartphone providers, Huawei worked with Facebook to make Facebook's services more convenient for users."
Huawei "has never collected or stored any Facebook user data," he said in a statement emailed to CNNMoney.
The other three Chinese companies didn't immediately respond to requests for comment.
Facebook's social network has been blocked by Chinese censors for years. But the company has long shown an interest in finding ways into the country, with CEO Mark Zuckerberg working to build relationships with Chinese leaders.
Facebook's partnerships with the Chinese firms were first reported by The New York Times.
Related: Pentagon says stores on US bases should stop selling Huawei and ZTE phones
One of China's biggest and most prominent tech companies, Huawei has faced suspicions from the US government for years. As well as selling smartphones, it builds telecom networks in countries across Asia, Europe and Latin America.
But its networks business has largely been shut out from selling equipment to American operators after Congress issued a critical report in 2012. Lawmakers suggested that equipment from Huawei and ZTE (ZTCOF), another Chinese tech company, could pose a threat to national security. The companies strongly disputed the allegations.
Huawei has suffered a series of setbacks in the United States this year.
In January, an effort to get AT&T (T) to sell its smartphones collapsed at the last minute. Then in February, top officials from the CIA, NSA, FBI and the Defense Intelligence Agency said at a Senate hearing that they would recommend against American citizens using products made by Huawei and ZTE (ZTCOF).
The Pentagon has also ordered stores on US military bases to stop selling Huawei and ZTE phones.
Huawei has repeatedly defended itself, saying its products are sold in 170 countries and "meet the highest standards of security, privacy and engineering in every country," including the United States.
-- Nanlin Fang contributed to this report.