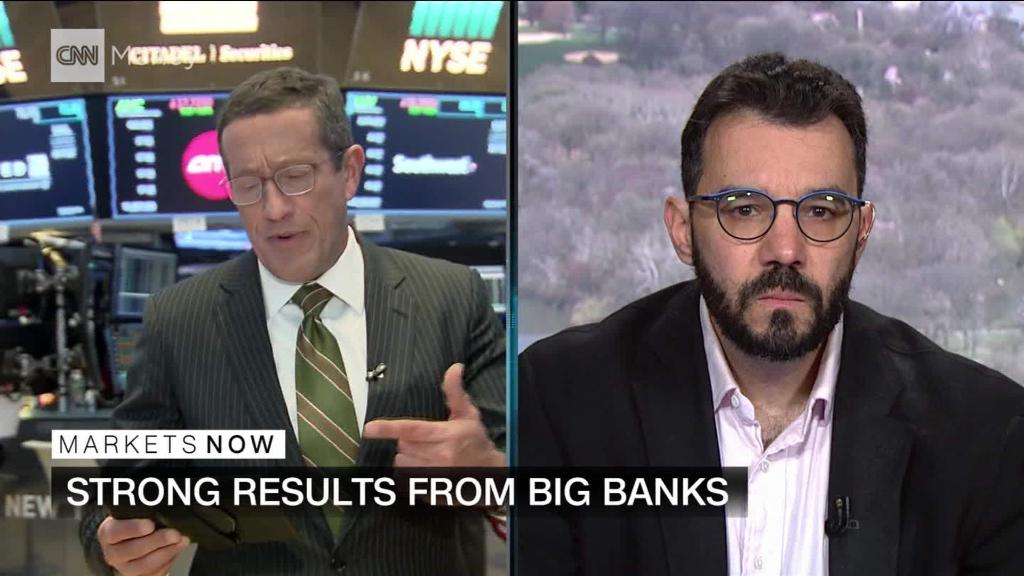 Will some of Europe's biggest banks soon be walking down the aisle?
There have long been rumblings that weak profits and rising costs could spark a wave of bank mergers in Europe, but deals have remained elusive.
Now speculation has been reignited by media reports suggesting that Deutsche Bank (DB) could pair off with German rival Commerzbank (CRZBF), while Barclays (BCS) could join forces in Britain with Standard Chartered (SCBFF).
In a rare cross-border scenario, France's Société Générale (SCGLF) would merge with Italy's UniCredit (UNCFF).
There is no suggestion that any of the banks are close to pulling the trigger on a takeover. Still, the rationale for regional consolidation is compelling and the forces pushing banks together are unlikely to weaken.
The main problem is that Europe has too many banks.
Across the 19 countries that use the euro currency, there are 54,000 citizens per bank branch, according to the European Banking Federation.
That's roughly the same ratio as in the United States, but the banking sector is much leaner in the United Kingdom, where there are 170,000 people per bank, and in Japan, where the number of citizens per bank rises to nearly 900,000.
"You do have a very divided market across the continent of Europe," Barclays CEO Jes Staley said this week during an interview on CNBC. "It's true that scale ... is an asset."
Related: Deutsche Bank CEO is 'sick and tired of bad news'
Then there's the issue of profitability. While American banks are churning out record earnings, their counterparts in Europe have struggled in the wake of the global financial crisis.
Deutsche Bank, which has been losing money for years, had its credit rating downgraded by S&P earlier this month. The lender's new CEO recently announced that he would slash more than 7,000 jobs, focus investment banking on European clients, and do more to control costs.
Barclays has had its financial position degraded by billions in payments made for allegedly deceiving investors about the quality of mortgage deals that fueled the 2008 financial crisis.
According to the European Banking Federation, banks in the eurozone are much worse at using their assets to make a profit, generating returns of only 1.8%, compared to 8.8% in the United States and 7.3% in Japan.
ZEB, a financial services consultancy, said earlier this year that it expects "widespread industry consolidation" between now and 2021, especially in the most fragmented markets such as Germany and Austria.
"A number of efficient large banks will become expert at 'hoovering up' smaller and less efficient banks," ZEB predicted.