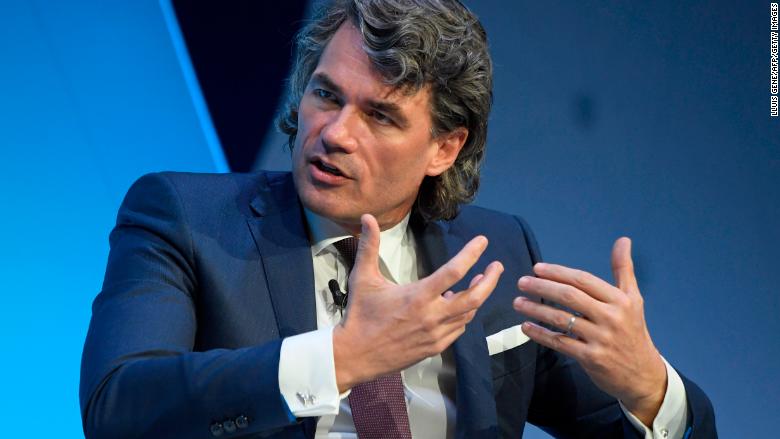 The CEO of BT is stepping down following weak earnings and shareholder skepticism over his plans to restructure the telecom and media group.
The UK group said in a statement on Friday that Gavin Patterson would leave his job later this year. The company's board has begun a search for his successor.
BT (BT) shares spiked following the announcement.
In a statement, BT chairman Jan du Plessis said that while the board was "fully supportive" of the overhaul outlined by Patterson, a change was needed.
"The broader reaction to our recent results announcement has though demonstrated to Gavin and me that there is a need for a change of leadership to deliver this strategy," he said.
Patterson, who has led BT since 2013, announced plans last month to cut 13,000 jobs as part of a restructuring designed to simplify the group's management structure.
He also said the company would quit its 10-story headquarters in central London.
BT has nearly 106,000 employees and operations in 180 countries, according to its most recent annual report.
The plan would save the former UK telecommunications monopoly an estimated £1.5 billion ($2 billion) over three years. It would cost £800 million ($1.1 billion) to implement.
Related: BT will slash 13,000 jobs and quit London HQ
The restructuring, which was announced alongside another round of disappointing earnings, has failed to impress investors. BT shares plummeted after it was announced, and are now trading near a six-year low.
Mike van Dulken, head of research at Accendo Markets, said the board faced questions about BT's direction.
"What's the point in changing the man at the top if he is merely tasked with carrying on with a flawed strategy?" he wrote in a research note. "Patterson is also potentially in place for another six to seven months. Will he continue to lead his troops on the same bumpy trail?"
BT said last month that sales dropped 1% in the year ended March 31, while profits dropped 2%. The company expects to post a modest loss in 2018-2019.