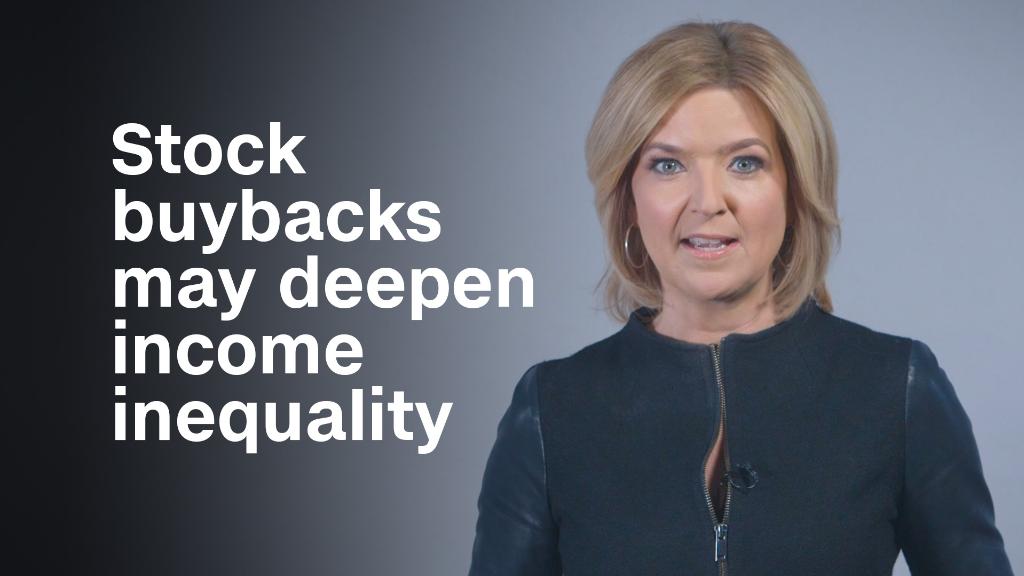 Corporate America, flush with cash from President Trump's tax cuts, is buying back stock at a record pace.
Wall Street loves that. It signals that CEOs believe their shares are cheap, and stocks typically spike after buybacks are announced.
Yet an SEC official has uncovered what he calls a disturbing trend: In the days after executives unveil buybacks, they quietly cash out their own shares.
An analysis released Monday by SEC Commissioner Robert Jackson Jr. found that the percentage of insiders selling stock more than doubled immediately after buyback announcements.
And the amount of stock being unloaded is not trivial. Daily stock sales spiked from an average of $100,000 to more than $500,000 per executive, researchers found.
"Right after the company tells the market that the stock is cheap," Jackson said in a speech on Monday, "executives overwhelmingly decide it's time to sell."
The report studied 385 buybacks in 2017 and during the first three months of 2018. Thanks to the reliable stock bounce, insiders gained a total of $75.1 million on their stock sales, the SEC researchers calculated.
Related: How businesses are really spending their tax cuts
Buybacks have exploded this year thanks to Trump's tax law, which lowered corporate tax rates and gave companies a break on returning foreign profits.
S&P 500 companies bought back a record $187.2 billion of stock during the first quarter, according to Howard Silverblatt of S&P Dow Jones Indices. Apple (AAPL) alone repurchased $22.8 billion of stock — the most by any company in any quarter ever.
The tax law was supposed to encourage companies to spend on job-creating investments. But economists see little evidence so far that the tax overhaul has sparked an acceleration of investments in equipment, factories or other projects.
Jackson, who was appointed by Trump to fill a Democratic seat at the SEC, called on the agency to update its rules to limit executives from using buybacks to cash out.
"The Trump tax bill has unleashed an unprecedented wave of buybacks," Jackson said, "and I worry that lax SEC rules and corporate oversight are giving executives yet another chance to cash out at investor expense."
He said that although the insider trend "is not necessarily illegal," it is "troubling."
That's because executive pay is supposed to keep CEOs focused on the big picture, not short-term trading. That's why a big chunk of executive compensation is in stock that can't be unloaded right away. It's supposed to give managers an incentive to do what's best for the long run.
"Buybacks give executives an opportunity to take significant cash off the table, breaking the pay-performance link," Jackson said.
Related: Apple rewarded shareholders with record giveaway
Defenders of buybacks argue that they are a legitimate use of a company's excess cash. They correctly note that the money doesn't simply disappear. It can boost the economy in other ways, including when shareholders use the cash to start new companies, invest in startups or buy a home.
"When a company cannot use its capital, it gives it back to shareholders, who then redeploy it in a higher and better use," JPMorgan Chase (JPM)CEO Jamie Dimon told reporters last week.
Dimon slammed critics of share buybacks as "people who are basically ignorant."
Jackson, a former Columbia University law professor who calls himself a "recovering researcher," acknowledged that buybacks can at times be the right long-term strategy.
"If corporate managers believe that a buyback is best for the company, its workers, and its community, they should put their money where their mouth is," Jackson said.