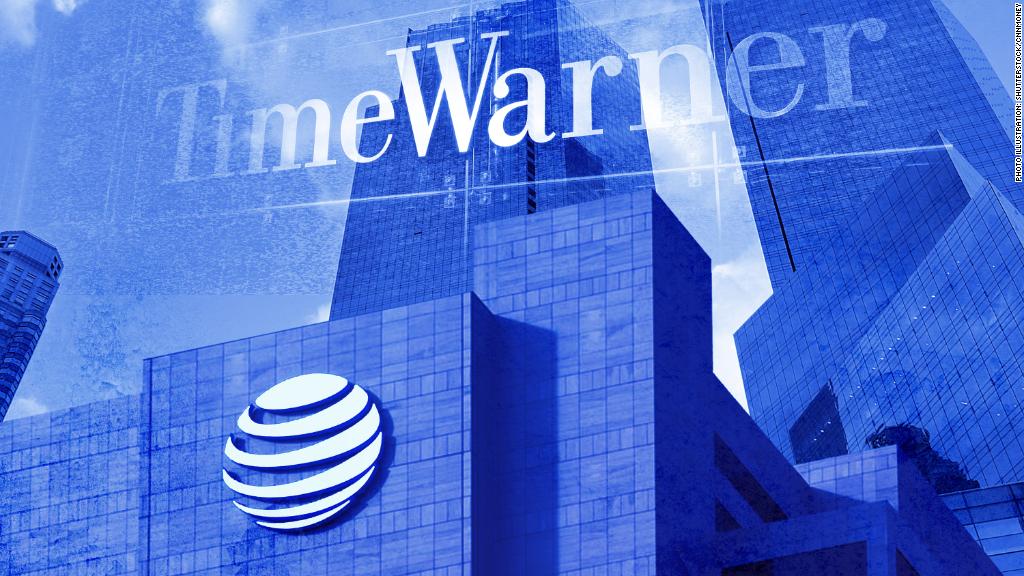 Whenever AT&T CEO Randall Stephenson has been asked to make his case for acquiring Time Warner, he has made a simple argument: AT&T needs Time Warner in order to compete with the tech giants.
Facebook, Amazon, Apple, Netflix and Google -- the so-called FAANG companies -- all create their own content and distribute it directly to consumers. In order to play on their level, AT&T needs to be able to distribute its own content. In order to distribute its own content, it needs Time Warner, which includes Warner Bros, Turner and HBO.
Related: A landmark court ruling for media and business
So now that AT&T has Time Warner, can it actually compete with Netflix and Amazon?
AT&T will now have ownership of valuable content, from the DC Comics universe to "Game of Thrones" to Turner Sports and CNN. It will be able to distribute it directly to AT&T subscribers, a powerful incentive for consumers to go with AT&T. It will also conceivably be able to invest more in that content, should it choose to do so.
But while content may be king, there are other important factors.
The FAANG companies have mastered the art of using data to fuel their distribution. The more time people spend watching Netflix or Amazon content, the more data those companies have to inform their programming decisions and tailor their offerings on a consumer by consumer basis.
Related: What's the government's next move in the AT&T case
AT&T has the ability to wed its vast trove of subscriber data with Time Warner content, but it will require unifying two companies with very different values and priorities.
Stephenson has tapped John Stankey, a longtime AT&T executive, to oversee the Time Warner assets. Stankey has spent decades thinking about the telecom business and innovative ways to leverage AT&T's subscriber data and distribution. But he has no experience in programming, and there is some fear among folks at Time Warner that he'll infringe on their intuition for content.
"AT&T will try, but there is no way to get programming and distribution to play nice," one media and tech investor told CNNMoney. He cited Sony's inability to marry its hardware and software arms as an example of a cautionary tale for AT&T.
Related: From witness stand, AT&T chief details new $15-a-month streaming service
AT&T's first move on the content distribution front will be "AT&T Watch," a low-cost bundle of non-sports content that can be accessed across platforms, including mobile. The bundle is free for AT&T wireless unlimited customers and will cost $15 per month for others. Stephenson will likely use "Watch" as a trial run for applying AT&T subscriber data to its new content offerings.
Rich Greenfield, the BTIG media analyst, told CNNMoney that "Watch" was the most under-appreciated aspect of the AT&T-Time Warner deal, because it enables AT&T to take the price of live TV (30+ channels) down to zero, much like Amazon Prime bundles in video at no additional cost to two-day shipping.
"For a non-sports fan, AT&T Watch + Netflix + Amazon Prime would appear to be a pretty inexpensive way to consume a ton of content," he wrote on Tuesday.
Taking on Netflix and Amazon will also require thinking like a tech company, rather than a telecom company. All of the FAANG companies are constantly improving their products, from user interface to stream times to recommendation algorithms.
AT&T-Time Warner will have work to do to build a comparable experience, media and tech insiders say. This, too, could be an uphill climb for a 35-year-old telecom company. But if it invests in quality content and innovates in distribution, AT&T could be a contender.
"Tech trends come and go, great content is forever," one Hollywood insider said. "There is an argument that if this merger goes forward, not only could a post-net neutrality AT&T-Time Warner stand against FAANG, but within 5-10 years it could bump the weaker two -- Facebook and Netflix -- in terms of strength."