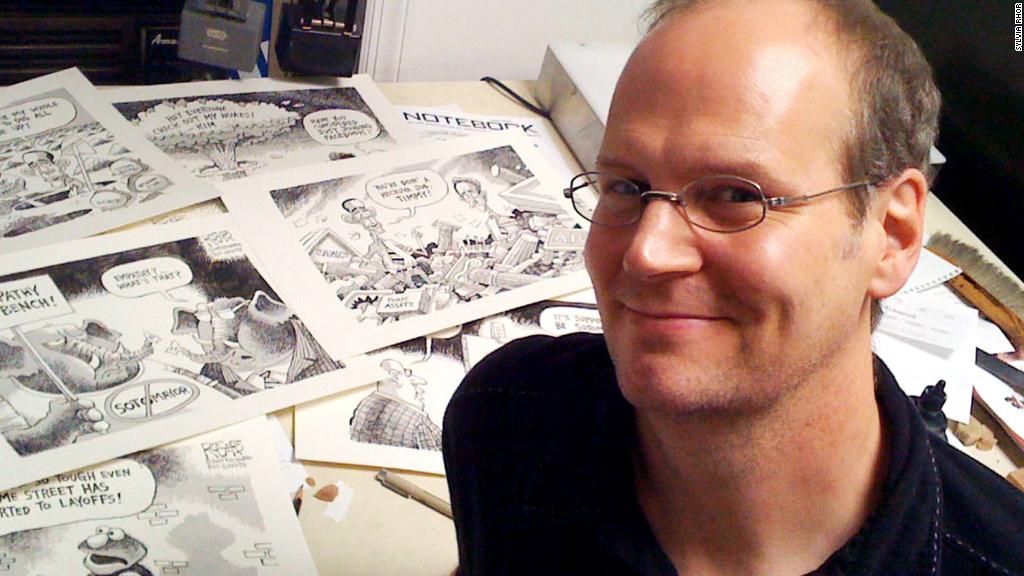 An award-winning editorial cartoonist who has worked at the Pittsburgh Post-Gazette for 25 years announced on Thursday that he was fired from the paper.
Rob Rogers' firing comes after the paper stopped publishing his cartoons -- many of which were critical of President Trump -- last month.
"Today, after 25 years as the editorial cartoonist for the Pittsburgh Post-Gazette, I was fired," Rogers tweeted on Thursday.
The Pittsburgh Post-Gazette last published one of Rogers' cartoons on June 5 and before that, the last editorial cartoon to appear in the paper was on May 24. Rogers continued to draw during the absence, posting his work on his personal blog and social media feeds.
Rogers told CNN's Jake Tapper last week he didn't know why the paper was killing his cartoons, but he said he got the feeling that management wanted him to be "less negative to Trump."
"I'm feeling, at least, that they want me to be a cartoonist that I'm not," Rogers told Tapper.
He reiterated this on Thursday night when he appeared on CNN's Erin Burnett Outfront not long after he announced that he was fired. He told Burnett that management didn't give him a reason for why his cartoons were getting killed.
"But the common theme in all the ones that have been rejected, I'd say 90% of them have something to do with Trump," Rogers told Burnett. "So there's a clear pattern they were trying to tamp down the voice I was having, being critical of Trump."
Rogers has taken shots at Democrats as well and he said the paper did not issue with his cartoons about former President Obama or Hillary Clinton.
"I think that I've been pretty even handed in terms of presidents," he said on Thursday. "It's clear I've drawn more cartoons about Trump than Obama because I was more aligned with Obama's politics. I've certainly hit both sides."
Related: Pittsburgh paper spikes work of longtime editorial cartoonist
In a statement provided to CNN, Rogers said he was "troubled" by the move. He said he felt that he was a "valued and respected member of a quality newspaper staff," but that the "situation changed dramatically and abruptly in recent months."
"The Post-Gazette's leadership has veered away from core journalistic values that embrace diverse opinions and public discourse on important issues," Rogers said in a statement on Thursday. "I am especially troubled that management's decision to fire me discounts the thousands of readers who turn to the Post-Gazette for editorials, columns, and cartoons that, while not always reflecting their own positions, challenge preconceived notions and invite thought, conversation, and keep the civic conversation going. I fear that today's unjustified firing of a dissenting voice on the editorial pages will only serve to diminish an opinion section that was once one of America's best."
A spokesman for the Post-Gazette told CNN in a statement that the paper "does not provide details about employment matters."
The Post-Gazette on Thursday published its own story on Rogers' termination, reporting that editorial director Keith Burris offered Rogers "a deal in which he would be an independent contractor and produce two cartoons per week for the paper's op-ed page along with his weekly strip, 'Brewed on Grant.'"
"We tried hard to find a middle way, an accommodation to keep him the paper," Burris told his paper. He reportedly denied suppressing Rogers' cartoons and said Rogers was not willing to "collaborate," according to the Post-Gazette.
Pittsburgh Mayor William Peduto criticized the paper for firing Rogers, calling the move "disappointing" in a statement in which he also called out President Trump without using his name.
"This is precisely the time when the constitutionally-protected free press -- including critics like Rob Rogers -- should be celebrated and supported, and not fired for doing their jobs," Peduto said. "This decision, just one day after the President of the United States said the news media is 'Our Country's biggest enemy,' sets a low standard in the 232-year history of the newspaper."
Over the last few weeks, Rogers used Twitter to keep his supporters updated about his employment status at the paper. At one point, he thanked his followers, saying that their "outpouring of support and well-wishes have buoyed my spirits immensely"
"Now, more than ever, I believe in the power of satire and the public dialogue that it can create," he tweeted last week.
The paper's decision to spike Rogers' cartoons sparked backlash across social media and by advocates of the press, with many saying he was being silenced for criticizing the president. In response to the criticism, the Post-Gazette released a statement last week saying that it was a "personnel matter" that "has little to do with politics, ideology or Donald Trump."
-- CNN's Tom Kludt contributed to this report