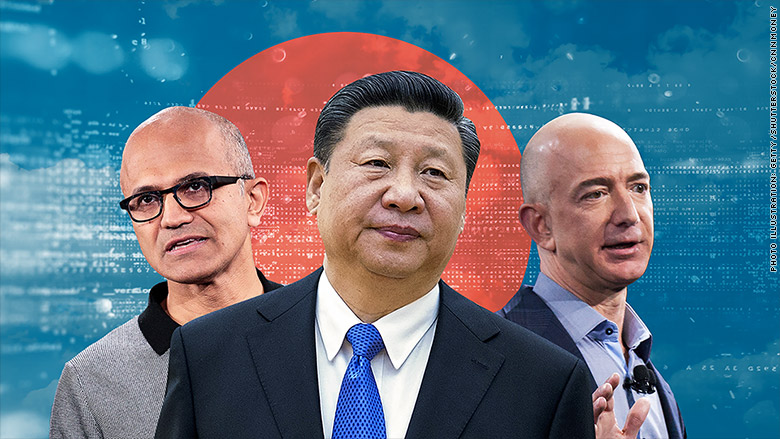 What's Next: You, Tracked. Governments and tech companies are ramping up efforts to enhance human tracking. As they do, the public anxiety over online data collection is likely to give way to more pressing concerns over real-world surveillance:
• China is establishing an electronic identification system to track cars nationwide by installing a radio-frequency identification chip in cars when they are registered. Compliance will be mandatory for new vehicles at the start of 2019. (WSJ)
• Microsoft is developing systems that track what shoppers add to their carts. The technology will be similar to Amazon Go, where cameras and sensors identify what shoppers remove from shelves and eliminate the need for cashiers. (Reuters)
• Amazon has just started shipping a $249 DeepLens camera to developers that can be integrated with Amazon's controversial facial recognition technology, giving developers new ways to experiment with surveillance. (TechCrunch)
Sign up for PACIFIC: The new CNNMoney newsletter about the center of change and innovation
The new surveillance technologies are all marketed as benign -- China says the car chips will help public security and ease traffic congestion; Microsoft and Amazon simply want to make it easier to shop; the early DeepLens project templates can turn real-world objects into Van Gogh paintings.
But the potential for more malicious surveillance is obvious. The nightmare scenario already exists in Xinjiang, where China has established a high-tech surveillance system to monitor Uighurs and determine whether they are "safe," "normal" or "unsafe" to the state's interests. Civil liberties groups have already expressed fears that Amazon's Rekognition facial recognition technology could be used for similar purposes.
The Big Picture: Surveillance technologies are rapidly becoming more sophisticated and incorporated into every facet of our life. But the technologies being used to make life easier and more efficient may also put individual privacy and freedom at risk.
Bonus: NYT's Jack Nicas: "Apple is closing the technological loophole that let authorities hack into iPhones, angering police and other officials and reigniting a debate over whether the government has a right to get into the personal devices that are at the center of modern life."
---
Welcome to PACIFIC. The World Cup has kicked off in Moscow, which has major implications for ... wait for it ... cybersecurity.
Axios' Joe Uchill explains that hackers from losing teams' nations tend to become more aggressive in attacks on the winning team's nations. That often "takes the form of attacks designed to take down news stories in the victor's country that tout a home-team win," he writes.
Our sympathies to Russia, which just beat Saudi Arabia 5-0.
---
Battle in Seattle: Microsoft vs. Amazon
Beyond surveillance, my colleague Jordan Valinsky notes that Microsoft's new shopper tracking technology also pits Satya Nadella against Jeff Bezos in the fight for the future of cashierless retail.
The Details, via Reuters' Jeffrey Dastin and Stephen Nellis:
• "Microsoft has shown sample technology to retailers from around the world and has had talks with Walmart about a potential collaboration."
• "Microsoft's technology aims to help retailers keep pace with Amazon Go ... which has sent rivals scrambling to prepare for yet another disruption by the world's biggest online retailer."
• "For Microsoft, becoming a strategic ally to retailers has meant big business. In addition to developing retail technologies, it ranks No. 2 behind Amazon in selling cloud services that are key to running e-commerce sites, for instance."
The Big Picture: Microsoft's entry into shopper-tracking technology could give Walmart and other retailers new leverage in their fight to keep pace with Amazon.
Sign up for PACIFIC: The new CNNMoney newsletter about the center of change and innovation
---
How To Give It Bezos' next: Philanthropy
One year after soliciting ideas for philanthropic initiatives, Jeff Bezos says he has "settled on two areas that I'm very excited about."
• Bezos says he will announce the ideas before the end of the summer.
• Bezos says he may hire new staffers to help execute those initiatives.
The Big Picture: Bezos does two things very well: He spends big and he disrupts. His philanthropic initiatives are likely to be big and innovative, opening up new ways to give and unleashing millions -- billions? -- for good causes.
What Took So Long?:
• The usually head-strong Bezos acknowledged early that he did not have immediate answers for how to give away his money. Whereas his investments in Amazon, Blue Origin and the Washington Post are built around long-term strategies, he said, he wanted his philanthropy to be effective "in the here and now."
• Philanthropy can be a challenging arena for tech entrepreneurs who believe strongly in their own ability to disrupt industries and improve systems. Even for the most engaged philanthropists, the true impact of their financial donations can be difficult to measure.
Bonus: What Amazonians are reading: Amazon has canceled two massive employee celebration events and will replace them with a new 'Post-Prime Day Celebration Concert' this summer, per GeekWire.
Sign up for PACIFIC: The new CNNMoney newsletter about the center of change and innovation
---
Bold Predictions
"[Decades from now], great-power competition will basically be a competition between different countries' AI technology. Tribalism won't matter: Who cares about identity if all the work is done by robots? Liberal democracy might still matter, but only if it figures out how to deal with mass unemployment better than other systems of government. Religion is going to have some tough times, too, as people's interactions with the world become increasingly mediated through constructs that seem every bit as thoughtful and creative as humans but rather plainly weren't constructed by God and don't seem to have any need for a higher power."
-- Kevin Drum in Foreign Affairs
---
Chi-Town Underground Elon Musk lands Chicago
Chicago has picked Elon Musk's Boring Company to build a futuristic transportation link to the city's airport, similar to the one Boring Company is building in Los Angeles.
The Promise, via my colleague Jethro Mullen:
• "The planned system, known as the Chicago Express Loop, will carry passengers in battery-powered vehicles through tunnels at speeds of up to 150 miles per hour."
• "It will link downtown Chicago with O'Hare International Airport." ... The Boring Company says it "will cut the journey time to 12 minutes."
• Chicago Mayor Rahm Emanuel says the Loop "will keep the city on the cutting edge of progress, create thousands of good-paying jobs and strengthen our great city for future generations."
The Challenge:
• "It's unclear how long it will take for Musk's system to be built or how much it would cost."
• "Experts have raised concerns over the financial viability of Loop transportation systems, as well as potential environmental and legal challenges."
• "The Boring Company says it will shoulder the financial burden of the project, which will be '100% privately funded.'"
The Big Picture: Elon Musk continues to succeed in selling civic leaders on ambitious projects with dubious implementation plans. Moreover, its not entirely clear that this will provide a net benefit to society. As Business Insider's Josh Barro notes, "The proposed capacity of this thing is 2,000 passengers per hour. You can fit that many people on a single New York City subway train."
Bonus: What Teslaites are reading: "Tesla workers say they pay the price for Elon Musk's big promises," by The Guardian's Julia Carrie Wong: "The CEO is known for outsized claims and ambitious goals. But numerous factory workers say he doesn't follow through -- and that his leadership sets a troubling tone."
Sign up for PACIFIC: The new CNNMoney newsletter about the center of change and innovation
---
Valinsky's Links
Google eyes the doctor's office (CNBC)
Snap opens its developer platform (Engadget)
Etsy stock hits all-time high (FastCo)
MoviePass hits 3 million subs (Variety)
Nintendo disappoints at E3 (CNNMoney)
---
Talk of Tinseltown: Comcast vs. Disney
Comcast officially offered $65 billion in cash for the 21st Century Fox assets yesterday, a 19% premium on Disney's $52.4 billion all-stock offer. It came right when our sources said it would, but the number was even higher than expected.
Now the pressure is on Disney to match.
But: There's more to the numbers, per Bloomberg's Tara Lachapelle:
• "Disney's offer (so far) involves only stock, and analysts see its share price climbing more than 10 percent over the next year. If they're right, and using the same discount as in Comcast scenario, Disney's offer is currently worth $30 and change. So while Comcast's press release proclaims that it's offering a 19 percent premium over what its rival has offered, really it's kind of splitting hairs."
What's Next: The ball is in Disney's court.
The Big Picture: In the battle for scale against big tech, Disney and Comcast are currently worth about the same, with Disney just north and Comcast just south of $150 billion. The addition of Fox would blast either one of them well north of $200 billion.
Sign up for PACIFIC: The new CNNMoney newsletter about the center of change and innovation
---
The Dotted Line
Amazon Studios has signed Nicole Kidman's Blossom Films to a first-look movie and TV deal, the latest in Jennifer Salke's aggressive effort to take on Netflix by locking in top talent. More at THR.
---
Content Collision: Can AT&T handle Time Warner?
That is the question many reporters and analysts are asking now that AT&T has been given the green light to proceed with its Time Warner acquisition:
"AT&T's Time Warner Prize—A Load of Hollywood Headaches" by WSJ's Joe Flint, Drew FitzGerald and Alexandra Bruell:
• "A major challenge will be integrating a staid phone company with an entertainment behemoth filled with larger-than-life personalities."
• "AT&T will have to reconcile its culture, where all but nine top executives usually fly coach, with Time Warner's Hollywood lifestyle, where most vice presidents and above fly business class and airport greeters are common."
"Will AT&T Be Able to Handle HBO?" by NYT's John Koblin:
• "HBO's would-be minders are experts in distribution systems and profit margins who know little or nothing about the ego-fueled dramas that help put the show in show business."
The Big Picture: The collision of industry is also a collision of cultures. Telecom tends to be more cautious and fiscally conservative than media, which may complicate their attempt to marry content and distribution.
---
What next: "Awaiting the Transfixing, Transporting, and Transcendent Moments of the 2018 (and 2026) World Cup," by The New Yorker's Michael Luo.
Want this in your inbox every morning? Sign up for PACIFIC: The new CNNMoney newsletter about the center of change and innovation