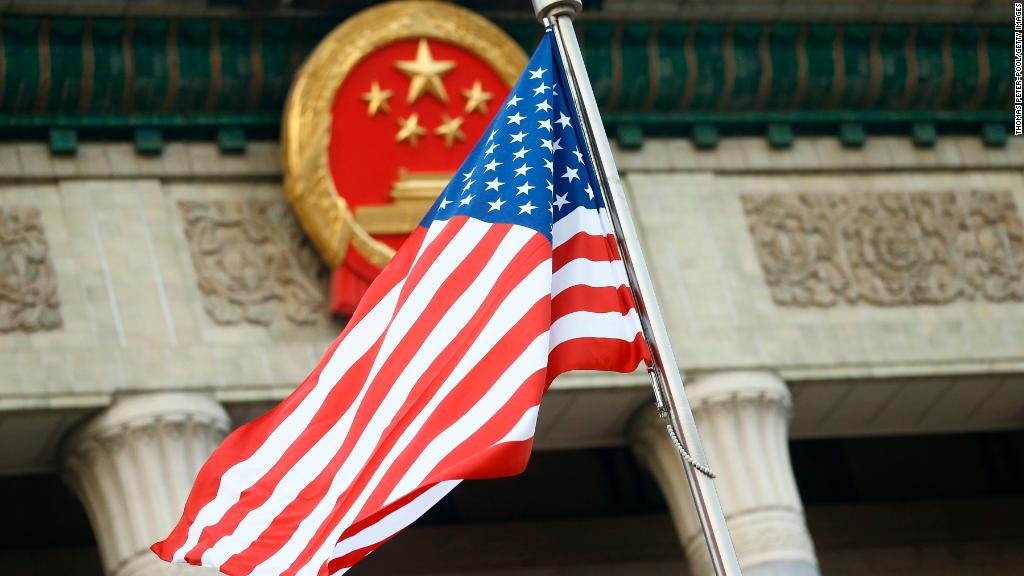 This must be some sort of record.
President Trump has given three interviews to Fox News in the span of one week. And the week still isn't over.
Friday's interview -- live from the White House lawn -- was exactly the kind of spectacle that Trump fans cherish and Trump critics condemn.
"You are about to see something on the Fox News Channel that has never happened, we believe, in the history of White House reporting," Steve Doocy said.
He was right. As if on cue, the control room cut to a live shot of Trump walking up the White House driveway toward Doocy.
Other news crews crowded around Trump and started to ask questions. Trump answered a couple, but then he pointed over to Doocy with both hands.
"This is crazy," Doocy said.
He was right again.
We'll get to the surprise interview in a minute. But first, the build-up.
This year Trump has seemed seriously reluctant to give TV interviews, even to his supporters on Fox.
He called into "Justice with Judge Jeanine" and "Fox & Friends" a couple times, but didn't go on camera for an interview until May.
But this week, something changed. Trump gave four TV interviews during his visit to Singapore to meet North Korean dictator Kim Jong Un. Two of the interviews were with Fox -- one with Sean Hannity and the other with Bret Baier -- and the others were with ABC and Voice of America.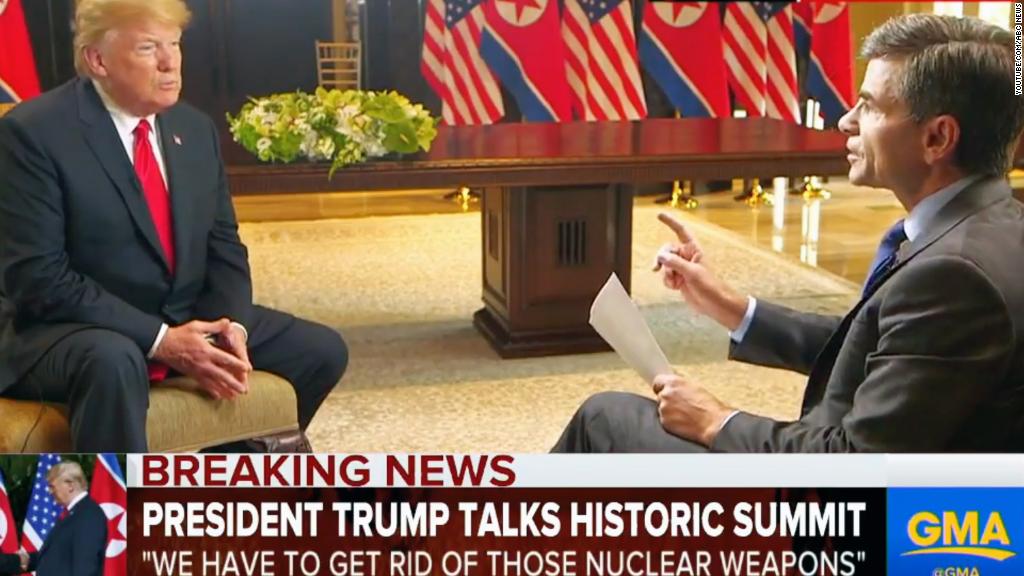 Related: Trump goes on media tour after Singapore summit
When he got home, Trump blasted the "fake news" media as America's "biggest enemies," singling out NBC and CNN.
But his behavior on Friday showcased his unflagging desire for interaction with, and attention from, the media.
He spoke with Doocy for half an hour, and then he took questions from White House reporters for another 19 minutes. He soaked up the questions and fought back when the reporters expressed frustration that he was peddling incorrect information.
It started with Fox. Doocy was in Washington for the Congressional baseball game on Thursday evening. That's why he co-hosted Friday's "Fox & Friends" from the north lawn of the White House.
It is unclear how much advance notice Fox had about Trump's interview availability. But the president's Twitter feed indicates that he was watching "Fox & Friends" all morning long.
At 7:50 a.m., Trump tweeted that he saw Doocy outside. "Maybe I'll have to take an unannounced trip down to see them?" he wrote. (He also said that "Fox & Friends" is "the highest rated (by far) morning show," which is not true.)
At 8:20 a.m., Fox News notified reporters that Trump was about to appear on the show.
Related: After meeting with North Korean dictator, Trump calls press America's 'biggest enemy'
Trump came outside at 8:28 and walked toward the area where all the major networks have live shot positions.
"Every single reporter here at the White House is now heading to the Fox booth," Doocy said, marveling at the scrum surrounding the president.
Doocy had some help in the crowd: His son Peter, a Fox reporter, who led the president to the Fox live shot location.
In the Fox control room, someone quickly changed the banner on screen to say "PRESIDENT TRUMP LIVE ON F&F."
When Trump walked up to the Fox live shot spot, Doocy quickly slipped a microphone on the president's lapel.
"You've got some excitement out on your lawn today," Doocy said.
He asked what brought Trump out to the lawn, and the president gestured to the camera, asking, "Are we on already?"
"We're on, we're live!" Doocy said.
"Oh wow, wow, that's good," Trump said.
He quipped that he was "mugged" by the media on the way over.
Then the interview was underway. It was like the president's Twitter feed had to come to life.
"Trump, egged on by the cooperative Doocy, sounded off on the inspector general's report on the 2016 election, how attentive North Koreans are to Kim Jong Un and, well, lots and lots of other stuff," CNN's Chris Cillizza wrote.
It felt like a part of Trump knew he was putting on a TV show.
At one point he asked Doocy, "You're having a lot of fun, right? Suppose Hillary got elected instead of Trump, you think it would be so exciting?"